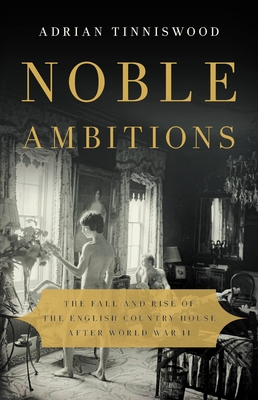 Noble Ambitions
The Fall and Rise of the English Country House After World War II
Hardcover

* Individual store prices may vary.
Other Editions of This Title:
Digital Audiobook (9/20/2021)
Compact Disc (9/21/2021)
Description
A rollicking tour of the English country home after World War II, when swinging London collided with aristocratic values
As the sun set slowly on the British Empire, its mansions fell and rose. Ancient families were reduced to demolishing the parts of their stately homes they could no longer afford, dukes and duchesses desperately clung to their ancestral seats, and a new class of homeowners bought their way into country life. A delicious romp, Noble Ambitions pulls us into these crumbling halls of power, leading us through the juiciest bits of postwar aristocratic history—from Mick Jagger dancing at deb balls to the scandals of Princess Margaret. Capturing the spirit of the age, historian Adrian Tinniswood proves that the country house is not only an iconic symbol, but a lens through which to understand the shifting fortunes of the British elite in an era of monumental social change.
Praise For Noble Ambitions: The Fall and Rise of the English Country House After World War II…
"Erudite and delightfully gossipy."—Wall Street Journal

"'House' is a euphemism in this chronicle of grand British estates… Descriptions of 'turrets and towers,' 25 bedrooms, 17 bathrooms and 'pleasure gardens' read like literary Zillow surfing."—New York Times

"Tinniswood [is] an erudite historian of country-house life in all its anecdote-worthy vagaries."—Financial Times

"If you're still mourning the end of 'Downton Abbey,' this book, charting the rise and fall of the English country house, is most definitely the book for you. A lively history of post-World War II England as told through its grandest estates and ancestral seats." —New York Post

"Adrian Tinniswood's rollicking study perfectly captures the combination of decadence, pathos and brazen cheek that kept the English country house alive when it faced disaster."—John Walsh, Sunday Times

"By the time World War II began, country houses were in crisis… As this beautifully illustrated volume shows, the 1950s and the 1960s saw a renaissance as rock concerts replaced hunt balls and the doors of ancient family seats were thrown open to paying customers. Tinniswood chronicles it all in lively detail."—Daily Mail, Best History Books of 2021

"[A] preposterously entertaining history of the postwar country house... Unnervingly and deliciously vivid."—Rachel Cooke, The Observer

"Brilliant new history of the country house since 1945...Tinniswood tells that story superbly…"—Marcus Binney, Daily Telegraph (5/5 stars)

"Noble Ambitions paints an intriguing mosaic of people and country homes from a bygone era trying to survive in a modern world."—The Historical Novels Review

"The English country house epitomizes so much in British social and political history… Devoted fans of Downton Abbey will appreciate that Tinniswood's history takes the fate of these country houses past the series' conclusion in the 1920s."—Booklist

"Vividly evoking the glamour and ruin of post-imperial England, this winning survey is well-stocked with intriguing historical tidbits."—Publishers Weekly

"A highly enjoyable, gossipy read with a gasp on every page; a must for the bedside tables of every guest bedroom, and every stately home gift shop." —Mary S. Lovell, author of The Sisters

"By turns warm, sympathetic, sly, and analytical, Adrian Tinniswood examines the complex history of the postwar country house with skill, grace, clarity—and charity. A triumph." 
 —Judith Flanders, author of A Place for Everything

"A beautifully written book, full of engaging anecdote, that offers not just a compelling portrait of the postwar English country house and its social milieu, but an unexpected one as well."
 —John Goodall, author of The English Castle

"Adrian Tinniswood's meticulously researched and entertaining study of the dramatic changes in the status and nature of the English country house in the three decades after the Second World War provides a brilliant insight into a much overlooked period.… Few authors can combine serious social history with the sometimes sad and often hilarious narratives of country house life in the way that Tinniswood can."—Jeremy Musson, author of English Country House Interiors

"A compelling and fascinating look at the near demise of the country house."
 —Ian Murray, executive director, The Royal Oak Foundation

"Rock stars, hippies, new money, and old money collide in this thrilling new exploration of the country house's tumultuous history after World War II, where demolition, aristocratic entrepreneurship, and the scrappy adolescence of country house tourism combined to enable the houses, if not their owners, to hold their own in contested times."—Dr. Oliver Cox, University of Oxford

"The crisis of the country house in embattled twentieth-century Britain provides a metaphor of national decline and eventual renewal.… Nobody is better qualified to tell this tale of loss and transformation, in all its human complexity, than Adrian Tinniswood. A master of the sources, he brings the past to life through his vivid writing and seemingly bottomless fund of stories."
 —Clive Aslet, author of An Exuberant Catalogue of Dreams

"By turns uproarious, scandalous, and occasionally melancholic, Noble Ambitions shows that the business of running a country house required vision and bravery, and the single-minded determination not to be 'the one to let it go.' From roaming lions to machine gun-toting footmen, this is a book that is full of stories much like the mansions that it so affectionately portrays."—Ben Cowell, Historic Houses

"Delightful. Scrupulous research by Tinniswood, with telling details and poignant stories, makes this a compelling narrative of postwar Britain."
 —Sandy Nairne CBE FSA, curator and writer

"Adrian Tinniswood's highly entertaining narrative of life in the postwar English country house is a refreshing antidote to the usual gloom-ridden accounts of debt and demolition. As this meticulously researched book reveals, not only was the country house alive and kicking, but it was at times quite literally a circus."
 —Dr. Martin Postle, Paul Mellon Centre for Studies in British Art

"With pithy prose, witty asides, and great breadth and depth, Adrian Tinniswood tells the tale of the downfall and glorious rebirth of the English country house in the last half of the twentieth century. This entertaining book is that rarest of creatures: scholarly, fun, and hard to put down." 
 —Curt DiCamillo, fellow of the Royal Society of Arts
Basic Books, 9781541617988, 432pp.
Publication Date: September 21, 2021
About the Author
Adrian Tinniswood is senior research fellow in history at the University of Buckingham and the author of many books on British history, including Behind the Throne and the New York Times bestseller The Long Weekend. He was awarded an OBE for services to heritage by the Queen and lives in Bath, England.