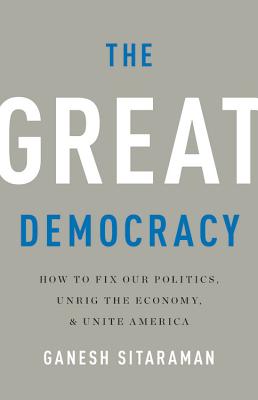 The Great Democracy
How to Fix Our Politics, Unrig the Economy, and Unite America
Hardcover

* Individual store prices may vary.
Description
A leading progressive intellectual offers an "illuminating" agenda for how real democracy can triumph in America and beyond (Ari Berman, New York Times).
Since the New Deal in the 1930s, there have been two eras in our political history: the liberal era, stretching up to the 1970s, followed by the neoliberal era of privatization and austerity ever since. In each period, the dominant ideology was so strong that it united even partisan opponents. But the neoliberal era is collapsing, and the central question of our time is what comes next.
As acclaimed legal scholar and policy expert Ganesh Sitaraman argues, two political visions now contend for the future. One is nationalist oligarchy, which rigs the system for the rich and powerful while using nationalism to mobilize support. The other is the great democracy, which fights corruption and extends both political and economic power to all people. At this decisive moment in history, The Great Democracy offers a bold, transformative agenda for achieving real democracy.
Praise For The Great Democracy: How to Fix Our Politics, Unrig the Economy, and Unite America…
"One of the biggest divides in the race for the Democratic presidential nomination is whether Donald Trump is a cause or a symptom of the current dysfunction in American politics. ... [Sitaraman is] firmly in the big, structural change camp, making a strong case that there is no normal to go back to. ... [His] expansive notion of democracy is the key revelation from Sitaraman's illuminating book."—Ari Berman, New York Times

"This is a major statement of principle and program from one of our most important progressive thinkers. The position Ganesh Sitaraman sets out deserves to be the benchmark for reformers going forward."—Jedediah S. Purdy, author of This Land Is Our Land and William S. Beinecke Professor of Law, Columbia Law School

"The Great Democracy is a remarkable achievement. Ganesh Sitaraman offers a far-reaching analysis of the challenges confronting American democracy and their economic underpinnings. He also proposes a comprehensive set of reforms that could actually make a difference. Read this book if you want a greater democracy."—Simon Johnson, coauthor of Jump-Starting America, 13 Bankers, and White House Burning

"This insightful, engaging book offers a vital diagnosis of our current political crisis. By explaining how we got into this mess, Ganesh Sitaraman cuts a clear and compelling path forward. There's no turning back the clock, no nostalgic return to normalcy -- only the possibility of finally making democracy great by setting our sights on the socially inclusive and economically egalitarian future we the people deserve and desire."—Astra Taylor, author of Democracy May Not Exist, But We'll Miss It When It's Gone

"It will take ideas and imagination, not just a defense of the status quo, to solve America's deep political crisis. The Great Democracy offers both in spades; though I do not agree with all of Ganesh Sitaraman's prescriptions, he has made an important contribution to the kind of bold political vision which can help to ensure that the future of liberal democracy will shine even more brightly than its past."—Yascha Mounk, author of The People vs. Democracy
Basic Books, 9781541618114, 272pp.
Publication Date: December 10, 2019
About the Author
Ganesh Sitaraman is chancellor's faculty fellow, professor of law, and director of the Program in Law and Government at Vanderbilt Law School. Author of The Crisis of the Middle-Class Constitution, a 2017 New York Times Notable Book, he lives in Nashville, Tennessee.