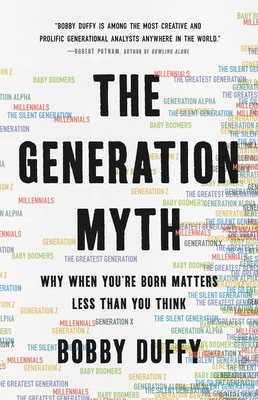 The Generation Myth
Why When You're Born Matters Less Than You Think
Hardcover

* Individual store prices may vary.
Other Editions of This Title:
Digital Audiobook (1/3/2022)
Compact Disc (1/4/2022)
Description
Millennials, Baby Boomers, Gen Z—we like to define people by when they were born, but an acclaimed social researcher explains why we shouldn't.
Boomers are narcissists. Millennials are spoiled. Gen Zers are lazy. We assume people born around the same time have basically the same values. It makes for good headlines, but is it true?

Bobby Duffy has spent years studying generational distinctions. In The Generation Myth, he argues that our generational identities are not fixed but fluid, reforming throughout our lives. Based on an analysis of what over three million people really think about homeownership, sex, well-being, and more, Duffy offers a new model for understanding how generations form, how they shape societies, and why generational differences aren't as sharp as we think.

The Generation Myth is a vital rejoinder to alarmist worries about generational warfare and social decline. The kids are all right, it turns out. Their parents are too. 
Praise For The Generation Myth: Why When You're Born Matters Less Than You Think…
"Bobby Duffy is among the most creative and prolific generational analysts anywhere in the world. Duffy's scientific approach enables him to discount the glib generational stories that obscure our understanding at the same time that he spots deeper generational truths. These virtues make this book indispensable both for national leaders trying to navigate their countries through today's unpredictable political currents and for ordinary citizens trying to navigate themselves and their families through uncertain times."—Robert Putnam, author of Bowling Alone

"Engaging and vital. Anyone trying to understand social change has to distinguish the effects of generations, periods, and ages."—Steven Pinker, author of Enlightenment Now

"Highly readable and insightful. This book cuts through all the spin that caricatures generations and presents the facts we need to know. Bobby Duffy has combined statistics, analysis and a wry sense of humour to give it to us straight so we can think more clearly about building a better future. An essential read for anyone who truly wants to understand our world."—Julia Gillard, former prime minister of Australia

"Bobby Duffy shows that serious generational analysis is indispensable in spotting the fundamental social trends shaping the future. This is a book for anyone, of any generation, who hopes to live and prosper in that future."—Dan Gardner, New York Times–bestselling coauthor of Superforecasting

"The most comprehensive, compelling, and careful account for how and why the generations diverge, come together, and can better connect."—Danny Dorling, Oxford University

"Startling, witty, and erudite. This is a must-read, complete analysis of our times—a portrait of the way we live now in all its changing confusions down the generations. Read this to explode the myth of manufactured generational wars."—Polly Toynbee, Guardian columnist
Basic Books, 9781541620315, 288pp.
Publication Date: November 9, 2021
About the Author
Bobby Duffy, one of the UK's most respected social researchers, is professor of public policy and director of the Policy Institute at King's College London. Duffy previously directed public affairs and global research at Ipsos MORI and the Ipsos Social Research Institute, which, among other initiatives, ran the world's largest study of public perception. He is the author of The Perils of Perception, which sold over 30,000 copies in the UK, and which we published as Why We're Wrong About Nearly Everything in the US. His research has been covered by the Washington Post, Economist, Financial Times, Quartz, NBC, BBC, and elsewhere. He lives in London.