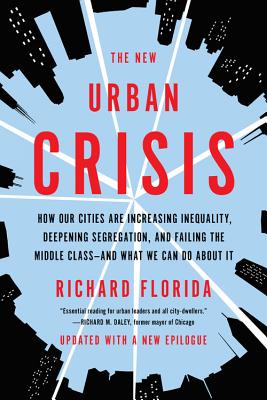 The New Urban Crisis (Paperback)
How Our Cities Are Increasing Inequality, Deepening Segregation, and Failing the Middle Class-and What We Can Do About It
Basic Books, 9781541644120, 368pp.
Publication Date: May 8, 2018
Other Editions of This Title:
Hardcover (4/11/2017)
MP3 CD (6/6/2017)
Compact Disc (6/6/2017)
Compact Disc (6/6/2017)
* Individual store prices may vary.
Description
Richard Florida, one of the world's leading urbanists and author of The Rise of the Creative Class, confronts the dark side of the back-to-the-city movement
In recent years, the young, educated, and affluent have surged back into cities, reversing decades of suburban flight and urban decline. and yet all is not well. In The New Urban Crisis, Richard Florida, one of the first scholars to anticipate this back-to-the-city movement, demonstrates how the forces that drive urban growth also generate cities' vexing challenges, such as gentrification, segregation, and inequality. Meanwhile, many more cities still stagnate, and middle-class neighborhoods everywhere are disappearing. We must rebuild cities and suburbs by empowering them to address their challenges.
The New Urban Crisis is a bracingly original work of research and analysis that offers a compelling diagnosis of our economic ills and a bold prescription for more inclusive cities capable of ensuring prosperity for all.
About the Author
Richard Florida is university professor and director of cities at the Martin Prosperity Institute at the University of Toronto, a distinguished visiting fellow at NYU's Schack Institute of Real Estate, and the cofounder and editor-at-large of the Atlantic's CityLab.


Praise For The New Urban Crisis: How Our Cities Are Increasing Inequality, Deepening Segregation, and Failing the Middle Class-and What We Can Do About It…
"Richard Florida offers a brilliant assessment of the varied and evolving challenges facing our cities today. At a time when cities are more important than ever to our economic and political future, The New Urban Crisis is essential reading for urban leaders and all city-dwellers."—Richard M. Daley, former mayor of Chicago

"The New Urban Crisis bracingly confronts [the] tension between big-city elites and the urban underclass."—Wall Street Journal

"[Richard Florida] vividly expose[s] how gentrification, followed by rising housing costs, concentrated affluence, and glaring inequality has pushed the displaced into deteriorating suburbs far from mass transit, employment, services, and decent schools.... [The New Urban Crisis is] nuanced and proposes solutions."—Washington Post

"Florida draws subtle, thoughtful inferences from his research, and he writes in slick, approachable prose.... Throughout, the author remains an idealistic, perceptive observer of cities' transformations. A sobering account of inequality and spatial conflict rising against a cultural backdrop of urban change."
—Kirkus Reviews

"Urban planners should consider the case being made for the need to address a new urban crisis. A thought-provoking work for those interested in all stages of urban planning and placemaking."
—Library Journal

"The New Urban Crisis deserves to stand alongside Thomas Piketty's Capital in the Twenty-First Century as an essential diagnosis of our contemporary ills, and a clear-eyed prescription of how to cure them."—Steven Johnson

"Richard Florida demonstrates again that he is one of the most discerning (and provocative) observers of the great metropolitan migrations of the past 60 years."
—Governor John Hickenlooper, Colorado

"Cites are engines for prosperity and progress, but it's essential that the benefits extend far and wide. Florida proposes promising ideas for building stronger cities that offer greater opportunities for all."—Mayor Michael Bloomberg, New York City

"Richard Florida is the great pioneer thinker who first explained how the influx of creative people was reviving cities. Now he takes the next step: looking for ways to make this urbanism more inclusive."—Walter Isaacson

"This is the book we have been waiting for. Richard Florida is the greatest American urbanist of our time....This is an indispensable read for policy makers, students, educators, and all urban dwellers alike."
—Mayor Eric Garcetti, Los Angeles

"A sweeping narrative of the most significant human movement of our times: global urbanization. Richard Florida lays out with unassailable facts and clear vision the convergence of an urgent human development--the drive for more livable cities and the quest for a more sustainable planet. Clear, compelling, and full of vision."
—Governor Martin O'Malley, Maryland

"Like the superstar cities it describes, this book is dense, complex and stimulating. Florida's well-researched and fluent exposé of inequality is a wake-up call to all the major actors engaged in planning, designing and managing cities in the 21st century."
—Ricky Burdett, Professor of Urban Studies, London School of Economics

"The New Urban Crisis is well worth reading for the original research, clear-headed critique, and the skilled analysis of solid data."—New York Journal of Books

"The New Urban Crisis is underpinned by reams of data breezily and readably presented."—Miami Herald