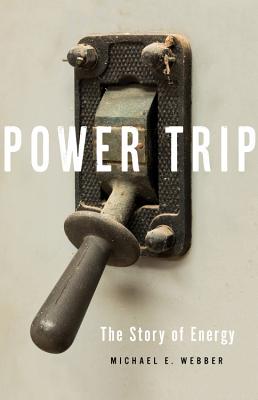 Power Trip
The Story of Energy
Hardcover

* Individual store prices may vary.
Other Editions of This Title:
Digital Audiobook (5/6/2019)
Description
A global tour of energy--the builder of human civilization and also its greatest threat.
Energy is humanity's single most important resource. In fact, as energy expert Michael E. Webber argues in Power Trip, the story of how societies rise can be told largely as the story of how they manage energy sources through time. In 2019, as we face down growing demand for and accumulating environmental impacts from energy, we are at a crossroads and the stakes are high. But history shows us that energy's great value is that it allows societies to reinvent themselves.

Power Trip
explores how energy has transformed societies of the past and offers wisdom for today's looming energy crisis. There is no magic bullet; energy advances always come with costs. Scientific innovation needs public support. Energy initiatives need to be tailored to individual societies. We must look for long-term solutions. Our current energy crisis is real, but it is solvable. We have the power.
Praise For Power Trip: The Story of Energy…
"Impressive to say the least" —Wall Street Journal

Choice award for outstanding academic title

"Power Trip ably guides us through the history of energy."—New York Times

"Energy is central to everything we care about in society. But it's also hard to understand. With this book, Webber has done a service by explaining energy in a way that is easy to understand and fun to read."—Ernie Moniz, former U.S. Secretary of Energy

"To all of us concerned about new energy shocks and still hopeful of creating a better energy future -- this book explains why the stakes of energy transition are higher than ever. It's a really good read and highlights how access to affordable, reliable and sustainable energy is essential in everything we do as citizens, consumers, communities and whole societies."—Angela Wilkinson, Senior Director of Scenarios and Business Insights for the World Energy Council

"From creating wealth to starting wars, energy permeates our lives. Webber gives us a sense of just how inseparable energy has been to our past, and will be in our future."—Martin Doyle, professor in the Environmental Sciences at Duke University

"Michael has provided us an extraordinary volume -- it is comprehensive, sweeping and well-written, easy to read and yet extremely informative. The book is remarkably thorough in its description of the ways in which energy -- its generation, storage, transmission and use -- impact every facet of life on earth. It is a book that convincingly makes the case that energy is the key to understanding virtually all human activity and development... that whether you're considering agriculture or mobility, cities or manufacturing, energy lies beneath and enables it all."—Eric Toone, Executive Managing Director of Breakthrough Energy Ventures

"Power Trip is a delightful combination of fun facts, personal anecdotes, rigorous scientific data, and good advice. And it's full of surprises about the way energy is hidden right in front of us, embedded in every object and issue. It's a must-read for anyone who cares about the future, not only of energy, but of the planet."—Betty Sue Flowers, former director of the LBJ Presidential Library and co-editor of Realistic Hope
Basic Books, 9781541644397, 304pp.
Publication Date: May 7, 2019
About the Author
Michael E. Webber is the Josey Centennial Professor in Energy Resources and professor of mechanical engineering at the University of Texas at Austin. He is also author of Thirst for Power. He lives in Paris, France, where he is serving as the Chief Scientific and Technical Officer for Engie, a global energy and infrastructure services firm.