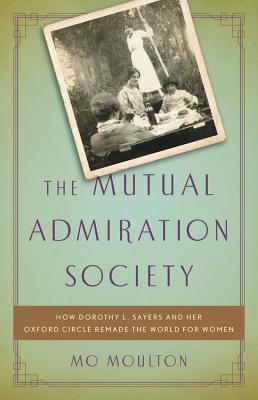 The Mutual Admiration Society
How Dorothy L. Sayers and her Oxford Circle Remade the World for Women
Hardcover

* Individual store prices may vary.
Other Editions of This Title:
Digital Audiobook (8/10/2020)
MP3 CD (8/11/2020)
Compact Disc (8/11/2020)
Description
A group biography of renowned crime novelist Dorothy L. Sayers and the Oxford women who stood at the vanguard of equal rights

Dorothy L. Sayers is now famous for her Lord Peter Wimsey and Harriet Vane detective series, but she was equally well known during her life for an essay asking "Are Women Human?" Women's rights were expanding rapidly during Sayers's lifetime; she and her friends were some of the first women to receive degrees from Oxford. Yet, as historian Mo Moulton reveals, it was clear from the many professional and personal obstacles they faced that society was not ready to concede that women were indeed fully human.

Dubbing themselves the Mutual Admiration Society, Sayers and her classmates remained lifelong friends and collaborators as they fought for a truly democratic culture that acknowledged their equal humanity. A celebration of feminism and female friendship, The Mutual Admiration Society offers crucial insight into Dorothy L. Sayers and her world.


Praise For The Mutual Admiration Society: How Dorothy L. Sayers and her Oxford Circle Remade the World for Women…
Winner of the Anthony Award for Best Critical Non-fiction Work

"Pioneering."—Washington Post

"What touchingly emerges is the sense that through all the trials of heartbreak, bereavement and loss, it was friendship that persisted. It is a tribute to that precious but still unsung thing: the loving bond between female friends, based on intellectual exchange and deep affection."—The Guardian

"In a new group biography of Sayers and the school friends who served as her lifelong support system and creative collaborators...the historian Mo Moulton shows Sayers setting out in Gaudy Night, her most psychologically astute and least conventional novel, to present her own philosophy of women's intrinsic intellectual equality...Moulton's book sheds new light on Sayers's evolution as a writer, showing how some of her best work occurred in collaboration with her friend Muriel St. Clare Byrne."— The New Yorker

"In The Mutual Admiration Society, historian Mo Moulton, too, affords the group's members the same sober respect that they afforded themselves, painting a rich portrait of the enduring friendship between four of them."—Financial Times

"Well-written and fascinating,
it's equally successful as a biography and social history."—Sunday Express

"What Moulton best accomplishes in this intimate and
scholarly book is a re-creation of a world in transition. The Mutual Admiration
Society came of age at a vital juncture in history, a time of new opportunity
for women."—BookPage

"Rich and careful... Moulton vividly shows us the importance of friendship and marginalization as spurs to ambition... The book excavates the social and emotional context of the lives of four indomitable women with painstaking affection; it is as valuable as it is enjoyable."—Times Higher Education

"With real affection, the author amplifies the message that Sayers herself broadcast: 'the friendship of which the female sex is said to be incapable.' ... Take that male chauvinist pigs at 10 Downing Street and in the House of Lords. English sisterhood has been, indeed, a powerful force for good." —New York Journal of Books

"Moulton,
with a keen eye for humorous detail and moments of humanity, deftly captures
not only the lives of these women, but the enduring power of female
friendship."—Booklist (starred review)

"Sign me up as an admirer of Mo Moulton's The Mutual Admiration Society, a fresh and invigorating narrative that brings to life a close-knit coterie of brilliant Oxford women. Spanning eight decades and two world wars, Moulton's deeply researched group biography has a message for today -- one about intellectual integrity and the enduring power of a scholarly female community."—Megan Marshall, Pulitzer Prize-winning authorof Margaret Fuller and Elizabeth Bishop

"If you already know and love the work of Dorothy L. Sayers, Moulton will help you understand her better; if you don't, let this gorgeous work -- whose intense focus on women's humanity, ambitions, and life-sustaining friendships echoes the very best of Sayers's novels -- be part of your introduction."—Nicole Chung, authorof All You Can Ever Know

"In this compelling book, Moulton shows how six women inspired and supported one another for decades. This moving account of their collective bond is required reading, not only for Dorothy Sayers aficionados, but for anyone interested in queer lives and in the history of friendship."
—Sharon Marcus,author of The Drama of Celebrity

"This is an extraordinary book. Vivid and moving, The Mutual Admiration Society makes us think again about how -- in private as much in public -- modern Britain was made (and remade) through the creative work of women. Beautifully written, animated by a sense of quiet power and amazing ambition, this is essential reading for anyone interested in modern British history."—Matt Houlbrook, author of Prince of Tricksters and Queer London and professor of cultural history, University of Birmingham

"Beautiful and meticulous. The Mutual Admiration Society is about the collaborative friendships of women who refused to be anonymous. This was always an important story to tell -- but these days, it is vital reading."—Kevin Birmingham, author ofThe Most Dangerous Book

"Witty and insightful. Tracking lifelong friendships, Moulton reveals how a community of writers and activists transcended the limitations placed upon women in twentieth-century Britain. Their stories are by turns charming and harrowing, revealing how an understanding of women's intimate lives can illuminate the times in which they lived."—Megan Kate Nelson, author of TheThree-Cornered War: The Union, the Confederacy, and Native Peoples in the Fightfor the West

"Intensely engrossing.
Part literary biography, part social history, Mo Moulton's eloquent narrative
testifies to the transformative power of creative work."—Laura Doan, author of DisturbingPractices: History, Sexuality, and Women's Experience of Modern War

"A deeply affecting group portrait of a pathbreaking set of female friends who attended Oxford at the dawn of the twentieth century. If you're a fan of Mary McCarthy's The Group, you'll love The Mutual Admiration Society."—Rachel Hope Cleves, professor of history,University of Victoria and author of Charity and Sylvia

"This lively, rigorous, and surprising history offers both a fresh look at the past and real insight into the ways we might collectively shape a better future."—Kristen Roupenian, author of You Know You Want This

"As a beautifully pieced patchwork of fascinating archival material from 21 libraries and collections on two continents, MAS (as Moulton calls the group, and as I'll call the book) combines immense narrative interest with delightful detail. It practically begs to be made into a miniseries featuring dashing women in trousers, neckties, tea gowns, and/or academic gowns - complete with vaguely bohemian London flats, rainy train stations, lesbian love triangles, secret love children, cute cats, devoted dogs, pastoral picnics, and tragic telegrams.... MAS is also an illuminating work of analysis that engages substantively with and contributes to scholarship on women's history, queer history, and the histories of childhood, friendship, and higher education. And it provides literary-critical thrills to fans and scholars of DLS, offering fresh ways to read the Peter Wimsey mysteries Busman's Honeymoon (often considered a minor or marginal work in the Sayers canon) and Gaudy Night (commonly acknowledged as one of DLS's greatest achievements). By placing these texts primarily in the context of DLS's network of friendships, Moulton makes them new."—Los Angeles Review of Books
Basic Books, 9781541644472, 384pp.
Publication Date: November 5, 2019
About the Author
Mo Moulton is currently a lecturer in the history department of the University of Birmingham. They earned their PhD in history from Brown University in 2010 and taught in the History & Literature program at Harvard University for six years. Their previous book, Ireland and the Irish in Interwar England, was named a 2014 "Book of the Year" by History Today and was the runner-up for the Royal History Society's 2015 Whitfield Prize for first book in British or Irish history. Moulton regularly writes for outlets such as The Atlantic, Public Books, Disclaimer Magazine, and the Toast. They live in London, UK.