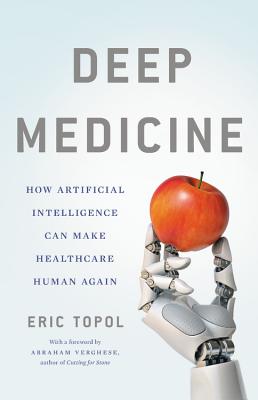 Deep Medicine
How Artificial Intelligence Can Make Healthcare Human Again
Hardcover

* Individual store prices may vary.
Other Editions of This Title:
Digital Audiobook (3/11/2019)
Description
A Science Friday pick for book of the year, 2019
One of America's top doctors reveals how AI will empower physicians and revolutionize patient care
Medicine has become inhuman, to disastrous effect. The doctor-patient relationship--the heart of medicine--is broken: doctors are too distracted and overwhelmed to truly connect with their patients, and medical errors and misdiagnoses abound. In Deep Medicine, leading physician Eric Topol reveals how artificial intelligence can help. AI has the potential to transform everything doctors do, from notetaking and medical scans to diagnosis and treatment, greatly cutting down the cost of medicine and reducing human mortality. By freeing physicians from the tasks that interfere with human connection, AI will create space for the real healing that takes place between a doctor who can listen and a patient who needs to be heard.
Innovative, provocative, and hopeful, Deep Medicine shows us how the awesome power of AI can make medicine better, for all the humans involved.
Praise For Deep Medicine: How Artificial Intelligence Can Make Healthcare Human Again…
"Dr. Topol's vision of medicine's future is optimistic. He thinks AI...is set to save time, lives and money."—The Economist

"Topol passionately and persuasively sets out the transformational potential of deep medicine."—Lancet

"[Topol's] argument for using technology to bring care back to health care is timeless."—Nature

"An optimistic vision of medicine's rapidly approaching future that should be required reading for the public and medical people alike."—Booklist

"Enlightening... Anyone with an avid curiosity about the future of medicine will find this worthwhile."—Publishers Weekly

"A gimlet-eyed look at the role of computers in medicine...A cogent argument for a more humane -- and human -- medicine, assisted by technology but not driven by it."—Kirkus

"Eric Topol has a unique knack for bringing us to the frontiers of medicine in his books, and this one is no exception. A compulsively readable, elegantly written, important account, Deep Medicine will fundamentally change the way you view the future of medical technologies and their impact on our lives. This book is challenging, thoughtful, and provocative. I cannot recommend it enough."—Siddhartha Mukherjee, author of The Emperor of All Maladies

"Healthcare offers the best opportunity for symbiotic combination of artificial intelligence and humanity. Eric Topol's book is the definitive work from someone who deeply understands both healthcare and AI. I strongly recommend the book, and hope it connects medical practitioners and AI researchers, and help them understand that only by working together, can our shared dreams of health and longevity be reached."—Kai-Fu Lee, bestselling author of AI Superpowers

"Deep Medicine is a fascinating tour of how machine learning is transforming medical research, with medical care on the horizon. Topol reminds us that as our machines get smarter and capable of taking over more of our tasks, we must become more human, and more humane, to compensate. Our most brilliant AI tools will help us learn more about ourselves--body and mind--than we can even imagine, but they cannot empathize with a patient. This book is an excellent step toward directing all that knowledge into creating a healthier society, not just healthier individuals."—Garry Kasparov, author of Deep Thinking

"The promise of Artificial Intelligence is deeply human, and its impact is only growing in industry and daily life alike. Deep Medicine is an insightful read about the incredible potential of AI and medicine, written from a refreshingly human-centered perspective. It's not only a landmark book, but the start of a truly historic conversation about the implications of this exciting technology in medicine."—Fei-Fei Li, professor of computer science at Stanford University and director of the Stanford Artificial Intelligence Lab and the Stanford Vision Lab

"Deep Medicine is an essential look at the future of AI-powered healthcare, told by one of the most exciting researchers in the field."—Andrew Ng, General Partner at AI Fund and CEO of Landing AI
Basic Books, 9781541644632, 400pp.
Publication Date: March 12, 2019
About the Author
Eric Topol, MD, is a world-renowned cardiologist, Executive Vice-President of Scripps Research, founder of a new medical school and one of the top ten most cited medical researchers. The author of The Patient Will See You Now and The Creative Destruction of Medicine, he lives in La Jolla, CA.