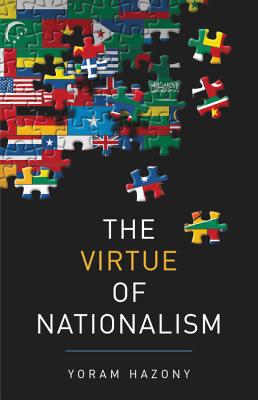 The Virtue of Nationalism (Hardcover)
Basic Books, 9781541645370, 304pp.
Publication Date: September 4, 2018
* Individual store prices may vary.
Description
A leading conservative thinker argues that a nationalist order is the only realistic safeguard of liberty in the world today
Nationalism is the issue of our age. From Donald Trump's "America First" politics to Brexit to the rise of the right in Europe, events have forced a crucial debate: Should we fight for international government? Or should the world's nations keep their independence and self-determination?
In The Virtue of Nationalism, Yoram Hazony contends that a world of sovereign nations is the only option for those who care about personal and collective freedom. He recounts how, beginning in the sixteenth century, English, Dutch, and American Protestants revived the Old Testament's love of national independence, and shows how their vision eventually brought freedom to peoples from Poland to India, Israel to Ethiopia. It is this tradition we must restore, he argues, if we want to limit conflict and hate--and allow human difference and innovation to flourish.
About the Author
Yoram Hazony is president of the Herzl Institute in Jerusalem and director of the John Templeton Foundation's project in Jewish Philosophical Theology. His books include The Jewish State: The Struggle for Israel's Soul and The Philosophy of Hebrew Scripture. He lives in Jerusalem.
Praise For The Virtue of Nationalism…
"A new book that will become a classic.... Yoram Hazony has written a magnificent affirmation of democratic nationalism and sovereignty. The book is a tour de force that has the potential to significantly shape the debate between the supporters of supranational globalism and those of national-state democracy."—National Review

"One of the most important books on one of the most important controversies of our time."—New Criterion

"[Hazony] cogently argues in the book that anyone who values his freedom should reject universalism and fight for a future of nations... [an] excellent book."—City Journal

"Hazony is both erudite and well reasoned."—American Conservative

"The Virtue of Nationalism is a brilliant achievement, at once learned and sharp, philosophical and politically engaged."—Jewish Review of Books

"A concise, thoughtful, strongly put case that resurgent nationalism is reason not for concern but for relief."—New York Sun

"Hazony presents a vigorous case for nationalism and its virtues."—National Interest

"The catastrophic failure of the liberal program opens the way for a new kind of political thinking, and Hazony offers a timely contribution to the debate."—Tablet

"Important.... Hazony continues to do a service in reviving the theory of nationalism at a moment when its empirical manifestations have become impossible to ignore. He also presents a model of engaged political philosophy--learned yet accessible, spirited but not excessively hostile."—Modern Age

"A thought-provoking book."—Publishers Weekly

"In an era when the word 'nationalism' falls on many ears as an insult and condemnation, Yoram Hazony recalls the ancient, essential, and even noble origins of the nation. I expect and hope this provocative and deeply learned book will incite fierce debate, but the depth and persuasiveness of its defense of the virtue of nations will demand engagement by every reader concerned with serious political ideas. Hazony masterfully blends a deep grasp of history, political philosophy, theology, and common sense with originality and clarity in what will be one of the most-discussed books of this dawning new age of the nation."—Patrick Deneen, professor of political science, University of Notre Dame, and author of Why Liberalism Failed

"In this engaging and deeply learned book, Yoram Hazony explores the religious and historical roots of nationalism, illuminates its modern accomplishments, and thereby offers a uniquely insightful guide to the forces transforming the politics of the West."—Yuval Levin, editor of National Affairs and author of The Fractured Republic

"To cosmopolitans on the right and left, the division of the world into sovereign nation-states is a lamentable fact we must strive to overcome. In The Virtue of Nationalism, Yoram Hazony demonstrates that it is in fact essential to human flourishing."—Reihan Salam, executive editor, National Review

"Yoram Hazony's book is profound as well as accessible and well-crafted, reflecting years of inquiry and reflection into a subject of unparalleled importance. Political figures, scholars, and the broader public will have to think carefully about this remarkable book."—Natan Sharansky, author of The Case for Democracy and Defending Identity

"Yoram Hazony's The Virtue of Nationalism belongs among the great works of political theory. Hazony presents a radical, even dangerous thesis: what if nationalism is not the scourge that today's left views it as, but rather the best hope humanity has? The Virtue of Nationalism mounts a necessary challenge to the liberal order of the day."—Batya Ungar-Sargon, opinion editor of The Forward