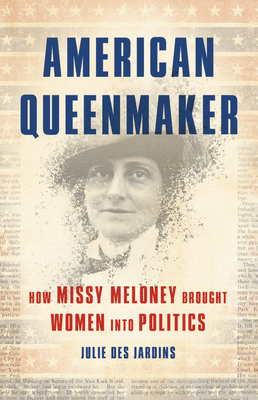 American Queenmaker
How Missy Meloney Brought Women Into Politics
Hardcover

* Individual store prices may vary.
Description
The first biography of Missy Meloney, the most important woman you've never heard of

Marie "Missy" Mattingly Meloney was born in 1878, in an America where women couldn't vote. Yet she recognized the power that women held as consumers and family decision-makers, and persuaded male publishers and politicians to take them seriously. Over the course of her life as a journalist, magazine editor-in-chief, and political advisor, Missy created the idea of the female demographic. After the passage of the 19th Amendment she encouraged candidates to engage with and appeal to women directly. In this role, she advised Presidents from Hoover and Coolidge to FDR. By the time she died in 1943, women were a recognized political force to be reckoned with.

In this groundbreaking biography, historian Julie Des Jardins restores Missy to her rightful place in American history.


Praise For American Queenmaker: How Missy Meloney Brought Women Into Politics…
"American Queenmaker gives overdue recognition to one of America's foremost journalists."—Wall Street Journal

"The first biography of Marie Mattingly Meloney... opens our eyes to a woman who should be a household name."—Kirkus Reviews (starred)

"A meticulously researched and readable biography that will engage readers interested in women's history and journalism, and in 20th-century social reform."—Library Journal

"Des Jardins makes a convincing case for Meloney's crucial role in showing American women how to flex their political muscle. Readers interested in women's issues will find this to be a valuable contribution to the subject."— Publishers Weekly

"JulieDes Jardins brings her considerable skill and insight to a biography of Missy Meloney, a pioneering newspaper editor, an advisor to presidents and policy makers, a friend to Eleanor Roosevelt and Herbert Hoover, and a mentor to artists, writers, and scientists throughout the first half of the 20th century. Des Jardins explores the impact of a gender ideology that forced women like Meloney to couch their unprecedented achievements in the male public sphere as feminine sacrifice. In this compelling study, Des Jardins brings Missy Meloney out of the shadows and allows her at last the public acclaim she deserves."—Carol Berkin, PresidentialProfessor of History, Emerita, CUNY and editor of the series Lives of AmericanWomen

"Missy Meloney was a uniquely powerful woman-and she used that power not to advance her own career (impressive as it was), but to advance the careers of other women and the causes they cared most deeply about. Her fingerprints are all over early 20th century politics, mass media, and popular culture but we are only now seeing them thanks to Julie Des Jardins's intimate and groundbreaking biography."—Susan Ware, author of WhyThey Marched: Untold Stories of the Women Who Fought for the Right to Vote

"Julie Des Jardins has done a fine job conjuring Missy Meloney as a force of nature and championing a woman who was herself a champion -- especially of strong women. As a journalist, editor, and publicist, Meloney was skilled at diverting attention toward others, yet in American Queenmaker, Des Jardins has placed Meloney at center stage."—Susan Quinn, author of Marie Curie: A Life and Eleanor and Hick: The Love Affair that Shaped a First Lady
Basic Books, 9781541645493, 384pp.
Publication Date: January 21, 2020
About the Author
Julie Des Jardins holds a PhD in American Women's and Gender History from Brown and until 2014 was a full professor of history at Baruch College, CUNY. She has taught at Harvard, Macalester, Tufts, and currently sits on the Advisory Council of National Women's History Museum in Washington, D.C. The author of four critically-acclaimed books (including a volume on Lillian Gilbreth for Westview's Lives of American Women series, edited by Carol Berkin), she regularly writes for academic journalsand has written for the Smithsonian Magazine and Salon, and lectures widely on gender in America. Des Jardins lives in San Carlos, California.