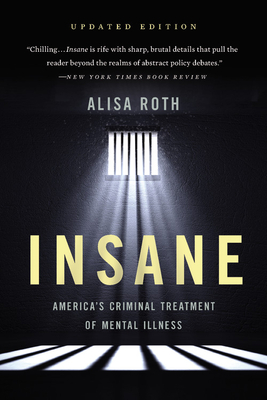 Insane
America's Criminal Treatment of Mental Illness
Paperback

* Individual store prices may vary.
Other Editions of This Title:
Digital Audiobook (9/24/2018)
Hardcover (4/3/2018)
MP3 CD (9/25/2018)
Compact Disc (9/25/2018)
Description
An urgent exposéf the mental health crisis in our courts, jails, and prisons

America has made mental illness a crime. Jails in New York, Los Angeles, and Chicago each house more people with mental illnesses than any hospital. As many as half of all people in America's jails and prisons have a psychiatric disorder. One in four fatal police shootings involves a person with such disorders.

In this revelatory book, journalist Alisa Roth goes deep inside the criminal justice system to show how and why it has become a warehouse where inmates are denied proper treatment, abused, and punished in ways that make them sicker.

Through intimate stories of people in the system and those trying to fix it, Roth reveals the hidden forces behind this crisis and suggests how a fairer and more humane approach might look. Insane is a galvanizing wake-up call for criminal justice reformers and anyone concerned about the plight of our most vulnerable.
Praise For Insane: America's Criminal Treatment of Mental Illness…
"Chilling...Roth writes movingly of the human toll of incarceration...She convincingly diagnoses the glaring inadequacies of mental health treatment in prison but she is not out for scapegoats...Insane is rife with sharp, brutal details that pull the reader beyond the realms of abstract policy debates."—New York Times Book Review

"This essential exposé, which includes tragic case histories, tells of legions of prisoners put in solitary confinement or subdued with medication...At the heart of the problem, Roth notes, is the changing landscape of mental-health care."—New Yorker

"Superb...Roth stresses America's failure to provide the vital community mental health services first promised in the Kennedy years...Some of the most revealing sections of Insane deal with the officers who patrol these wards...Burnout is inevitable."—New York Review of Books

"Roth got rare access, including at mental health units inside the Los Angeles County Jail and a women's prison in Oklahoma, and dove deep into the stories of a handful of individuals whose florid mental illness led them to prison, was badly managed and resulted in awful outcomes...[She] navigates it with grace."—Marshall Project

"Alisa Roth's powerful new book...calls into question such simplistic solutions to the current crisis in our mental health-care system...Based on in-depth interviews and observations, the book provides revealing snapshots of conditions at New York City's Rikers Island, the Los Angeles County jail, and Chicago's Cook County jail, the nation's de facto three largest mental health-care providers."—Democracy Journal

"50 percent of the mentally ill go untreated-half of them because they can't afford it...The place where the poor are likely to get treated, if anywhere, is prison...With an eye not toward shaming but toward progress, [Roth] gestures at solutions."—San Antonio Express-News

"Powerful, heart-wrenching...A summons to action to correct a system that inflicts needless suffering on people in custody."—Time Free Press

"Deep, broad and well documented. Roth has provided an eye-opening book about mental health care in the U.S."—Missourian

"A searing exposé about the criminalization of mental illness...Though the subject matter dictates that much of the book is relentlessly depressing, the author is such a talented information gatherer and fluid stylist that the narrative becomes compulsive reading. An eye-opening book that cries out for change."—Kirkus (starred review)

"Roth strikes a powerful balance between big picture analysis and individual stories to make this searing account of America's misguided treatment of the mentally ill hard to ignore."—Publishers Weekly (starred review)
Basic Books, 9781541646476, 336pp.
Publication Date: June 9, 2020
About the Author
Alisa Roth is the mental health correspondent for Minnesota Public Radio and frequent contributor to various NPR programs. A Soros Justice Fellow, her work has also appeared in the New York Review of Books and New York Times. She lives in St. Paul, Minnesota.