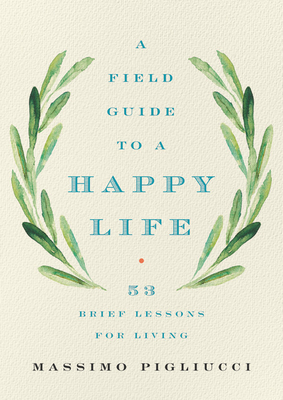 A Field Guide to a Happy Life
53 Brief Lessons for Living
Hardcover

* Individual store prices may vary.
Description
A brilliant philosopher reimagines Stoicism for our modern age in this thought-provoking guide to a better life.
For more than two thousand years, Stoicism has offered a message of resilience in the face of hardship. Little wonder, then, that it is having such a revival in our own troubled times. But there is no denying how weird it can be: Is it really the case that we shouldn't care about our work, our loved ones, or our own lives? According to the old Stoics, yes.
In A Field Guide to a Happy Life, philosopher Massimo Pigliucci offers a renewed Stoicism that reflects modern science and sensibilities. Pigliucci embraces the joyful bonds of affection, the satisfactions of a job well done, and the grief that attends loss. In his hands, Stoicism isn't about feats of indifference, but about enduring pain without being overwhelmed, while enjoying pleasures without losing our heads. In short, he makes Stoicism into a philosophy all of us -- whether committed Stoics or simply seekers -- can use to live better.
Praise For A Field Guide to a Happy Life: 53 Brief Lessons for Living…
"A shrewd take on Stoic philosophy that's one part inspiration and one part manual for cultivating resilience in daily life. Pigliucci's prudent advice will have broad appeal among philosophically inclined readers of self-help."
—
Publishers Weekly
"A wonderfully fun introduction to Stoic philosophy, bursting with practical wisdom and engaging stories. I particularly admire how Pigliucci revisits and reinterprets Epictetus's
Enchiridion
while showing why we need a 'Stoicism 2.0' for twenty-first century happiness, and clearly illustrating how his version differs from the original. It's an excellent book, written in Pigliucci's splendidly lucid and accessible style."
—
Skye C. Cleary, author of Existentialism and Romantic Love
"Pigliucci's
A Field Guide to a Happy Life
provides a user-friendly manual for applying Stoicism to daily life in the twenty-first century. Stoicism 2.0 tweaks the philosophy in order to adapt it to the moral intuitions shared by most modern readers. It therefore provides a good place to start your journey when exploring Stoic practices."—
Donald Robertson, author of How toThink Like a RomanEmperor
"This short book is a 'field guide,'
written with busy non-specialists in mind. By dipping into its pages,
readers can simultaneously develop an understanding of Stoicism and gain
important insights into how best to live. Those who are already familiar with
Epictetus will appreciate Pigliucci's bold 'update' of Stoicism in the book's
closing pages."
—
WilliamB. Irvine, author of The Stoic Challenge
"This is a bold, contemporary updating of Stoicism for the present day. Taking the ancient Stoic Epictetus as his inspiration, Pigliucci has rewritten Epictetus's
Handbook
in order to update it, make it more relevant to a modern audience, but also to ensure that the core Stoic ideas shine through. The result is what Pigliucci calls Stoicism 2.0. This is a manual for living for those who approach the ancient Stoics as guides, not masters."—
John Sellars, author of Stoicism
"An engaging introduction to the Stoic life through an updated version of Epictetus's
Handbook
. An unusual and helpful feature is an appendix in which Pigliucci highlights his modifications of the original Stoic text to take account of modern thinking."—
Christopher Gill, author of Greek Thought
"Pigliucci reimagines Epictetus's
Handbook
(a.k.a. the
Enchiridion
) and updates it for the twenty-first century. The result is a work more timely than ever, for it warns us of the dangers of superstition while it reminds us that reason and virtue are essential to happiness. Pigliucci speaks directly to us as readers and justifies his updates along the way. He thereby invites us to treat Epictetus and this very book as a reasonable guide rather than as an oracle from on high."—
Brian E. Johnson,Fordham University
Basic Books, 9781541646933, 160pp.
Publication Date: September 15, 2020
About the Author
Massimo Pigliucci is the K. D. Irani Professor of philosophy at the City College of New York. The author or editor of thirteen books, he has been published in the New York Times, the Wall Street Journal, Philosophy Now, and the Philosophers' Magazine, among others. He lives in New York City.