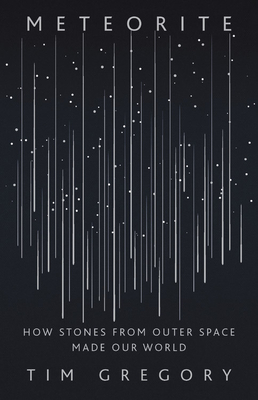 Meteorite
How Stones from Outer Space Made Our World
Hardcover

* Individual store prices may vary.
Description
Explore the universe and immerse yourself in the story of our solar system, planet, and life through meteorites.
"Meteorite is a treasure"--Wall Street Journal

Meteorites have long been seen as portents of fate and messages from the gods, their fiery remains inspiring worship and giving rise to legends that have persisted for millennia. But beyond the lore, meteorites tell an even greater story: that of our solar system. In Meteorite, geologist Tim Gregory shows that beneath the charred crusts of these celestial stones lies a staggering diversity of rock types. Their unique constituents, vibrant colors, and pungent smells contain thrilling tales of interstellar clouds, condensing stardust, and the fiery collisions of entire worlds. Gregory explores the world of meteorites to uncover new insights into what our solar system was like before our sun became a star, into the forging of our planet, and into the emergence of life on it. Humans have long looked to the skies for answers to big questions. Meteorite reveals how science is finally arriving at those answers.
Praise For Meteorite: How Stones from Outer Space Made Our World…
"Meticulously researched and eminently readable…
Meteorite
is a treasure"—
Robert M. Thorson
,
Wall Street Journal
"I have a new book to recommend. In Meteorite, chemist and geoscientist Tim Gregory weaves a colorful tapestry of historical and scientific stories with an eye towards the latest developments. A passionate communicator, Gregory conjures environments and events far outside the human experience."
—
Meenakshi Wadhwa
,
Nature
"Gregory is a geologist with an enthusiasm for storytelling."—
Kate Greene
,
New York Times
"A
captivating blend of painstaking detective work and dramatic cosmic events. The
impact that rocks from space have had on our culture, and on our knowledge of
where we come from -- and where they come from -- may surprise you. As will their impact on the
planet of course, should you be lucky enough to see a 'fall.'"—
Jon Butterworth, author of Smashing Physics
"Tim Gregory gets it. He
has an uncanny ability to swiftly understand, to clearly explain, and to be
joyful."—
Chris Hadfield, astronaut
"A solid education that is so detailed it will appeal mostly to amateur astronomers and geologists."—
Kirkus
Basic Books, 9781541647619, 320pp.
Publication Date: October 13, 2020
About the Author
Tim Gregory is a research scientist at the British Geological Survey in Nottingham, where he studies the geology of the early solar system using meteorites. He has a PhD from the University of Bristol and lives in Nottingham, UK.