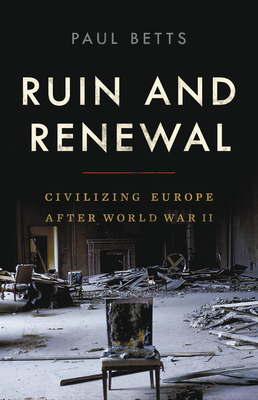 Ruin and Renewal
Civilizing Europe After World War II
Hardcover

* Individual store prices may vary.
Description
Winner of the American Philosophical Society's 2021 Jacques Barzun Prize in Cultural History
From an award-winning historian, a panoramic account of Europe after the depravity of World War II.
In 1945, Europe lay in ruins. Some fifty million people were dead, and millions more languished in physical and moral disarray. The devastation of World War II was unprecedented in character as well as in scale. Unlike the First World War, the second blurred the line between soldier and civilian, inflicting untold horrors on people from all walks of life. A continent that had previously considered itself the very measure of civilization for the world had turned into its barbaric opposite.
Reconstruction, then, was a matter of turning Europe's "civilizing mission" inward. In this magisterial work, Oxford historian Paul Betts describes how this effort found expression in humanitarian relief work, the prosecution of war crimes against humanity, a resurgent Catholic Church, peace campaigns, expanded welfare policies, renewed global engagement and numerous efforts to salvage damaged cultural traditions. Authoritative and sweeping, Ruin and Renewal is essential reading for anyone hoping to understand how Europe was transformed after the destruction of World War II.
Praise For Ruin and Renewal: Civilizing Europe After World War II…
"Rich and engaging."—New Yorker

"Mohandas Gandhi quipped that 'Western civilization' sounded like something worth trying. Europeans daringly attempted to do that very thing after World War II, Paul Betts shows in his provocative new book. While reactionary zealots rally around civilization today, others wagered after war and decolonization not on abandoning a tarnished ideal, but instead on giving it new meaning. We still have to decide whether to be their heirs."—Samuel Moyn, Yale University

"Ruin and Renewal is an erudite, rigorously researched, and elegantly written account of the post-war remaking of Europe. Paul Betts provides his reader with a breathtaking panorama of the world of the men and women who, pursuing varied visions for the creation of a new 'civilization,' embarked on bold reforms to rebuild the continent on the ruins of the Second World War. His book will fundamentally reshape our understanding of modern Europe—a masterpiece."—David Motadel, London School of Economics

"Paul Betts uses the concept of 'civilisation' like a radiographer's dye to reveal some deeply unsettling pathologies beneath the skin of post-war Europe. Ruin and Renewal is an impressively wide-ranging, original synthesis of cultural and political history."—Timothy Garton Ash, professor of European studies, University of Oxford

"Ruin and Renewal is a marvelously subtle and wide-ranging exploration of the ways in which Europe rebuilt itself materially and morally after the Second World War. Paul Betts boldly uses the much debated and controversial concept of civilization to show how Europeans, on both sides of the Cold War, redefined themselves and others. Essential reading for anyone who wants to understand the world of today."—Margaret MacMillan, University of Oxford
Basic Books, 9781541672468, 544pp.
Publication Date: November 17, 2020
About the Author
Paul Betts is a professor of European history at St. Antony's College, Oxford, and the author of several books, most recently Within Walls: Private Life in the German Democratic Republic, which won the Fraenkel Prize in Contemporary History. He lives in Oxford, England.
or
Not Currently Available for Direct Purchase