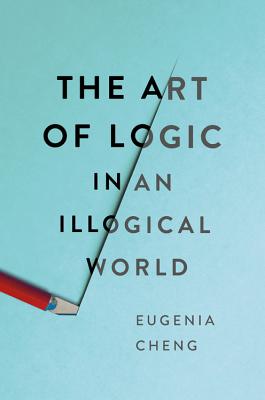 The Art of Logic in an Illogical World
Hardcover

* Individual store prices may vary.
Other Editions of This Title:
Digital Audiobook (9/10/2018)
Paperback (8/11/2020)
Description
How both logical and emotional reasoning can help us live better in our post-truth world

In a world where fake news stories change election outcomes, has rationality become futile? In The Art of Logic in an Illogical World, Eugenia Cheng throws a lifeline to readers drowning in the illogic of contemporary life. Cheng is a mathematician, so she knows how to make an airtight argument. But even for her, logic sometimes falls prey to emotion, which is why she still fears flying and eats more cookies than she should. If a mathematician can't be logical, what are we to do? In this book, Cheng reveals the inner workings and limitations of logic, and explains why alogic -- for example, emotion -- is vital to how we think and communicate. Cheng shows us how to use logic and alogic together to navigate a world awash in bigotry, mansplaining, and manipulative memes. Insightful, useful, and funny, this essential book is for anyone who wants to think more clearly.
Praise For The Art of Logic in an Illogical World…
"It's a shame that not everyone can read this book, but Cheng claims it is incumbent on those of us who can to use compassion and logic to argue productively with those who can't. In this way, advanced mathematics could make a meaningful contribution to creating a better society as well as happier conversations and relationships. There is a sense in which this book is proof it can."—Guardian

"Following in the tradition of George Boole, Lewis Carroll and John Venn, who provided algebraic or diagrammatic aids to logical calculation, Eugenia Cheng enhances her reputation as a popular mathematics writer with this perceptive analysis of logic and its limitations."—Times Higher Education

"Cheng's book covers the basics of logic, argumentation, and emotion through humor and an excellent use of illustrations like ice cream, sexism, and Gödel's Incompleteness Theorem."—MAA Reviews

"Entertaining... a very welcome primer in logical thinking."—Kirkus Reviews

"Cheng's suggestion to combine the persuasive powers of logic with emotional appeal to find common ground is original and pragmatic, particularly in these divisive times."—Publishers Weekly

"With humor, grace, and a natural gift for making explanations seem fun, Eugenia Cheng has done it again. This is a book to savor, to consult, and to buy for all your friends. You'll think more clearly after reading this book, something that is unfortunately in short supply these days. I am buying several copies to send to heads of state."—Daniel J. Levitin, Ph.D., New York Times bestselling author of This Is Your Brain on Music and The Organized Mind

"This book is empowering! Eugenia Cheng makes logic alive and relevant with prose that is accessible, clear and engaging. In this masterpiece, you will learn how the power of logic can clarify some of the most pressing issues that confront us, as individuals and a society."—Stephon Alexander, author of The Jazz of Physics and professor of physics, Brown University
Basic Books, 9781541672482, 320pp.
Publication Date: September 11, 2018
About the Author
Eugenia Cheng is Scientist in Residence at the School of the Art Institute of Chicago and an Honorary Visiting Fellow at City, University of London. She has authored numerous titles, including How to Bake Pi, Beyond Infinity, and x + y. Cheng lives in Chicago, Illinois.