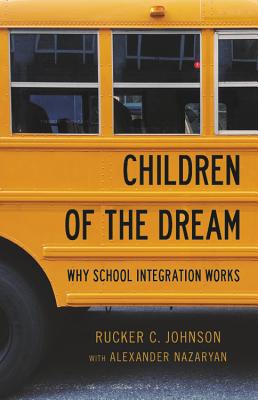 Children of the Dream
Why School Integration Works
Hardcover

* Individual store prices may vary.
Description
An acclaimed economist reveals that school integration efforts in the 1970s and 1980s were overwhelmingly successful -- and argues that we must renew our commitment to integration for the sake of all Americans
We are frequently told that school integration was a social experiment doomed from the start. But as Rucker C. Johnson demonstrates in Children of the Dream, it was, in fact, a spectacular achievement. Drawing on longitudinal studies going back to the 1960s, he shows that students who attended integrated and well-funded schools were more successful in life than those who did not -- and this held true for children of all races.
Yet as a society we have given up on integration. Since the high point of integration in 1988, we have regressed and segregation again prevails. Contending that integrated, well-funded schools are the primary engine of social mobility, Children of the Dream offers a radical new take on social policy. It is essential reading in our divided times.

Praise For Children of the Dream: Why School Integration Works…
"If you long for compelling arguments to reinforce a commitment to equal opportunity, Children of the Dream is a must-read. This well-written book integrates analyses of original quantitative data sets with engaging discussions of eye-opening qualitative evidence to reveal in sharp relief why the combination of integrated education, quality preschools, and equitable school funding works for disadvantaged students. Rucker C. Johnson has written an important volume that is bound to not only engage academics and policymakers, but general readers as well."—William Julius Wilson, Lewis P. and Linda L. Geyser University Professor, Harvard University

"This book is fuel for hope. No other work addressing race so powerfully combines first-class social science with historical, social, and policy analysis. Passion shapes the narrative without compromising the science. Indeed, here is a model for how to advocate equity by being advocates for evidence rather than ideology. Children of the Dream joins Richard Rothstein's recent work as essential reading for anyone committed to understanding our racial divisions and then addressing them with public policies and moral courage."—Christopher Edley, professor and former dean, U.C. Berkeley Law School, and co-founder, The Opportunity Institute

"There is no more urgent issue in America today than closing the gaps between Americans of different races and ensuring that everyone has a decent life and living. Education is central to that aspiration. This book is a bracing and informative summary of the history of segregation, desegregation, and resegregation. It demonstrates that integration works and that it is a goal towards which our entire society should work."—Diane Ravitch, author of The Death and Life of the Great American School System

"In a highly diverse society and world like ours, integration matters. Most of us learn to live integrated lives through integrated schools. Rucker C. Johnson's ground-breaking research should raise alarms for policy makers, educators, parents, and any other citizen concerned about America's future in the face of classrooms that look today as segregated as they were when that practice was declared unlawful in 1954."—Deval Patrick, Managing Director, Bain Capital Double Impact, former Governor of Massachusetts
Basic Books, 9781541672703, 336pp.
Publication Date: April 16, 2019
About the Author
Rucker C. Johnson is the Chancellor's Professor in the Goldman School of Public Policy at the University of California, Berkeley, and a faculty research associate at the National Bureau of Economic Research. He lives in Oakland, California