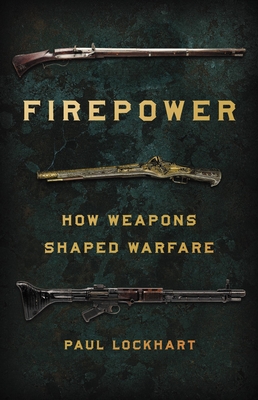 Firepower
How Weapons Shaped Warfare
Hardcover

* Individual store prices may vary.
Description
How military technology has transformed the world 

The history of warfare cannot be fully understood without considering the technology of killing. In Firepower, acclaimed historian Paul Lockhart tells the story of the evolution of weaponry and how it transformed not only the conduct of warfare but also the very structure of power in the West, from the Renaissance to the dawn of the atomic era. 

Across this period, improvements in firepower shaped the evolving art of war. For centuries, weaponry had remained simple enough that any state could equip a respectable army. That all changed around 1870, when the cost of investing in increasingly complicated technology soon meant that only a handful of great powers could afford to manufacture advanced weaponry, while other countries fell behind. Going beyond the battlefield, Firepower ultimately reveals how changes in weapons technology reshaped human history. 
Praise For Firepower: How Weapons Shaped Warfare…
"Detailed and broad...Readers of military history (particularly about military technology, warfare, and the effects of these on society as a whole) will find this book interesting."—Library Journal

"Do new weapons create novel tactics and strategy or simply enhance unchanging doctrines? Paul Lockhart's exhaustive study of the origins, role, and evolution of gunpowder weapons answers that neither war nor the world itself has ever been the same after the introduction of guns. His tour of the spread of gunpowder weaponry from the fifteenth century to the present is itself a tour de force of facts, analysis, and engaging prose. A riveting history of how five hundred years of gunpowder have changed the way hundreds of millions have lived—and died."—Victor Davis Hanson, author of The Second World Wars

"Firepower makes the essential connection between technology and power, from the pike and the arquebus to the dreadnought, tanks, modern artillery, and airpower. The book's great strength is the author's ability to explain even the most complex technologies in simple, graspable terms—before tying them to the evolution of warfare and the global struggle for mastery."—Geoffrey Wawro, author of Sons of Freedom, A Mad Catastrophe, and The Franco-Prussian War

"Firepower is a fascinating, rip-roaring ride through the development of modern weapons technology and its impact upon war. Lockhart carefully dispels decades of myths and shows why we need to understand how firearms and war machines, from muskets and machine-guns to battleships and bombs, actually worked."—Nick Lloyd, King's College London
Basic Books, 9781541672963, 640pp.
Publication Date: October 19, 2021
About the Author
Paul Lockhart is professor of history at Wright State University, where he has taught military and European history for thirty-one years. The author of six books on the role of war in history, including The Drillmaster of Valley Forge and The Whites of Their Eyes, Lockhart lives in Dayton, Ohio.