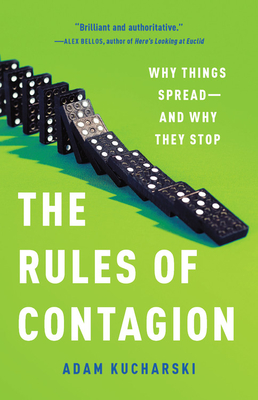 The Rules of Contagion
Why Things Spread--And Why They Stop
Hardcover

* Individual store prices may vary.
Other Editions of This Title:
Digital Audiobook (7/6/2020)
Paperback (9/7/2021)
Description
One of the Best Books of 2020 — Financial Times
One of the "Most 2020 Books of 2020" — Washington Post
One of the Best Science Books of 2020 — The Times of London
One of the Best Science Books of 2020 — The Guardian
  From ideas and infections to financial crises and fake news, an "utterly timely" look at why the science of outbreaks is the science of modern life
These days, whenever anything spreads, whether it's a YouTube fad or a political rumor, we say it went viral. But how does virality actually work? In The Rules of Contagion, epidemiologist Adam Kucharski explores topics including gun violence, online manipulation, and, of course, outbreaks of disease to show how much we get wrong about contagion, and how astonishing the real science is. Why did the president retweet a Mussolini quote as his own? Why do financial bubbles take off so quickly? Why are disinformation campaigns so effective? And what makes the emergence of new illnesses -- such as MERS, SARS, or the coronavirus disease COVID-19 -- so challenging? By uncovering the crucial factors driving outbreaks, we can see how things really spread -- and what we can do about it. Whether you are an author seeking an audience, a defender of truth, or simply someone interested in human social behavior, The Rules of Contagion is an essential guide to modern life.
Praise For The Rules of Contagion: Why Things Spread--And Why They Stop…
"In this smart and engaging tour of epidemiology, written before the pandemic, Kucharski makes a convincing case that just as the arc of an epidemic depends on the transmissibility of a virus and a population's susceptibility to infection, so online contagions obey similar rules."—New York Times Book Review

"The Rules of Contagion is a fascinating and richly detailed excursion into a science as old as biblical plagues and as current as today's headlines: the science of contagion, of disease, of ideas, of emotions, of everything. This is a book you'll want to spread to your friends."— Jordan Ellenberg, author of How Not to Be Wrong

"Perfect timing.... Prepares the ground comprehensively for readers to make sense of what is happening today, by distilling the wisdom gathered by studying previous epidemics over more than a century."—Financial Times

"Learned and lucid.... Coronavirus has prompted hot-headed public and media reaction; this book offers comfort in the form of cold, hard facts."—The Prospect

"A fascinating exploration of the mathematics of things that go viral--not least of them viruses.... Kucharski takes his readers down provocative detours, such as the use of public-health models of disease transmission to examine how social networks figure in urban gun violence, with algorithms that take into account such things as 'age gang affiliations, and prior arrests.'... Utterly timely and readable."—Kirkus Reviews

"It is hard to imagine a more timely book ... much of the modern world will make more sense having read it."—The Times (UK)

"This is a hell of a moment for a book like this to come out ... the principles of contagion, which, Kucharski argues, can be applied to everything from folk stories and financial crises to itching and loneliness, are suddenly of pressing interest to all of us."—Sunday Times (UK)

"The Rules of Contagion is popular science at its best. The prose is sparkling and clear. The subject is deeply fascinating and highly relevant. Touching on psychology, medicine, network theory and mathematics, epidemiologist Adam Kucharski has written a brilliant and authoritative guide to the hidden laws of how things spread - from ideas and memes, to violence and deadly viruses. An example of its subject matter, this book is also highly contagious: once you have read it, you will want to make sure others read it too."
—Alex Bellos, author of Alex's Adventures in Numberland

"Rich in stories, The Rules of Contagion is a down-to-earth account of how mathematical approaches can help us better understand and, in turn, better respond to contagion in all its dynamic forms. Tackling issues from pandemics and gun violence, to financial crises and misinformation, Adam Kucharski inspires us all to think like mathematicians. A must read for anybody interested in epidemics and other crises."—Peter Piot, director of the London School of Hygiene & Tropical Medicine
Basic Books, 9781541674318, 352pp.
Publication Date: July 7, 2020
About the Author
Adam Kucharski is an associate professor and a Sir Henry Dale fellow at the London School of Hygiene and Tropical Medicine, where he works on analysis of infectious disease outbreaks. The author of The Perfect Bet, he lives in London.