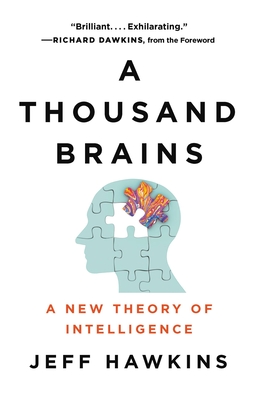 A Thousand Brains
A New Theory of Intelligence
Hardcover

* Individual store prices may vary.
Description
A bestselling author, neuroscientist, and computer engineer unveils a theory of intelligence that will revolutionize our understanding of the brain and the future of AI. For all of neuroscience's advances, we've made little progress on its biggest question: How do simple cells in the brain create intelligence? Jeff Hawkins and his team discovered that the brain uses maplike structures to build a model of the world-not just one model, but hundreds of thousands of models of everything we know. This discovery allows Hawkins to answer important questions about how we perceive the world, why we have a sense of self, and the origin of high-level thought. A Thousand Brains heralds a revolution in the understanding of intelligence. It is a big-think book, in every sense of the word. 
Praise For A Thousand Brains: A New Theory of Intelligence…
"Intriguing.... Insightful stuff for readers immersed in the labyrinthine world of neuroscience."—Kirkus

"A Thousand Brains eloquently expresses the ultimate goal of thousands of scientists: to understand the mechanics of the human mind. Jeff Hawkins uses wonderfully clear and fast-moving prose to give an accessible overview of a theory of human intelligence that is likely to be very influential in the future."—Michael Hasselmo, Director, Boston University Center for Systems Neuroscience

"Jeff Hawkins' book is that rare beast: A new theory about one of the oldest mysteries, the mystery of intelligence. The book is thoughtful and original, erudite and visionary. A must read for anyone interested in how the next breakthroughs in artificial intelligence will emerge from the recent (and not so recent) discoveries in neuroscience."—Anthony Zador, professor of neuroscience, Cold Spring Harbor Laboratory

"Neuroscience has been exploring the wilderness of the brain for well over a century. With A Thousand Brains, at last we have a map. Jeff Hawkins takes on questions most neuroscientists don't even dare ask, and finds answers in a new theory that explains now only how we make sense of the world, but how we are deceived. In a world threatened by the disintegration of truth into conspiracy and delusion, everyone should read this remarkable book."—Henry Markram, Professor, École Polytechnique Fédérale de Lausanne, founder of the Human Brain Project

"Brilliant....It works the brain in a way that is nothing short of exhilarating."—Richard Dawkins
Basic Books, 9781541675810, 288pp.
Publication Date: March 2, 2021
About the Author
Jeff Hawkins is the cofounder of Numenta, a neuroscience research company; founder of the Redwood Neuroscience Institute; and one of the founders of the field of handheld computing. He is a member of the National Academy of Engineering and author of On Intelligence.