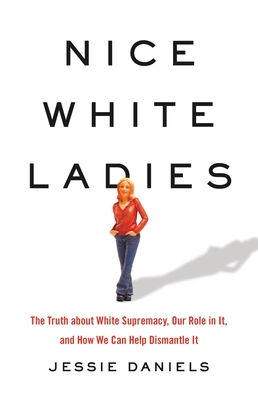 Nice White Ladies
The Truth about White Supremacy, Our Role in It, and How We Can Help Dismantle It
Hardcover

* Individual store prices may vary.
Description
Named a Best Book of 2021 by Kirkus

An acclaimed expert illuminates the distinctive role that white women play in perpetuating racism, and how they can work to fight it 

In a nation deeply divided by race, the "Karens" of the world are easy to villainize. But in Nice White Ladies, Jessie Daniels addresses the unintended complicity of even well-meaning white women. She reveals how their everyday choices harm communities of color. White mothers, still expected to be the primary parents, too often uncritically choose to send their kids to the "best" schools, collectively leading to a return to segregation. She addresses a feminism that pushes women of color aside, and a wellness industry that insulates white women in a bubble of their own privilege.

Daniels then charts a better path forward. She looks to the white women who fight neo-Nazis online and in the streets, and who challenge all-white spaces from workplaces to schools to neighborhoods. In the end, she shows how her fellow white women can work toward true equality for all.
Praise For Nice White Ladies: The Truth about White Supremacy, Our Role in It, and How We Can Help Dismantle It…
"An immensely readable examination of White women's prominent role in the endurance of systematic racism... the author uses a wide array of examples of "nice white ladies" both on the right and the left… [she] also discusses the tragic suicide of her mother, who, despite relative privilege, was "taught to be nice above all else"—like many White women. Daniels, who has clearly done the work of examining herself first, concludes by offering constructive ways White women can undo the damage of their privileged status."
 —
Kirkus
"Buttressed by Daniels's personal reflections and lucid readings of American history and culture, this is a bracing yet actionable call for change."
 —
Publishers Weekly
"Daniels, a Race and Africana Studies scholar, "calls in'' nice white ladies to dismantle white supremacy and promote a non-gendered feminism focusing on the intersections of race, class, sexuality, and more...Daniels creates a "we're all in this together" tone by framing the narrative with her personal anti-racism journey, including her racist ancestry (her grandaddy was a Klansman). A welcome addition to the anti-racism canon."
 —
Booklist
"Daniels breaks down the role of white women in maintaining the prevalence of white supremacy in American society, emphasizing that even white women who "mean well" are complicit."—
Library Journal
"This nation has never, ever read anything like Nice White Ladies, and it shows every single day. Paragraph after paragraph, Jessie Daniels illustrates that's it's not enough just to say what no one is saying. We must, as she does, write what is rarely spoken with supreme skill and a desire to substantiate our claims as though our lives depended on it. I'd love to live in a world where every white woman on earth reads this book. It could change everything." 
—
Kiese Laymon, author of Heavy: an American Memoir
"Mixing stories of her own youth and family with current events, Daniels calls in all white women to look at where they were, where they are, and where they are going. 
Instead of shying away from difficult truths, she invites readers to sit with them—
to look across the table or into the next cubicle and see the impact of generations of choices. 
As uncomfortable as it is necessary
."—
Mikki Kendall, New York Times-bestselling author of Hood Feminism
"Once again, Jessie Daniels has given us a crucial book for understanding race in America. This should be required reading for all who want to dismantle racist systems that limit what could otherwise be possible."—
Safiya Noble, author of Algorithms of Oppression
"If the title makes you squirm, this book is for you. Nice White Lades is a manifesto for readers who are ready to do the real work of reckoning with our shared racist inheritance." 
—
Ruha Benjamin, professor of African American Studies at Princeton University
"With compassion, care, and a gentle double-dare, Daniels' book cuts straight through the noise. I now know what I should do to help dismantle systemic racism, and I'm doing it. I'll always be grateful for this book." 
—
The Rev. Dr. Susan Corso, minister and novelist
"A timely call to action for us white women everywhere in a moment plagued by the rise of white supremacy. Daniels lucidly details the mundane and sadistic ways that white women uphold white supremacy, even when it comes at great personal cost. Her work does not allow 'nice white ladies' to simply wallow in guilt, but encourages us to concretely challenge the ways we reinforce racial hierarchies."
—
Alyssa Bowen, PhD, research fellow at True North Research
"This is the book on whiteness we've been waiting for. Jessie Daniels pulls no punches as she unravels centuries of American narratives that cast white women as innocents, victims, and saviors.  Drawing a straight line from lynching picnics to Karen-hood, Daniels deconstructs the tiny daily behaviors of "nice white ladies" that create structural racism across the United States today. This book is a powerful calling-in of her fellow white women, highly recommended for those who want to push past their conditioning."
—
Minal Hajratwala, author of Leaving India
Seal Press, 9781541675865, 304pp.
Publication Date: October 12, 2021
About the Author
Jessie Daniels is the author of White Lies and a Faculty Affiliate at the Harvard Berkman Klein Center for Internet and Professor at Hunter College and The Graduate Center, CUNY, in Sociology, Critical Social Psychology, and Africana Studies. Jessie is internationally recognized as an expert on Internet manifestations of racism and her writing on race has appeared in The New York Times, NPR, Forbes, and Newsweek. She lives in New York City.