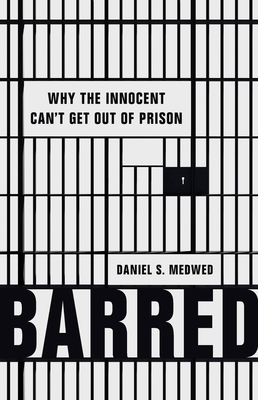 Barred
Why the Innocent Can't Get Out of Prison
Hardcover

* Individual store prices may vary.
Other Editions of This Title:
Digital Audiobook (9/19/2022)
Description
A groundbreaking exposé of how our legal system makes it nearly impossible to overturn wrongful convictions 

Thousands of innocent people are behind bars in the United States. But proving their innocence and winning their release is nearly impossible. 
 
In Barred, legal scholar Daniel S. Medwed argues that our justice system's stringent procedural rules are largely to blame for the ongoing punishment of the innocent. Those rules guarantee criminal defendants just one opportunity to appeal their convictions directly to a higher court. Afterward, the wrongfully convicted can pursue only a few narrow remedies. Even when there is strong evidence of a miscarriage of justice, rigid guidelines, bias, and deference toward lower courts all too often prevent exoneration. 
 
Offering clear explanations of legal procedures alongside heart-wrenching stories of their devastating impact, Barred exposes how the system is stacked against the innocent and makes a powerful call for change.  
Praise For Barred: Why the Innocent Can't Get Out of Prison…
"Excellent…A model of clarity and persuasiveness. In 12 short chapters, [Medwed] describes how procedural barriers have been implemented by the courts in ways that severely hinder the proof of innocence at every stage of the judicial process."—The Nation

"A lucid and persuasive call for change."—Publishers Weekly

"Informative and poignant…[An] important addition to the literature on America's addiction to incarceration."—Kirkus

"Eye-opening…Readers interested in criminal justice will find an elucidating look at the challenges and possibilities for the wrongfully convicted."—Booklist

"In our screwed-up legal system, it's fairly easy to convict an innocent person and send them to prison. Tragically, and as Daniel S. Medwed explains so clearly in Barred, it is almost impossible to get them out. Punishing the innocent is not just a problem in other places. We do it every day in America."
 —John Grisham

"By blending tales of real-life wrongful convictions with straightforward explanations of legal procedures, Medwed's Barred demystifies the mysterious path for the innocent after trial. His clear and engaging writing style makes the topic accessible to anyone interested in the hazards of our criminal justice system. A must-read!"—Sister Helen Prejean, author of Dead Man Walking

"Barred is a stunning account of the myriad procedural roadblocks that keep innocent people trapped in our nation's prisons. With harrowing stories from his public-defense practice, Medwed reveals how prosecutors, judges, and other officials revere finality and efficiency over fairness and truth. By exposing this rampant disregard for defendants' culpability, Barred powerfully calls into question the justice of the entire criminal punishment system and proposes urgent ways to mitigate its damage."—Dorothy Roberts, author of Torn Apart

"For every innocent prisoner we've freed over the past three decades, countless others remain behind bars. Barred brilliantly illustrates the absurdity of this situation: how it is far too easy to convict the innocent, and far too hard to correct those mistakes."
 —Barry Scheck, cofounder of the Innocence Project

"For every newspaper photo of an innocent person exiting the prison gates, clutching the hand of their triumphant lawyer, there are uncountable others whom we will never allow to see that day—who will die in prison because our laws make it so difficult to prove their innocence in court. In Barred, Daniel S. Medwed gives us an urgent tour of the darkest corners of our judicial system, where persuasive evidence becomes trapped in a labyrinth of legal procedure. Underlying Medwed's sharp legal analysis is a political question: Is this the country we want to be?"
 —Maurice Chammah, author of Let the Lord Sort Them

"With this insightful book, Medwed exposes the byzantine tangle of legal rules and procedures that keep innocent people in prison. Clear, accessible, and often astounding, Barred explains why strong evidence of innocence doesn't matter once a trial is over, and how our criminal system routinely sacrifices accuracy for finality. A leading scholar and expert on innocence, Medwed is also a wonderful educator. This book teaches us all how the wrongfully convicted are trapped by the criminal bureaucracy, by modern appellate rules, and by ancient Latin writs that have been around for hundreds of years."—Alexandra Natapoff, author of Punishment Without Crime

"Most people are by now aware that the criminal justice system, being made up of human beings, makes mistakes. Much has been written about one such mistake: that a scandalously large number of innocent people get convicted and sent to prison. What many people remain largely unaware of is that it is far easier for the government to convict an innocent person than it is for that innocent person to get out of prison. With Barred, we finally have a lucid explanation of how exactly this infuriating feature of our system persists. Medwed is one of the nation's leading scholars on wrongful convictions and one of the nation's leading lawyers at helping free innocent inmates. In this groundbreaking book, Medwed brings his expertise as both a scholar and a practitioner to illuminate how something that makes no sense happens routinely. Anyone interested in understanding the magnitude of the chasm between true justice and our actual criminal justice system, and in learning how we as a society might shrink it, should read this book."—David Dow, author of The Autobiography of an Execution
Basic Books, 9781541675919, 336pp.
Publication Date: September 20, 2022
About the Author
Daniel S. Medwed is university distinguished professor of law and criminal justice at Northeastern University School of Law. A renowned innocence advocate, he is the author of Prosecution Complex: America's Race to Convict and Its Impact on the Innocent. He lives in Cambridge, Massachusetts.