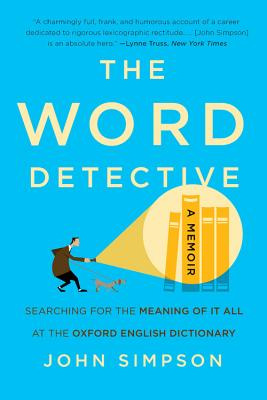 The Word Detective (Paperback)
Searching for the Meaning of It All at the Oxford English Dictionary
Basic Books, 9781541697218, 400pp.
Publication Date: October 17, 2017
Other Editions of This Title:
Hardcover (10/25/2016)
* Individual store prices may vary.
Description

"A charmingly full, frank, and humorous account of a career dedicated to rigorous lexicographic rectitude. . . .[John Simpson] is an absolute hero." --Lynne Truss, New York Times

Can you drink a glass of balderdash? And what do you call the part of a dog's back it can't scratch? The answers to these questions can be found in the Oxford English Dictionary. There is no better guide to the dictionary's many wonderments than its former chief editor, John Simpson. In The Word Detective, an intensely personal memoir and a joyful celebration of English, he weaves a story of how words come into being, how culture shapes language, and how technology transforms words. A brilliant and deeply humane expedition through the world of words, The Word Detective will delight and inspire any lover of language.


About the Author

John Simpson is the former chief editor of the Oxford English Dictionary, where he helped digitize the dictionary. He lives in Gloucestershire, United Kingdom.
Praise For The Word Detective: Searching for the Meaning of It All at the Oxford English Dictionary…
"Compellingly captures words in all their weirdness and wonder.... The book becomes a moving celebration both of language and of a love that transcends it."—
Observer (UK)
"Delightful...a fitting companion to Elisabeth Murray's
Caught in the Web of Words
and Simon Winchester's T
he Professor and the Madman
."—
Providence Journal
"Well, I doubt there has ever been a better account of how a person with a capacious brain sits down with a cup of tea and a pile of cards and sets about creating authoritative definitions."—
Lynne Truss, New York TimesNew York Times' Paperback Row

"A former chief editor of the dictionary, Simpson reflects on nearly four decades as a gatekeeper of the English language. Along the way, he offers insight into how words come into being and a look at origins of a scattering of words: inkling, deadline, apprenticeship, balderdash."
"The memoir of a lexicographer doesn't sound like an enticing prospect (Johnson's famous definition of lexicographer: a harmless drudge that busies himself in tracing the original, and detailing the signification of words'), but Mr. Simpson pulls it off.... An engaging memoir."—
Wall Street Journal
"Although Simpson reports in detail on the practical, finicky business of augmenting and improving the
OED
, the human condition is always in view.... A sustained and sincere reflection on what it means to make a dictionary--the toil, the puzzles, the costs and the profits."—
Henry Hitchings, Guardian (UK)
"The book is compulsively readable, especially about the work of the dictionary compiler and the qualifications, or rather the skills, required to become one. I could quote reams of Simpson's well-wrought prose."—
Oxford Times
"The best book yet to reveal what a lifetime spent with words is really like."—
Erin McKean, 20x20