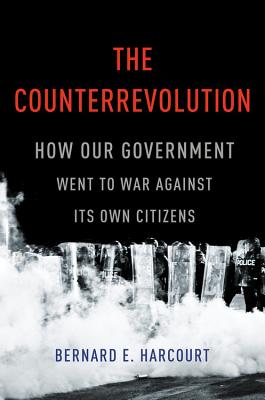 The Counterrevolution (Hardcover)
How Our Government Went to War Against Its Own Citizens
Basic Books, 9781541697287, 336pp.
Publication Date: February 27, 2018
Other Editions of This Title:
Compact Disc (2/27/2018)
* Individual store prices may vary.
Description
A distinguished political theorist sounds the alarm about the counterinsurgency strategies used to govern Americans

Militarized police officers with tanks and drones. Pervasive government surveillance and profiling. Social media that distract and track us. All of these, contends Bernard E. Harcourt, are facets of a new and radical governing paradigm in the United States -- one rooted in the modes of warfare originally developed to suppress anticolonial revolutions and, more recently, to prosecute the war on terror.

The Counterrevolution is a penetrating and disturbing account of the rise of counterinsurgency, first as a military strategy but increasingly as a way of ruling ordinary Americans. Harcourt shows how counterinsurgency's principles -- bulk intelligence collection, ruthless targeting of minorities, pacifying propaganda -- have taken hold domestically despite the absence of any radical uprising. This counterrevolution against phantom enemies, he argues, is the tyranny of our age. Seeing it clearly is the first step to resisting it effectively.
About the Author
Bernard E. Harcourt is the Isidor and Seville Sulzbacher Professor of Law and Professor of Political Science at Columbia University. The author of several books, including The Illusion of Free Markets and Exposed, he lives in New York City.
Praise For The Counterrevolution: How Our Government Went to War Against Its Own Citizens…
"As far as I can tell, Bernard Harcourt has never had an uninteresting thought."—Malcolm Gladwell

"Bernard Harcourt's The Counterrevolution is searing and indispensable. From this richly researched and powerfully argued account, we come to appreciate the full depth and scope of the crisis we now face in our country."—Heather Ann Thompson, Pulitzer Prize-winning author of Blood in the Water: The Attica Prison Uprising of 1971 and its Legacy

"Bernard Harcourt has written a brilliant and disturbing book, which shows that James Madison was right when he said that 'no nation could preserve its freedom in the midst of continual warfare.'... This book should be required reading for every American."—John J. Mearsheimer, University of Chicago

"Harcourt brilliantly recasts the premises, the terminology, and the consequences of post-9/11 policies of surveillance, detention, torture, and targeted killings.... The Counterrevolution will no doubt become a must-read for any student of the era."—Karen J. Greenberg, author of Rogue Justice: The Making of the Security State and editor of The Torture Papers: The Road to Abu Ghraib

"I'm not on board with the premise, and I found something to disagree with on nearly every page, but make no mistake: The Counterrevolution is an important and deeply challenging book. It should be mandatory for anyone who cares about the future of the Republic, especially to challenge those who want to believe, as I do, that we aren't doomed."—Noah Feldman, author of The Three Lives of James Madison: Genius, Partisan, President