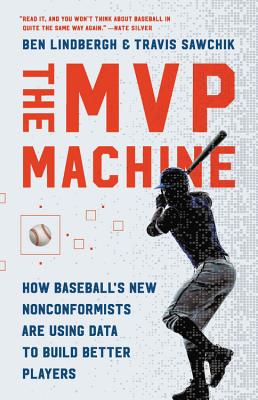 The MVP Machine (Hardcover)
How Baseball's New Nonconformists Are Using Data to Build Better Players
Basic Books, 9781541698949, 384pp.
Publication Date: June 4, 2019
* Individual store prices may vary.
Description
Move over, Moneyball --
a cutting-edge look at major league baseball's next revolution: the high-tech quest to build better players.
As bestselling authors Ben Lindbergh and Travis Sawchik reveal in
The MVP Machine
, the Moneyball era is over. Fifteen years after Michael Lewis brought the Oakland Athletics' groundbreaking team-building strategies to light, every front office takes a data-driven approach to evaluating players, and the league's smarter teams no longer have a huge advantage in valuing past performance.
Lindbergh and Sawchik's behind-the-scenes reporting reveals:
How the 2017 Astros and 2018 Red Sox used cutting-edge technology to win the World Series
How undersized afterthoughts José Altuve and Mookie Betts became big sluggers and MVPs
How polarizing pitcher Trevor Bauer made himself a Cy Young contender
How new analytical tools have overturned traditional pitching and hitting techniques
How a wave of young talent is making MLB both better than ever and arguably worse to watch
Instead of out-drafting, out-signing, and out-trading their rivals, baseball's best minds have turned to out-
developing
opponents, gaining greater edges than ever by perfecting prospects and eking extra runs out of older athletes who were once written off. Lindbergh and Sawchik take us inside the transformation of former fringe hitters into home-run kings, show how washed-up pitchers have emerged as aces, and document how coaching and scouting are being turned upside down.
The MVP Machine
charts the future of a sport and offers a lesson that goes beyond baseball: Success stems not from focusing on finished products, but from making the most of untapped potential.
About the Author
Ben Lindbergh
is a staff writer for
The Ringer
. He also hosts the
Effectively Wild
podcast for
FanGraphs
and regularly appears on MLB Network. He is a former staff writer for
FiveThirtyEight
and
Grantland
, a former editor-in-chief of
Baseball Prospectus
, and the
New York Times
bestselling co-author of
The Only Rule Is It Has to Work: Our Wild Experiment Building a New Kind of Baseball Team
. He lives in New York City.
Travis Sawchik
is a staff writer for
FiveThirtyEight
and regularly contributes to
The Athletic Cleveland
. He previously covered the Pirates for the
Pittsburgh Tribune-Review
. Travis is the author of the New York Times bestseller
Big Data Baseball: Math, Miracles, and the End of a 20-Year Losing Streak
. Sawchik has won national Associated Press Sports Editor awards, and his work been featured or referenced on ESPN, Grantland, and MLB Network. Sawchik lives in Bay Village, OH.
Praise For The MVP Machine: How Baseball's New Nonconformists Are Using Data to Build Better Players…
"For too long, stat geeks like me ignored the 'development' side of 'scouting and development.' The MVP Machine is the book that's going to change that. Travis Sawchik and Ben Lindbergh persuasively and entertainingly demonstrate that a baseball player's success is less about God-given talent and more about innovation, hard work, and the willingness to take a more scientific approach to the game. Read it, and you won't think about baseball in quite the same way again."—Nate Silver, founder and editor-in-chief of FiveThirtyEight

"I wish this book spent more time on the Red Sox winning four times as many titles as the Yankees this century, but The MVP Machine is a great and informative deep dive on the challenges of unlocking talent and building winning teams in the age of analytics."—Bill Simmons, founder and CEO, The Ringer

"High-speed cameras and radar-tracking devices have revolutionized training and are now giving baseball pitchers accurate, detailed and actionable feedback during practice. This captivating book details step-by-step how merely good major league pitchers have recently been able to transform themselves into great ones and reach previously unattainable levels of mastery by purposeful and deliberate practice."—K. Anders Ericsson, Conradi Eminent Scholar of Psychology, Florida State University, and author of Peak: Secrets from the New Science of Expertise

"In today's game, players and teams are doing more than ever behind the scenes to change and improve. The work they do is absolutely critical to success but nearly invisible to the public -- until now. Any fan seeking a fresh look at how teams win in modern baseball should read this book."—Chaim Bloom, Senior Vice President, Baseball Operations, Tampa Bay Rays

"The MVP Machine isn't just the purest distillation yet of baseball's information era and how it came to be. It's a seminal road map for the game today and treasure map to find -- and understand -- the gems baseball soon will offer."—Jeff Passan, MLB insider, ESPN

"This is the book baseball needed, the definitive document on how the best players in the world are using new ideas to become even better. Until now, no one had delivered an authoritative, comprehensive look at the revolution that is transforming the sport and offering lessons that extend even beyond the field. If you want to understand the inner workings of the modern game, you must read The MVP Machine."—Ken Rosenthal, baseball reporter for The Athletic, Fox Sports, and MLB Network

"Travis Sawchik and Ben Lindbergh brilliantly capture the next frontier of major-league teams' 'evolve or die' mindset: the league-wide movement of using data, technology, and science to revolutionize the way players are developed. Baseball has seen a rapid influx of high-curiosity, growth-mindset players and coaches, creating the perfect environment for innovation and rethinking convention. The MVP Machine provides tremendous insight into baseball's latest transformation."—Billy Eppler, General Manager, Los Angeles Angels

"As the game of baseball, and more specifically the teaching methods within, continue to evolve, The MVP Machine paints a real-time portrait of player development. Players and coaches are in a constant search for advantages that will push their personal limits on the field in order to maximize their abilities. Ben and Travis provide fascinating details of how individual players pushed the boundaries of innovative coaching, self-reflection, and a willingness to make even the smallest of adjustments in order to reach new heights as players. This book is a very accurate portrayal of modern-day player development and the ongoing pursuit of individual greatness."—Mike Hazen, Executive Vice President & General Manager, Arizona Diamondbacks

"A lot of books have claimed to be Moneyball 2.0, but this book actually delivers. It chronicles the changes that are transforming the game of baseball at a fundamental level and shifting power back into the hands of players and coaches."—Mike Fast, Special Assistant to the General Manager, Atlanta Braves and former Director of Research and Development, Houston Astros

"Travis Sawchik and Ben Lindbergh are always at the forefront of the analytics revolution. The MVP Machine brings us the newly emerging competitive advantage whereby players are joining the intellectual advancement of the game and utilizing the new tools available to build a better Major League Player. Make no mistake, this is how games, divisions, and World Series titles are now being won."—Brian Kenny, MLB Network