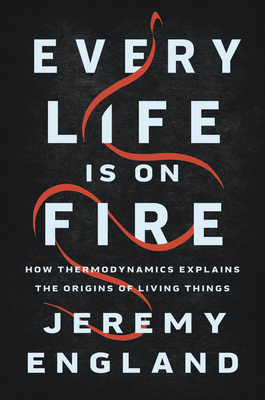 Every Life Is on Fire (Hardcover)
How Thermodynamics Explains the Origins of Living Things
Basic Books, 9781541699014, 272pp.
Publication Date: September 15, 2020
Other Editions of This Title:
Compact Disc (9/15/2020)
* Individual store prices may vary.
Description
A preeminent physicist unveils a field-defining theory of the origins and purpose of life.
Why are we alive? Most things in the universe aren't. And everything that is alive traces back to things that, puzzlingly, weren't.
For centuries, the scientific question of life's origins has confounded us. But in Every Life Is on Fire, physicist Jeremy England argues that the answer has been under our noses the whole time, deep within the laws of thermodynamics. England explains how, counterintuitively, the very same forces that tend to tear things apart assembled the first living systems.
But how life began isn't just a scientific question. We ask it because we want to know what it really means to be alive. So England, an ordained rabbi, uses his theory to examine how, if at all, science helps us find purpose in a vast and mysterious universe.
In the tradition of Viktor Frankl's Man's Search for Meaning, Every Life Is on Fire is a profound testament to how something can come from nothing.
About the Author
Jeremy England is senior director in artificial intelligence at GlaxoSmithKline, principle research scientist at Georgia Tech, and the former Thomas D. and Virginia W. Cabot career development associate professor of physics at MIT. He was a Rhodes scholar, a Hertz fellow, and named one of Forbes "30 Under 30 Rising Stars of Science." He lives in Brookline, Massachusetts.
Praise For Every Life Is on Fire: How Thermodynamics Explains the Origins of Living Things…
"A unique project that proposes to build a metaphorical bridge between the richness of mythic language and the precision of physical theory. Somewhere below this bridge flow the waters in which biological life first evolved and upon which England is an ecumenical-physicist river guide."—David Krakauer, President and William H. Miller Professor of Complex Systems, Santa Fe Institute

"In this sparklingly original book, Jeremy England tackles perhaps the biggest scientific question of all -- what is life, and how did it emerge from inanimate matter? With crystal clear explanations of deep concepts such as reductionism and emergence, or the fluctuation theorem from non-equilibrium statistical mechanics (who knew that could be done?), the book offers a heady intellectual smorgasbord. It's a delight to read, not only for its charming content, but, because, much like the Hebrew scriptures interwoven throughout the text, the prose flows with a poetic rhythm. I couldn't put it down."—Ard Louis, University of Oxford