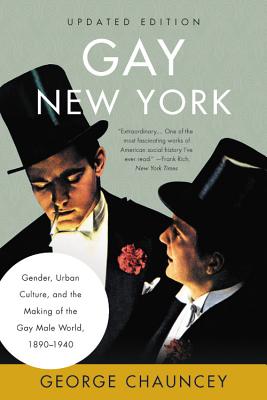 Gay New York (Paperback)
Gender, Urban Culture, and the Making of the Gay Male World, 1890-1940
Basic Books, 9781541699212, 512pp.
Publication Date: April 9, 2019
Other Editions of This Title:
Compact Disc (5/21/2019)
Paperback (5/19/1995)
Compact Disc (5/21/2019)
* Individual store prices may vary.
Description
The award-winning, field-defining history of gay life in New York City in the early to mid-20th century
Gay New York brilliantly shatters the myth that before the 1960s gay life existed only in the closet, where gay men were isolated, invisible, and self-hating. Drawing on a rich trove of diaries, legal records, and other unpublished documents, George Chauncey constructs a fascinating portrait of a vibrant, cohesive gay world that is not supposed to have existed. Called "monumental" (Washington Post), "unassailable" (Boston Globe), "brilliant" (Nation), and "a first-rate book of history" (New York Times), Gay New York forever changed how we think about the history of gay life in New York City, and beyond.
About the Author
George Chauncey is a professor of history at Columbia University and the Director of the Columbia Research Initiative on the Global History of Sexualities. Gay New York, his first book, won the distinguished Turner and Curti Awards from the Organization of American Historians, the Los Angeles Times Book Prize, and the Lambda Literary Award. He is also the author of Why Marriage? Chauncey lives in New York City.
Praise For Gay New York: Gender, Urban Culture, and the Making of the Gay Male World, 1890-1940…
"Monumental...a vital achievement in redefining and reassessing gay history."—Washington Post

"One of the most fascinating works of American social history I've ever read."—Frank Rich, New York Times

"A first-rate book of history...about all urban life, telling us as much about the heterosexual world as about the homosexual one."—New York Times

"A stunning contribution not only to gay history, but to the study of urban life, class, gender--and heterosexuality."—Kirkus

"Gay New York isn't just the definitive history of gays in New York from 1890 through 1940; it's also a wonderful account of the metropolitan character of modern gayness itself."—L.A. Times

"A brilliantly researched gift of history...unassailable."—Boston Globe

"A brilliant ethnographic analysis."—The Nation

"The impact made by this richly textured study is powerful."—Publisher's Weekly

"It's the fun, more than anything--the pleasure, the parties, the high jinks, the sex, and, yes, the love that gay men bear one another--that shines through so brightly...[a book of] erudition, discernment, sympathy, and wit."—New York Observer

"Chauncey's genius is the way he combines real lives and theory...a sharp and readable analysis of the way boundaries between 'normal' and 'abnormal' men bent and blurred in the early parts of the century."—Out

"Even if you are not a devotee of theory or history, you will want to read Gay New York for its profusion of anecdotal detail--its coordinates of a Gay Atlantis, a buried city of Everard Baths, Harlem drag balls, and Vaseline alley. Chauncey has found evidence of a gay world whose complexity and cohesion no previous historian dared to imagine."—Wayne Koestenbaum, Los Angeles Times