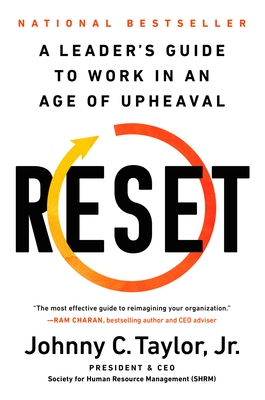 Reset
A Leader's Guide to Work in an Age of Upheaval
Hardcover

* Individual store prices may vary.
Description
A Wall Street Journal bestseller

From the CEO and President of the Society for Human Resource Management (SHRM) comes the ultimate book on transforming the way we select, retain and train our employees in a radically changed business environment.
 
With the growth of remote work and an increased focus on diversity and inclusion, companies are increasingly finding themselves in "wars for talent" as they source and recruit candidates from all over the world. They need to find new ways to contact people and new sources of talent. They need to create an enduring and tangible culture that helps everyone feel empowered to do their best work. And they need to develop inclusive organizations that leverage differences for growth and innovation.
 
Informed by more than 70 years of experience and expertise and propelled by extensive original SHRM research, Reset delivers a candid and forward-thinking vision for leaders to reimagine their company cultures in a time of global upheaval.
 
Part call to action, part strategic roadmap, Reset challenges business leaders' underlying assumptions about workers and the workplace, delivers practical strategies for finding and keeping the talent needed to make businesses successful, and introduces dynamic tools to sustain that success over the long haul. Now is the time for leaders to completely reimagine, reorganize, and Reset their operations to create a more daring, resilient and sustainable future. This is the book that will guide them exactly when they most need it.
 
Praise For Reset: A Leader's Guide to Work in an Age of Upheaval…
"Reset is an indispensable manual for every manager, leader, and team member. Tackling the thorniest issues of talent and culture, Johnny Taylor provides a clear, practical roadmap for leading your organization into the future."—Laszlo Bock, CEO, Humu, and former Chief People Officer, Google

"Full of insights and delivered with Taylor's trademark candor and compassion, Reset masterfully presents a practical framework for leaders to rethink, reconsider, and reimagine ways to truly build better workplaces for a better world."—Ginni Rometty, former chairman, president, and CEO, IBM

"With Reset, Johnny Taylor has written a truly valuable book. Now more than ever, recruiting and engaging the right talent is critical to organizational success. His insights, in-depth research, and wealth of experience in all aspects of Human Resources shine a guiding light on the need for rethinking and resetting an organization's culture and talent during turbulent times. His tremendous passion and belief in the power of people resonate throughout this informative read."—Gail J. McGovern, CEO, the American Red Cross

"Reset redefines and reinvents human capital. Taylor brings his optimism and personal experiences to timely and timeless principles and tools. Every business and HR leader will savor and apply these insights."—Dave Ulrich, Rensis Likert Professor, Ross School of Business, University of Michigan, and partner, the RBL Group
PublicAffairs, 9781541700437, 272pp.
Publication Date: September 7, 2021
About the Author
Johnny C. Taylor, Jr. is President and Chief Executive Officer of SHRM, the Society for Human Resource Management. As a global leader on the future of employment, culture and leadership, he is frequently asked to testify before Congress on critical workforce issues and authors a weekly column, "Ask HR," in USA TODAY. Taylor's career spans more than 20 years as a lawyer, human resources executive, and CEO. He is a member of the White House American Workforce Policy Advisory Board and was appointed as Chairman of the President's Advisory Board on Historically Black Colleges and Universities. He lives in Alexandria, Virginia.