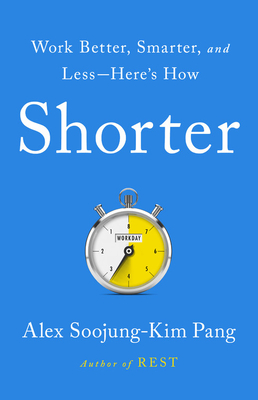 Shorter
Work Better, Smarter, and Less—Here's How
Hardcover

* Individual store prices may vary.
Other Editions of This Title:
Digital Audiobook (3/9/2020)
Compact Disc (3/10/2020)
Description
You and your company can work less, be more productive, and make time for what's really important.
The idea of success embraced by the global economy means being always-on, never missing an opportunity, and outworking your peers. But working ever-longer hours is't sustainable for companies or individuals. Fatigue-induced mistakes, whether in the operating room or factory line, cost companies billions, and overwork alienates and burns out valuable employees.
But what if there is another way? Shorter tells the story of entrepreneurs and leaders all over the world who have discovered how to shrink the workweek without cutting salaries or sacrificing productivity or revenues. They show that by reducing distractions, eliminating inefficiencies, and creating time for high-quality focus and collaboration, 4-day workweeks can boost recruitment and retention, make leaders more thoughtful and companies more sustainable, and improve work-life balance. Using design thinking, a business and product development process pioneered in Silicon Valley, futurist and consultant Alex Pang creates a step-by-step guide for readers to redesign their workdays.
Praise For Shorter: Work Better, Smarter, and Less—Here's How…
"This is one of the most hopeful books I have read about the state of modern work. In Shorter, Alex Soojung-Kim Pang shares not only the stories of the creatives and visionaries around the world who are pushing back against always-on burnout culture, but he gives a practical, step-by-step guide for how they did it, why it matters--for all of us--and how others can follow their lead. A must-read for anyone who cares about the now or the future of work."
—Brigid Schulte, award-winning journalist, author of the New York Times bestselling Overwhelmed: Work, Love & Play when No One has the Time, and director of The Better Life Lab at New America

"It's time to question everything we think we know about work, starting with how long we need to do it. Shorter makes a strong case for working less, showing us how any business can profit from giving their workers more free time. Pang provides a step-by-step guide for leaders who are ready to liberate their people from the tyranny of the 40-hour work week."—Carmen Medina, coauthor of Rebels at Work and former director of the CIA's Center for the Study of Intelligence.

"Who said a full workweek has to be five days? What if less is actually more? In Shorter, Alex Soojung-Kim Pang inspires us with a powerful vision: A shorter, but more productive and enjoyable workweek. I hope this book sparks a revolution in how--and how much--we work!""
—Valorie Burton, founder and CEO of the Coaching and Positive Psychology (CaPP) Institute and bestselling author of Successful Women Think Differently
PublicAffairs, 9781541730717, 320pp.
Publication Date: March 10, 2020
About the Author
Alex Soojung-Kim Pang, Ph.D. has spent two decades studying people, technology, and the worlds they make. A Silicon Valley-based futurist and consultant, he has worked with governments and Fortune 500 companies; given talks on five continents, at venues ranging from CIA headquarters in Langley, Virginia, to Shakespeare's Globe Theatre, to Disney World; and held academic positions at Stanford, UC Berkeley, and Oxford universities. Pang's last book, Rest: Why You Get More Done When You Work Less is available in a dozen languages.
or
Not Currently Available for Direct Purchase