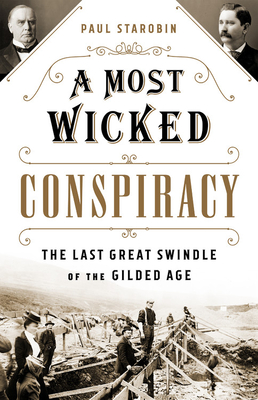 A Most Wicked Conspiracy (Hardcover)
The Last Great Swindle of the Gilded Age
PublicAffairs, 9781541742307, 320pp.
Publication Date: May 5, 2020
* Individual store prices may vary.
Description
A tale of Gilded Age corruption and greed from the frontier of Alaska to the nation's capital.
In the feverish, money-making age of railroad barons, political machines, and gold rushes, corruption was the rule, not the exception. Yet the Republican mogul "Big Alex" McKenzie defied even the era's standard for avarice. Charismatic and shameless, he arrived in the new Alaskan territory intent on controlling gold mines and draining them of their ore. Miners who had rushed to the frozen tundra to strike gold were appalled at his unabashed deviousness.

A Most Wicked Conspiracy recounts McKenzie's plot to rob the gold fields. It's a story of how America's political and economic life was in the grip of domineering, self-dealing, seemingly-untouchable party bosses in cahoots with robber barons, Senators and even Presidents. Yet it is also the tale of a righteous resistance of working-class miners, muckraking journalists, and courageous judges who fought to expose a conspiracy and reassert the rule of law.

Through a bold set of characters and a captivating narrative, Paul Starobin examines power and rampant corruption during a pivotal time in America, drawing undoubted parallels with present-day politics and society.
About the Author
Paul Starobin is the author of Madness Rules the Hour: Charleston, 1860 and the Mania for War, praised by the New York Times as a "fast-paced, engagingly written account" of the hysteria that descended on Charleston, South Carolina, on the eve of the Civil War. He has been a frequent contributor to the Atlantic and is a former Moscow bureau chief for Business Week. He has written for other publications including the Wall Street Journal, Washington Post, City Journal, Politico, and National Geographic. He lives with his family in Orleans, Massachusetts.
Praise For A Most Wicked Conspiracy: The Last Great Swindle of the Gilded Age…
"Entertaining....Sturdy research and clear prose reveal some truly abominable snowmen wreaking havoc in Alaska."—
Kirkus Reviews
"Starobin keeps the drama flowing."—
Booklist
"Most stories labeled unknown are quite well known, but Paul Starobin bares an audacious and largely forgotten swindle that implicated prominent politicians, corporate leaders, and handpicked judges in an attempt to rob ordinary Alaskan miners of the fruits of their labor. An intriguing and well-told tale of avarice and greed that reveals how corrupt American business and government were in the Gilded Age."
—
Richard White, Emeritus Professor of American History at Stanford University and author of The Republic for Which It Stands - The United States during Reconstruction and the Gilded Age, 1865-1896
"The Gilded Age at its gaudiest, Alaska at its most demanding, human nature at its . . . most human. A rollicking tale with sobering lessons for today."—
H.W. Brands, Professor; Jack S. Blanton Sr. Chair in History at University of Texas, Austin
"In this vivid tale, Paul Starobin takes us back to a time when American dynamism and imagination came head-to-head with chicanery and fraud. Set in the wild Alaskan gold fields, the struggle of enterprising miners against the greed of swindlers and the corruption of public officials provided a fit coda to the Gilded Age and offers a warning for our own time."—
Jack Kelly, author of The Edge of Anarchy: The Railroad Barons, the Gilded Age, and the Greatest Labor Uprising in America