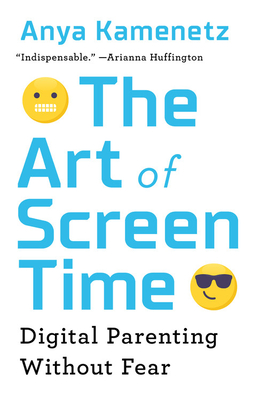 The Art of Screen Time
Digital Parenting Without Fear
Paperback

* Individual store prices may vary.
Other Editions of This Title:
Digital Audiobook (1/29/2018)
Hardcover (1/30/2018)
Description
Finally: an evidence-based, reassuring guide to what to do about kids and screens, from video games to social media.
Today's babies often make their debut on social media with the very first sonogram. They begin interacting with screens at around four months old. But is this good news or bad news? A wonderful opportunity to connect around the world? Or the first step in creating a generation of addled screen zombies?

Many have been quick to declare this the dawn of a neurological and emotional crisis, but solid science on the subject is surprisingly hard to come by. In The Art of Screen Time, Anya Kamenetz -- an expert on education and technology, as well as a mother of two young children -- takes a refreshingly practical look at the subject. Surveying hundreds of fellow parents on their practices and ideas, and cutting through a thicket of inconclusive studies and overblown claims, she hones a simple message, a riff on Michael Pollan's well-known "food rules": Enjoy Screens. Not too much. Mostly with others.

This brief but powerful dictum forms the backbone of a philosophy that will help parents moderate technology in their children's lives, curb their own anxiety, and create room for a happy, healthy family life with and without screens.
Praise For The Art of Screen Time: Digital Parenting Without Fear…
"How to deal with devices and screens is one of the biggest challenges for today's parents. With The Art of Screen Time, Anya Kamenetz comes to the rescue. Marshalling the latest science, she provides an indispensable guide to helping children-and families-thrive in the digital age."—Arianna Huffington, CEO ofThrive Global

"Finally, a
reasonable, well-researched argument to cut through all the hype, fear and
hysteria around screens, kids, families, and our most precious and limited
resources: our time and what we pay attention to. Screens are here to stay.
Anya Kamenetz provides a welcome, science-based guide for all of us to learn
how to use them wisely."—Brigid Schulte,award-winning journalist and author of the New York Times bestsellerOverwhelmed: Work, Love & Play when No One has the Time, and directorof The Better Life Lab at New America

"Blending scholarly
evidence and the experiences of numerous families, The Art of Screen Time is a
well-researched and reassuring guide to raising kids in a world where
technology is everywhere."—Danah Boyd, authorof It's Complicated: The Social Lives of Networked Teens

"A thoughtful,
evidence-based guide to technology that reads like having a conversation with a
good friend-who also happens to be incredibly smart, honest, and witty....
Refreshingly, Kamenetz is a realist and does not condemn technology in the
home.... [she] sheds a critical, yet supportive light on our relationship with
technology...a must-read for any parent."—Booklist
PublicAffairs, 9781541750890, 288pp.
Publication Date: July 14, 2020
About the Author
Anya Kamenetz is the lead digital education correspondent for NPR. Previously she worked as a staff writer for Fast Company magazine. She's contributed to the New York Times, Washington Post, New York Magazine, Slate, and O, the Oprah Magazine, and has won multiple awards for her reporting on education, technology, and innovation. She is the author of three books on education and technology, Generation Debt, DIY U, and The Test. She lives in Brooklyn with her family.