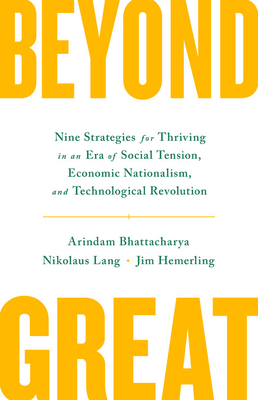 Beyond Great
Nine Strategies for Thriving in an Era of Social Tension, Economic Nationalism, and Technological Revolution
Hardcover

* Individual store prices may vary.
Description
Great is no longer good enough. Beyond Great delivers a powerful new playbook of 9 core strategies to thrive in a post-COVID world where all the rules of the game are being re-written.
 
Beyond Great answers to two fundamental questions which face business leaders today in a world shaped by daunting and disruptive technological, economic, and social change. First, what is outstanding performance in this new volatile era?  Second, how do we build competitive advantage in a world with new and often uncertain rules? Supported by years of research and hands-on consulting practice, this book presents a comprehensive framework for building a high performing, resilient, adaptive, and socially responsible global company.

The book begins by taking an incisive look at these disruptive forces transforming globalization, including economic nationalism; the boom in data flows and digital commerce; the rise of China; heightened public concerns about capitalism and the environment; and the emergence of borderless communities of digitally connected consumers. Distilled from the study of hundreds of companies and interviews with dozens of business leaders, the authors have distilled nine core strategies – the new winning playbook of the 21st century.
 
Beyond Great argues that business leaders today must lead with a new kind of openness, flexibility and light-footedness, constantly layering in new strategies and operational norms atop existing ones to allow for "always-on" transformation. Leaders must master a whole new set of rules about what it takes to be "global," becoming shapeshifters adept at handling contradiction, multiplicity, and nuance. This book will show them how.
Praise For Beyond Great: Nine Strategies for Thriving in an Era of Social Tension, Economic Nationalism, and Technological Revolution…
"COVID 19 dramatically exposed the fault lines emerging in our global society, leaving businesses to cope with thorny questions such as who are our real stakeholders, how to optimise digital technology, and what are the expectations from businesses. This book offers a timely and urgently needed strategic playbook that tackles some of these vexing issues of our times. It is replete with practical examples and a must read for any business person seeking to navigate an uncertain world."—Anand Mahindra, Chairman, Mahindra Group

"Whether you're running an industrial company or a bank, a media firm or a global stock index, Beyond Great offers a much-needed handbook to master organizational strategy--and come out ahead--even during these trying times."—Robert Greifeld, Former Chairman and CEO, NASDAQ, author of Market Mover: Lessons from a Decade of Change at Nasdaq

"Connecting the physical and digital world to drive economic growth while consuming fewer resources and managing increasingly complex geopolitics is the paramount challenge and opportunity of our time. Beyond Great provides great examples and insights into how organizations have to change and adapt in this ever faster, ever evolving world."—Dr. Roland Busch, CEO elect, Siemens AG

"Beyond Great is an excellent book for leaders who want to build thriving businesses in today's volatile world. It forces us to examine the basic beliefs that have guided global firms in the last century and offers practical, actionable strategies to address the many challenges and opportunities that this new era offers. I commend the authors for writing a serious business book on strategy in this highly readable and jargon free manner."—Jan Jenisch, Group CEO, LafargeHolcim

"Beyond Great arrives just in time. The wise Boston Consulting Group authors correctly anticipated the new best practices required for a global pandemic, accelerating technological change, rising nationalism, and social upheaval. To successfully navigate the 2020s, every business leader, board member and investor needs to read Beyond Great."—Rich Karlgaard Editor-at-Large, Futurist, Columnist Forbes
PublicAffairs, 9781541757189, 288pp.
Publication Date: October 6, 2020
About the Author
Dr. Arindam Bhattacharya is Senior Partner at Boston Consulting Group's New Delhi office. He has been the head of BCG India, is the co-founder and Fellow of Henderson Institute, BCG's thought leadership arm, and is a member of leadership team of Global Advantage practice. He has been researching, writing consulting on the subject of globalization and global business models, and has given a TED talk on the topic. He has co-authored the book Globality: Competing with Everyone from Everywhere for Everything, named by the Economist to its Best of the Year list.

Dr. Nikolaus Lang is Senior Partner at Boston Consulting Group's Munich office and Global Leader of BCG's Global Advantage practice, supporting clients on an array of globalization-related topics, ranging from geopolitics & trade to joint ventures & digital ecosystems. Dr. Lang is BCG's foremost expert on mobility, connectivity, and self-driving vehicles. For the past years, he has led BCG's collaboration with the World Economic Forum on the future of mobility, helping oversee the piloting and launch of autonomous vehicles in the City of Boston.

Jim Hemerling is Senior Partner at Boston Consulting Group's San Francisco office and a leader in the firm's People & Organization and Transformation Practices.  He has been the leader of BCG Greater China and is a Fellow of BCG Henderson Institute. His work with clients and his research focuses on holistic human-centric approaches to organizational transformation. He speaks often on the topic, and has given a widely viewed TED talk entitled "5 Ways to Lead in an Era of Constant Change."