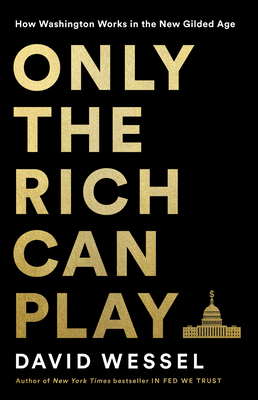 Only the Rich Can Play
How Washington Works in the New Gilded Age
Hardcover

* Individual store prices may vary.
Other Editions of This Title:
Digital Audiobook (10/4/2021)
Compact Disc (10/5/2021)
Description
In a Winners Take All meets This Town narrative, a New York Times bestselling author tells the story of the creation of a massive tax break, in which political and economic elites attend to the care and feeding of the super-rich, and inequality compounds.
David Wessel's incredible tale of how Washington works-and why the rich keep getting richer-starts when a Silicon Valley entrepreneur develops an idea intended as a way to help poor people that will save rich people money on their taxes. He organizes and pays for an effective lobbying effort that pushes his idea into law with little scrutiny or fine-tuning by congressional or Treasury tax experts-and few safeguards against abuse. With an unbeatable pair of high-profile sponsors, bumper-sticker simplicity and deft political marketing, the Opportunity Zone became an unnoticed part of the 2017 Trump tax bill.
The gold rush followed immediately thereafter.
David Wessel follows the money to see who profited from this plan that was supposed to spur development of blighted areas and help people out of poverty: the Las Vegas strip, the Portland (Oregon) Ritz-Carlton, the Mall of America, and self-storage facilities-lucrative areas where the one percent can park money profitably and avoid capital gains taxes. And the best part: unlike other provisions for eliminating capital gains taxes (inheritance, for example) you don't have to die to take advantage of this one.
Wessel provides vivid portraits of the proselytizers, political influencers, motivational speakers, consultants, real estate dealmakers, and individual money-seekers looking to take advantage of this twenty-first century bonanza. He looks at places for which Opportunity Zones were supposedly designed (Baltimore, for example) and how little money they've drawn. And he finds a couple of places (Erie, PA) where zones are actually doing what they were supposed to, a lesson on how a better designed program might have helped more left-behind places. But what Wessel reveals is the gritty reality: The dark underbelly of a system tilted in favor of the few, with the many left out in the cold
Praise For Only the Rich Can Play: How Washington Works in the New Gilded Age…
"A must-read for anyone who wants to really understand how an idea can in time become a law—with the help of a large budget, skilled lobbying, and the support of a few key members of Congress. I thought I knew a bit about how Washington works, but I learned an enormous amount from David Wessel's very carefully researched and extremely well written book."—David M. Rubenstein, cofounder and co-executive chairman of The Carlyle Group and author of How to Lead

"In Only the Rich Can Play, David Wessel masterfully makes policy wonkery into a riveting story. A cautionary tale of good intentions gone bad, it is a must read, from Wall Street to Main Street." —Arthur C. Brooks, professor, Harvard Kennedy School and Harvard Business School, and New York Times–bestselling author

"David Wessel is a Washington treasure, and anything he writes is a must-read as far as I'm concerned. In Only the Rich Can Play, Wessel marries the depth of his understanding of economics with his years of experience as a Washington reporter and his skill at storytelling. He traces the origins of the Opportunity Zone tax break from conception to birth and then shows how it actually works (or not) on the ground. This is both a great read and an important one because it shows those of us outside Washington how things really work there." —Bryan Burrough, coauthor of Barbarians at the Gate and Forget the Alamo

"David Wessel has long been one of the keenest observers of the American economy. This book shows his remarkable ability to combine intellectual meat with compelling narrative. Many Silicon Valley moguls are politically clueless, but Sean Parker of Napster and Facebook managed to slip his real estate investment scheme—Opportunity Zones—into law, despite almost no support from traditional thought leaders. You should read this book if you want to understand how to get things done in Washington. You should read this book if you want to understand the most important new urban policy in a generation. You should read this book if you just want to be entertained by a terrific political yarn."—Edward Glaeser, Fred and Eleanor Glimp Professor of Economics, Harvard University

"Vegas, opulent parties, wine-filled dinners. . . . Not since the classic Showdown at Gucci Gulch has tax policy making been this much fun. But look beyond the vivid anecdotes and there's an important and underappreciated story about a program that will cost the federal treasury billions while helping a fraction of the people Congress intended. Wessel weaves together on-the-ground reporting, the best data and evidence, and deep knowledge of the policy process to show how strong moral convictions, vast wealth, and a turbocharged media presence can run up against entrenched special interests and inadequate vetting. The result, as one interviewee says, is a missed opportunity indeed." —Tracy Gordon, Urban Institute

"A fascinating and entertaining—albeit at times depressing and infuriating—story of how a major policy initiative came to be. . . . A lesson in how social policy in America should not be made, but too often is, and an explanation of why the rich always seem to win."—Melissa Kearney, Neil Moskowitz Professor of Economics, University of Maryland

"If you want to understand how the US has ended up with a tax code that on paper is progressive but in practice is so regressive that the very wealthy pay virtually no tax, Only the Rich Can Play is the place to start. In his wry style, Wessel uses the story of a tax provision dreamed up by a tech billionaire to show what happens when good intentions and arrogance collide with our tax-avoidance-industrial complex."—Paul Romer, New York University, Nobel laureate in Economics

"The real story of the Trump years is one you have never heard. Beneath all the outrage and the hysteria, the same old depressing familiar was chugging along all the time: billionaires designing innovative tax breaks for other billionaires, poor people being used as a moral excuse to cut the taxes of the rich. David Wessel tells us the story in its every glittering detail, and his title might well be the catch-phrase for our era: Only the Rich Can Play."—Thomas Frank, author of What's the Matter With Kansas? and The People, No

"A clearly articulated, maddening case study in how the rich get richer on the backs of the poor."—Kirkus Reviews

"Wessel's colorful, in-depth investigative reporting shines as he takes readers to an Opportunity Zone expo on the Las Vegas strip, behind the scenes of Washington, D.C., think tanks, and on the ground in West Coast communities. Comprehensive and shocking, this is an eye-opener."—Publishers Weekly

"Intensively reported, meticulously detailed, and studded with colorful anecdotes and characters, the book ultimately concludes, wisely, that it is both too soon to tell and the signs are less than promising."—Foreign Policy

"Wessel does a superb job…If you are interested in how money works in politics and the opportunities that the wealthy have to avoid paying taxes, you will find Only the Rich Can Play a gratifying (if maddening) book to read."—Inside Higher Ed

"In a sobering reflection on how policy can go wrong, its backers spent too much time creating a policy to encourage the rich to invest and far too little learning the lessons of the past or listening to those in the communities their policies were supposed to benefit. A moral tale for wealthy do-gooders everywhere."—Financial Times

"Only the Rich Can Play is an uncomfortable reminder that no matter how much you may appreciate an idea's intellectual lineage or conceptual clarity, no plan survives first contact with the enemy. It deserves inclusion on political science syllabi as a case study in how a billionaire's idea can flow from a Davos brainstorming session to Washington's halls of power and become the law of the land."—American Compass

"Only the Rich Can Play is the latest evidence that trickle-down investments don't work in economic development. It also supports those who argue that the funds would be better used for education, infrastructure, and public health that benefit all employers."—Public Seminar

"In his deeply-researched new book, Only The Rich Can Play, David Wessel tells the fascinating—and cautionary—tale of how that provision came to be and what it has wrought."—TaxVox

"David Wessel's Only the Rich Can Play: How Washington Works in the Gilded Age is sure to enter the pantheon of Washington, D.C., books that explain the complicated, exciting, and messy ways significant legal changes get through Congress. The book is in many ways a successor to Showdown at Gucci Gulch, a book that explains how D.C. really works.  It does a better job than any book I can remember at showing how lobbying and the work of policy experts are linked in contemporary politics. Ideas and analysis play an important role in politics and thus an important role in lobbying."—Niskanen Center

"I don't think the title of the book does justice to this deeply reported portrait of the origins, implementation, and results of the Opportunity Zones tax loophole created by the Tax Cuts and Jobs Act. In fact, the book goes out of its way to treat a half-baked policy idea fairly."—Stan Veuge, Senior Fellow, Economic Policy, American Enterprise Institute
PublicAffairs, 9781541757196, 352pp.
Publication Date: October 5, 2021
About the Author
David Wessel is a senior fellow and director of the Hutchins Center on Fiscal & Monetary Policy at the Brookings Institution. He joined Brookings in 2014 after 30 years as a reporter, editor and columnist at The Wall Street Journal. He is the author of two New York Times bestsellers. In Fed We Trust: Ben Bernanke's War on the Great Panic (2009) and Red Ink: Inside the High-Stakes Politics of the Federal Budget (2012.) He has shared two Pulitzer Prizes, one in 1984 for Boston Globe series on the persistence of racism in Boston and the other in 2003 for Wall Street Journal series on corporate wrong-doing. He appears often on NPR's Morning Edition and tweets frequently at @davidmwessel. He resides in Washington, D.C.