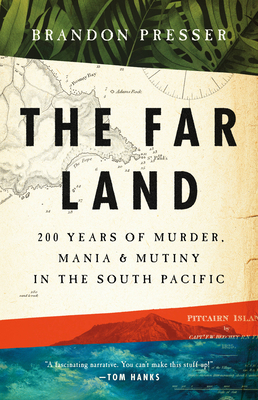 The Far Land
200 Years of Murder, Mania, and Mutiny in the South Pacific
Hardcover

* Individual store prices may vary.
Description
A thrilling true tale of power, obsession, and betrayal at the edge of the world

In 1808, an American merchant ship happened upon an uncharted island in the South Pacific and unwittingly solved the biggest nautical mystery of the era: the whereabouts of a band of fugitives who, after seizing their vessel, had disappeared into the night with their Tahitian companions. 
 
Pitcairn Island was the perfect hideaway from British authorities, but after nearly two decades of isolation its secret society had devolved into a tribalistic hellscape; a real-life Lord of the Flies, rife with depravity and deception.
 
Seven generations later, the island's diabolical past still looms over its 48 residents; descendants of the original mutineers, marooned like modern castaways. Only a rusty cargo ship connects Pitcairn with the rest of the world, just four times a year.  
 
In 2018, Brandon Presser rode the freighter to live among its present-day families; two clans bound by circumstance and secrets. While on the island, he pieced together Pitcairn's full story: an operatic saga that holds all who have visited in its mortal clutch—even the author. 
 
Told through vivid historical and personal narrative, The Far Land goes beyond the infamous mutiny on the Bounty, offering an unprecedented glimpse at life on the fringes of civilization, and how, perhaps, it's not so different from our own. 
Praise For The Far Land: 200 Years of Murder, Mania, and Mutiny in the South Pacific…
"An expertly reported account of one of the biggest nautical mysteries of the 18th century. Presser combines his own experiences on Pitcairn… with the captivating retelling of the true story."—Condé Nast Traveler

"The Far Land swells in the cause and effect of actions of passion. Brandon Presser's fascinating narrative of the relentless consequences of the Bounty mutineers asks: were they brave or damned? They lived so very troubled ever after. You can't make this stuff up!"—Tom Hanks

"Meticulously researched…Armchair adventurers will appreciate the author's sharp and sympathetic eye, showing us the mechanics of a truly remote civilization. Presser's detailed account provides a sense of authority to a story too bizarre to be anything but true."—Kirkus Reviews

"A highly accomplished travel writer, Brandon Presser's The Far Land hits a lot of my pleasure centers: remote islands, then-and-now non-fiction, historical mysteries and forthright travelogues. The first night I started reading, I dreamed about Pitcairn Island."—Maggie Shipstead, New York Times bestselling author of Great Circle

"Brandon Presser moves far beyond the Mutiny on the Bounty to the devastating tale of the Pitcairn Island settlement, a real-life Lord of the Flies tragedy. As Brandon finds when he makes a protracted visit to the island, it's a story still unwinding and a definite reminder that island and paradise are two words which often don't go together. It's a tale which seamlessly blends his new take on the mutiny and its aftermath with his own experiences on Pitcairn today."—Tony Wheeler, co-founder, Lonely Planet

"Presser debuts with a fascinating account of what happened after the HMS Bounty mutineers settled on the remote South Pacific island of Pitcairn in 1790. [He] expertly intertwines the historical and contemporary elements of the story and brings Pitcairn's unusual culture to vibrant life. Readers will have a tough time putting this one down."—Publishers Weekly

"It's easy to assume that nothing new could be unearthed or written about [the Bounty]. But in his debut book, travel journalist Brandon Presser does exactly that, and brilliantly… [He] has managed to create a fact-based book that reads as grippingly as any thriller…an incredible, unforgettable tale."—BookPage, *starred review*

"The Far Land uncovers the almost unbelievable true story of Pitcairn Island, while taking readers on an exciting journey to one of the most remote communities in the world… Presser excels at depicting the strangeness, but his novelistic account of what happened to the original colonists is stranger and bloodier—and unforgettable in its shocking details… Lord of the Flies pales in comparison."—Shelf Awareness

"A mash-up of an 18th-century adventure novel and the darkest episode of 'Law & Order: Special Victims Unit' imaginable."—New York Times Book Review

"Riveting and obsessively researched."—Bloomberg

"Sometimes, the greatest adventure doesn't require packing a suitcase… I gasped with Presser as he unveiled truths about settling of the island, and I wandered along with him as he discovered both the beauty and the complexity of that island today."—Boston Herald

"Through his modern retelling and examination of the Bounty's history, Presser creates a temporal bridge that spans hundreds of years and masterfully connects the island's violent past to its tumultuous present."—Afar

"[A] meticulously researched page turner that marries adventure stories with crime cliffhangers. Travelers will especially enjoy the colorful descriptions of Tahiti's culture and customs. Presser's eloquent writing and masterful storytelling will capture you from the very first sentence until the last."—Travel + Leisure
PublicAffairs, 9781541758575, 352pp.
Publication Date: March 8, 2022
About the Author
Brandon Presser was born in Ottawa, Canada, and has lived in Paris, Tokyo, and New York City. Called a "rough-and-tough adventurer" by Entertainment Weekly, he has visited over 130 countries, and his travel writing has been featured in numerous publications including Bloomberg, Harper's Bazaar, Condé Nast Traveler and Lonely Planet. He holds a bachelor's degree from Harvard University.