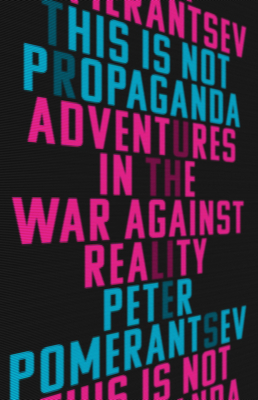 This Is Not Propaganda (Hardcover)
Adventures in the War Against Reality
PublicAffairs, 9781541762114, 256pp.
Publication Date: August 6, 2019
Other Editions of This Title:
Compact Disc (8/6/2019)
Compact Disc (8/6/2019)
* Individual store prices may vary.
Description
An award-winning author takes us on a journey to the center of the information war, where unseen armies and authoritarians seek to define and reshape the truth.
Perhaps the most important global trend of the last few years has been the rise--and transformation--of information warfare. In the digital age, real military engagement matters less than how it is broadcast. The result is a constant deluge of lies, shock humor, absurdity, and fear-mongering--a circus atmosphere created to disorient us and undermine our sense of truth.
This is Not Propaganda is a Thomas Pynchon-like journey behind the enemy lines of the endless, multinational information war. In his signature style--by turns analytical, poetic, lurid, and funny--disinformation expert Peter Pomerantsev explores the contours of this new global order. He learns information tactics from protesters in Serbia, narco-warlords in Mexico, Fox News hosts in America, and the KGB officers who forced his own family into exile.
As he takes in these surreal yet important lessons, Pomerantsev ultimately looks to the future, envisioning what a better form of democracy might look like. This is a necessary book for navigating our new reality.
About the Author
Peter Pomerantsev is a Visiting Senior Fellow at the Institute of Global Affairs at the London School of Economics, an author and TV producer. He studies propaganda and media development, and has testified on the challenges of information war to the US House Foreign Affairs Committee, US Senate Foreign Relations Committee and the UK Parliament Defense Select Committee. He writes for publications including Granta, The Atlantic, Financial Times, London Review of Books, Politico and many others. His first book, Nothing is True and Everything is Possible, won the 2016 Royal Society of Literature Ondaatje Prize, was nominated for the Samuel Johnson, Guardian First Book, Pushkin House and Gordon Burns Prizes. It is translated into over a dozen languages.
Praise For This Is Not Propaganda: Adventures in the War Against Reality…
"This is a gripping and unsettling account of life in grim post-Soviet Russia."—Washington Post on Nothing is True and Everything is Possible

"It is hard to think of another work that better describes today's Russia; Nothing Is True and Everything Is Possible may very well be the defining book about the Putin era."—Commentary Magazine on Nothing is True and Everything is Possible

"Captivating...keen observations."—New York Times Book Review on Nothing is True and Everything is Possible

"A patchwork tapestry that leaves you shaking your head in disbelief."—The Guardian on Nothing is True and Everything is Possible