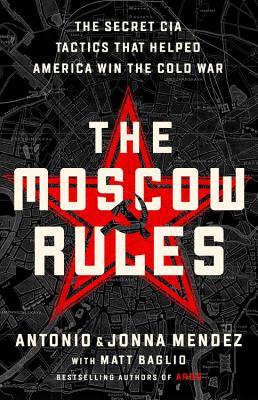 The Moscow Rules (Hardcover)
The Secret CIA Tactics That Helped America Win the Cold War
PublicAffairs, 9781541762190, 272pp.
Publication Date: May 21, 2019
* Individual store prices may vary.
Description
From the spymaster and inspiration for the movie Argo: how a group of brilliant but under-supported CIA operatives developed breakthrough spy tactics that helped turn the tide of the Cold War
Antonio Mendez and his future wife Jonna were CIA operatives working to spy on Moscow in the late 1970s, at one of the most dangerous moments in the Cold War. Soviets kept files on all foreigners, studied their patterns, tapped their phones, and even planted listening devices within the US Embassy. In short, intelligence work was effectively impossible. The Soviet threat loomed larger than ever.
The Moscow Rules
tells the story of the intelligence breakthroughs that turned the odds in America's favor. As experts in disguise, Antonio and Jonna were instrumental in creating and honing a series of tactics that allowed officers to finally get one step ahead of the KGB. These techniques included everything from elaborate, Hollywood-inspired identity swaps, to deception or evasion techniques, to more mundane document forgery. With these new guidelines in place, and with an armory of new gadgets perfected by the Office of Technical Services including miniature cameras, suitcase release body doubles, and wall rappelling mechanisms, the CIA managed to gain a foothold in Moscow and pull off some of the greatest intelligence operations in the history of espionage.
About the Author
Antonio (Tony) Mendez served in the CIA for twenty-five years and is a highly decorated CIA officer, one of the top fifty officers in its first fifty years. He received the Intelligence Star for Valor for the ARGO operation, the story of which was told in the 2013 movie of the same name. He is the author of the New York Times bestselling Argo, The Master of Disguise, and Spy Dust.

Jonna Mendez is a former Chief of Disguise with over twenty-five years of experience as a CIA officer working in Moscow and other sensitive areas. She participated in a number of training exercises, along with Tony, which ultimately led to the codification of the rules. She co-wrote Spy Dust with her husband about their shared experience in Moscow during the twilight of the Cold War. Often cited for their expertise in the field, Jonna and Tony are both much sought-after speakers and consultants.

Matt Baglio is the bestselling author who previously worked with Tony on Argo, and is also the author of The Rite.