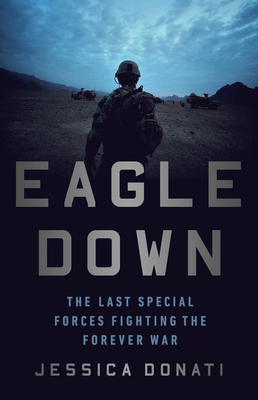 Eagle Down
The Last Special Forces Fighting the Forever War
Hardcover

* Individual store prices may vary.
Other Editions of This Title:
Pre-recorded digital audio pla (2/19/2021)
Description
A Wall Street Journal national security reporter takes readers into the lives of U.S. Special Forces on the front lines against the Taliban and Islamic State, where a new and covert war is keeping Afghanistan from collapse. 

"Powerful, important, and searing." —General David Petraeus, U.S. Army (ret.), former commander, U.S. Central Command, former CIA director
 
In 2015, the White House claimed triumphantly that "the longest war in American history" was over. But for some, it was just the beginning of a new war, fought by Special Operations Forces, with limited resources, little governmental oversight, and contradictory orders.
 
With big picture insight and on-the-ground grit, Jessica Donati shares the stories of the impossible choices these soldiers must make. After the fall of a major city to the Taliban that year, Hutch, a battle-worn Green Beret on his fifth combat tour was ordered on a secret mission to recapture it and inadvertently called in an airstrike on a Doctors Without Borders hospital, killing dozens. Caleb stepped on a bomb during a mission in notorious Sangin. Andy was trapped with his team during a raid with a crashed Black Hawk and no air support.
 
Through successive policy directives under the Obama and Trump administrations, America has come to rely almost entirely on US Special Forces, and without a long-term plan, is failing to stabilize Afghanistan, undermining US interests both at home and abroad.
 
Eagle Down is a riveting account of the heroism, sacrifice, and tragedy experienced by those that continue to fight America's longest war.
Praise For Eagle Down: The Last Special Forces Fighting the Forever War…
"Afghanistan is one of the most dangerous countries in the world, and U.S. Special Forces are one of the most secretive groups in America's military. That Jessica Donati managed to crack both and write a book that is both brutally honest and deeply compassionate about this elite group is a journalistic triumph. It is beautifully written, impossible to put down and deeply terrifying for anyone who has worked in that country. She's one of those writers who makes me deeply proud of my profession."—Sebastian Junger, New York Times best-selling author

"Donati's on-the-ground account-and it's clear that she put herself in constant danger to tell the soldiers' stories even as American officials dithered about how to deploy those troops-is sometimes as hallucinatory as Dispatches and as taut and well written as Mark Bowden's now-classic book...Exemplary journalism and a powerful argument for not putting soldiers in harm's way unless we're sure we know why."—Kirkus Reviews, starred review

"Skillfully interweaving big-picture policy analysis with frontline reporting, Donati shines a stark light on this shadowy conflict. The result is a distressing yet vital update on America's longest war."—Publishers Weekly

"The book hits its mark in its sympathetic portrayal of the boots on the ground, in particular the Special Forces and Green Berets of Operational Detachment Alpha. Their frustrations at the human costs, from deaths to homesickness to mission futility, will resonate with readers."—Booklist

"Eagle Down is a gripping story of a war most Americans had thought was over or had wrongly forgotten about entirely."—The Diplomatic Courier

"The book's interweaving narrative style paired with Donati's meticulous reporting makes Eagle Down as engaging and touching as it is insightful."—Stars and Stripes

"Highly enlightening.. [an] incisive and brutally frank account."—The New York Journal of Books

"[Donati's] vivid, uncompromising reporting presents U.S. politicians and senior military commanders as disconnected from the reality of the war as they flounder in search of a satisfactory way out of it."—Foreign Affairs

"Ultimately this book is about tragedy, the tragedy of loss, the tragedy of bad decisions, and the tragedy of futility.  But it is also a book of survival, perseverance and personal strength.  More importantly it's a book that doesn't pull any punches. If you are looking for a story that depicts Green Berets as comic book super heroes then you came to the wrong place.  If, however, you are looking for an unvarnished depiction of the successes, failures, and losses of men who have put everything on the line for the things they believe in then Eagle Down is for you."—Small Wars Journal

"A memorable portrait of Americans fighting in Afghanistan over the last six years. Donati does an especially good job at portraying the combat in Kunduz in October 2015…an important story about limited warfare."—The New York Times Book Review

"Jessica Donati deserves a Pulitzer Prize for this extraordinary book about America's continued behind the scenes fighting in Afghanistan's "Forever War."—The San Francisco Book Review
PublicAffairs, 9781541762558, 320pp.
Publication Date: January 19, 2021
About the Author
Jessica Donati covers foreign affairs for The Wall Street Journal in Washington DC, and has reported from over a dozen countries in the role. She joined the paper as the bureau chief in Kabul in 2015, and lived in Afghanistan for over four years. Previously, she worked for Reuters in Europe, the Middle East and Asia, covering both the conflicts in Libya and Afghanistan. She co-authored a series on the war in Libya that was chosen as a finalist for the Pulitzer Prize for International Reporting in 2012. She is also the recipient of a New York Press Club award for her reporting in Libya . She is British-Italian, and grew up in Italy. She lives with her husband and son in Washington DC.