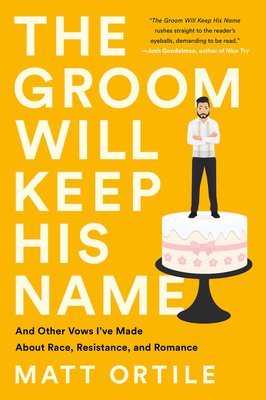 The Groom Will Keep His Name
And Other Vows I've Made About Race, Resistance, and Romance
Paperback

* Individual store prices may vary.
Description
A riotous collection of "witty and captivating" essays by a gay Filipino immigrant in America who is learning that everything is about sex (Bitch Magazine) -- and sex is about power.
When Matt Ortile moved from Manila to Las Vegas, the locals couldn't pronounce his name. Harassed as a kid for his brown skin, accent, and femininity, he believed he could belong in America by marrying a white man and shedding his Filipino identity. This was the first myth he told himself. The Groom Will Keep His Name explores the various tales Ortile spun about what it means to be a Vassar Girl, an American Boy, and a Filipino immigrant in New York looking to build a home.
As we meet and mate, we tell stories about ourselves, revealing not just who we are, but who we want to be. Ortile recounts the relationships and whateverships that pushed him to confront his notions of sex, power, and the model minority myth. Whether swiping on Grindr, analyzing DMs, or cruising steam rooms, Ortile brings us on his journey toward radical self-love with intelligence, wit, and his heart on his sleeve.
Praise For The Groom Will Keep His Name: And Other Vows I've Made About Race, Resistance, and Romance…
"An intellectually ambitious, politically engaged, ideologically sensitive memoir."
—Kirkus Reviews

"[Ortile] traverses a multitude of humorous and painful experiences with incisiveness and empathy."
—Bitch.com

"A whip-smart essay collection explores the intersection of race, sexuality and identity through the lens of one queer immigrant's personal history."
—Shelf Awareness, starred

"Weaving stories together about his life and the history of the marginalized communities he belongs to, Ortile seamlessly brings readers into the intersections of his experiences."—Alamin Yohannes, EW.com

Matt Ortile's ardent and precocious collection sets the page aflame with its explosive mixture of passion and politics, cultural analysis and self-examination. Cruising through virtual and nocturnal circuits, Ortile riffs like a guitar savant on what it means to be a young wanderer in the city today with astute carnality and endearing candor. The Groom Will Keep His Name is a daring brown and queer manifesto that proclaims to everyone making our way in the world: never bow to the false gods of whiteness and normalcy.—Meredith Talusan, author of Fairest

Ortile's writing is like sex--sensual and vulnerable, sometimes irreverent, and often soaked in layers of meaning, with the ability to make you laugh, make you cry, and lay you bare. The Groom Will Keep His Name is a sumptuous must-read for the queer millennial.—Casey McQuiston, author of Red, White & Royal Blue

Matt Ortile writes with precision and power, and his work overflows with probing insight both inward and outward facing. Ortile's essays deftly navigate the complicated intersection of race, sex, history, family, and self. Propelled by bracing candor and impeccable skill, The Groom Will Keep His Name rushes straight to the reader's eyeballs, demanding to be read.—Josh Gondelman, author of Nice Try

Matt Ortile writes this book as a kind of open invitation to readers, exploring themes of family (chosen and otherwise), relationships, race and identity with refreshing wit and vulnerability. Some of his essays might remind you of favorite conversations you've had with your sharpest, smartest friends-if you're very lucky, that is, and happen to have friends as thoughtful and brilliant as he is. Wry, funny, and poignant by turns, The Groom Will Keep His Name is an honest and moving account of a young immigrant's evolving understanding of himself, as well as the two countries he's called home.—Nicole Chung, author of All You Can Ever Know
Bold Type Books, 9781541762794, 336pp.
Publication Date: June 2, 2020
About the Author
Matt Ortile is the managing editor of Catapult. His writing has been published by BuzzFeed, Into, Self, and Out, among others. He lives in Brooklyn.