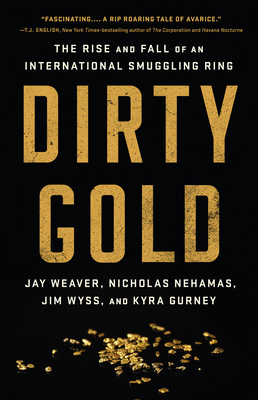 Dirty Gold
The Rise and Fall of an International Smuggling Ring
Hardcover

* Individual store prices may vary.
Other Editions of This Title:
Digital Audiobook (3/1/2021)
Description
The explosive story of the illegal gold trade from South America, and the three Miami businessmen who got rich on it—until it all came crashing down.
 
In March of 2017, a team of federal agents arrested Juan Pablo Granda, Samer Barrage, and Renato Rodriguez, or as they came to be known, "the three amigos." The trio—first identified publicly by the authors of this book—had built a $3.6 billion dollar business in metals trading, mostly illegal Peruvian gold mined in the rain forest.
 
Their arrest and subsequent prosecution laid bare more than a scheme between a few corrupt traders. Dirty Gold lifts the veil on a massive and very illegal international business that is more lucrative than trafficking cocaine, and often just as dangerous.
 
As this award-winning team of current and former Miami Herald reporters shows, illegal gold mines have become a haven for Latin American drug money. The gold is sold to metals traders, and ultimately to scores of unwitting Americans in their jewelry and phones. By following the trail of these three traders, Dirty Gold leads us into a sprawling criminal underworld that has never before been in full view.
Praise For Dirty Gold: The Rise and Fall of an International Smuggling Ring…
"[A] shocking true crime epic…show[s] how a criminal enterprise can thrive with a product where melting can erase all traces of origin easier than documents can be forged. This is a must-read for fans of Matthew Hart's Diamonds and Roberto Saviano's ZeroZeroZero."—Publishers Weekly, starred review

"An authoritative consideration of "dirty" gold's grip on the environment and role in rampant geopolitical corruption."—Kirkus Reviews

"[An] engrossing account with a cast of picaresque characters ... [that] tells the full story of how unethically mined ('artisanal') gold makes it from shanty camps like La Pampa in southern Peru — a Stygian hellhole of brothels, child labor and violence — through the global supply chain to become jewelry or part of the motherboard in your smartphone."—The New York Times Book Review

"A fascinating deep dive into the most primal elements of human greed. Dirty Gold breaks new ground in more ways than one: as an expose on South America's illicit gold trade, as an international cops and robbers caper, and as a rip roaring tale of avarice that reads like an upscale version of The Treasure of the Sierra Madre. Amazing. Do yourself a favor: get this book and read it."—T.J. English, New York Times–bestselling author of The Corporation and Havana Nocturne

"Dirty Gold is a jaw-dropping true story of illegal gold mining that exposes its devastating ecological impact on developing nations in Latin America and a complex web of corruption and money laundering worth billions in the US. Gold is both recession-proof and easily melted down, leaving no trace of its lineage, and Dirty Gold offers a rare and exciting window into a criminal underworld that is the wild west of gold."—Seira Wilson, Amazon Book Review

"An engaging narrative…a fascinating story peppered with colorful characters."—Americas Quarterly

"The best account I've ever read on Latin America's massive illegal gold underworld. Fascinating, fast-paced, it documents the wild west of the gold industry, filled with memorable characters. It reminds us of the terrible toll this clandestine business takes on the environment, tearing up rain forests to satisfy the world's endless thirst for the precious metal. Dirty Gold reads like a thriller."—Toby Muse, author of Kilo: Inside the Cocaine Cartels

"Leaping from the glitz and glamor of South Beach to the muddy jungles of South America's most impoverished corners, Dirty Gold takes us on a fascinating, meticulously researched excursion deep into the underbelly of the global gold trade, where almost nothing appears to be on the level and everyone is out for themselves. Studded with unforgettable characters and told with the brisk tension of a thriller, the authors reveal the true, very human cost of all that glitters."—Ken Bensinger, author of Red Card

"Criss-crossing the world from glitzy Miami to the remote jungle lands of Peru, Dirty Gold exposes the dark underbelly of the illegal precious metals business. A must-read for anyone trying to understand gold's role as a pivotal spoke in the global money laundering wheel."—Anita Raghavan, author of The Billionaire's Apprentice and the Fall of the Galleon Hedge Fund

"A fascinating story about one of the world's biggest, and least talked about, illegal businesses. It reads like a thriller!"—Andres Oppenheimer, author of Saving the Americas and The Robots are Coming!

"An astonishing read -- full of corruption, greed, strong drink and stronger language -- that reveals the rotten heart of the global economy."—Oliver Bullough, author of Moneyland

"By tracking the complex web of money launderers, drug traffickers, and big money corporations who have exploited America's demand for gold, these journalists exposed how this brutal trade is poisoning workers, polluting rainforests, and creating a human trafficking pipeline. This is investigative journalism at its finest."—Julie K. Brown, author of Perversion of Justice

"For years, doomsday profiteers have pushed gold as a smart hedge against the coming apocalypse, but where is all that metal coming from? This deeply reported book connects Conquistadors to drug cartels to Miami real estate to the Peruvian Amazon—revealing a greed-fueled global gold trade so rotten, it makes Fred C. Dobbs look wholesome."—Rachel Slade, author of Into the Raging Sea

"An eye-opening, compulsively readable investigation…This is journalism and crime writing at its very best and most essential."—CrimeReads
PublicAffairs, 9781541762909, 384pp.
Publication Date: March 2, 2021
About the Author
Nicholas Nehamas is an investigative reporter at the Miami Herald. He was part of the global team of journalists that broke the Panama Papers and won the 2017 Pulitzer Prize for Explanatory Reporting. His work covering the local real estate industry led him into the dark underbelly of South Florida's shadow economy. He earned a master's degree in journalism from Columbia University. Kyra Gurney is a reporter at the Miami Herald, where she has worked since 2016 and where she helped report an award-winning Panama Papers story exposing ties between Argentine officials and a South Florida real estate empire. Before moving to Miami, Kyra was a reporter at InSight Crime, a nonprofit investigative journalism outlet based in Colombia that focuses on organized crime and corruption in Latin America. Kyra has a master's degree in journalism from Columbia University. Jay Weaver is an award-winning reporter at the Miami Herald who has covered the courts, government and politics in South Florida for 25 years. He was a member of the Miami Herald team that won a Pulitzer Prize for breaking news in 2001 for its coverage of the federal seizure of Elian Gonzalez, who was saved on a raft at sea and swept up into an international custody battle between the U.S. government and Cuban leader Fidel Castro. A graduate of UC Berkeley, Jay has won numerous national and regional journalism awards, including for exposing New York Yankees slugger Alex Rodriguez's lies about using performance-enhancing drugs.  Jim Wyss is a prize-winning journalist who has spent most of his career living and working in Latin America for outlets like the Economist, the San Francisco Chronicle and Latin Trade. Since 2011, he's been the Miami Herald's South America correspondent based in Bogota, Colombia. He has a master's degree in journalism from Columbia University through the Knight-Bagehot Fellowship, and was also part of the reporting team that won the 2017 Pulitzer Prize for Explanatory Reporting for their work on the Panama Papers.