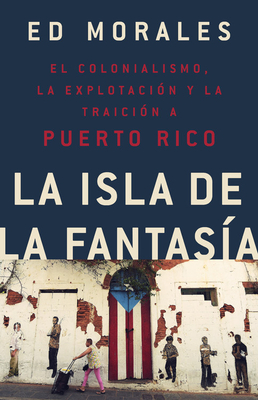 La isla de la fantasia (Paperback)
El colonialismo, la explotacion y la traicion a Puerto Rico
Bold Type Books, 9781541762992, 448pp.
Publication Date: November 5, 2019
* Individual store prices may vary.
Description
Un recuento crucial y preciso de los 122 anos de Puerto Rico como colonia de los EE. UU.

A dos años del huracán María, Puerto Rico aún sigue recuperándose de la destrucción física de la tormenta y el colapso de la infraestructura resultante. La devastación agravó los efectos dañinos de más de un siglo causados por la explotación de Estados Unidos con sus políticas económicas, sociales y de asuntos políticos, incluido el trauma infligido por su crisis de deuda de 72 mil millones de dólares.
En La isla de la fantasía, el periodista Ed Morales describe cómo, a lo largo de los años, Puerto Rico ha servido como un satélite colonial, una vitrina de la Guerra Fría del Caribe, un vertedero de productos manufacturados en Estados Unidos y un refugio fiscal corporativo. Emprendiendo al lector en un viaje ida y vuelta de San Juan a la ciudad de Nueva York, La isla de la fantasía es un relato crucial y claro de los 122 años de Puerto Rico como colonia de los Estados Unidos.
About the Author
Ed Morales es el autor de Latinx, The Latin Beat, y Living in Spanglish. Él vive en la ciudad de Nueva York.
Praise For La isla de la fantasia: El colonialismo, la explotacion y la traicion a Puerto Rico…
"The hurricanes, the debt, the depopulation. Ed Morales has written an urgent, fascinating, and impassioned portrait of Puerto Rico, the world's oldest colony."—Daniel Immerwahr, author of How to Hide an Empire: A History of the Greater United States

"Ed Morales has put together a compelling indictment of U.S. colonialism in Puerto Rico, based on journalistic and academic sources as well as his personal experiences as a New York-born Puerto Rican who cares deeply about his ancestral homeland. His work is an engaging, compassionate, well-documented, and crisply written analysis of the political, economic, and demographic downturn of the Island, after more than a decade of economic recession and almost two years since hurricane Maria."—Jorge Duany, author of Puerto Rico: What Everyone Needs to Know

"Ambitious, intimidating, and beautiful...This book will be particularly important to readers with a connection to Puerto Rico and useful and thought-provoking to anyone else seeking to understand capitalism's past, present, and future."—Library Journal

"[An] eye-opening economic and political history... [Morales's] technical yet impassioned polemic will persuade those with a keen interest in the subject."—Publishers Weekly