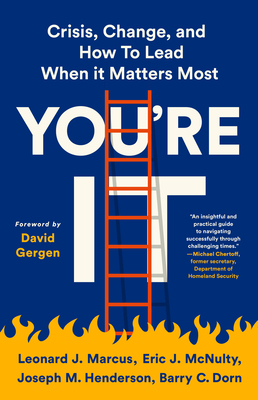 You're It
Crisis, Change, and How to Lead When It Matters Most
Paperback

* Individual store prices may vary.
Other Editions of This Title:
Hardcover (6/11/2019)
Description
The faculty of the National Preparedness Leadership Initiative at Harvard University distill their extensive research and experience to teach you how to become a better leader every day, while giving you the tools to handle the inevitable crises that come your way.
Managing crisis well is at the very heart of good leadership. Here, the team from the National Preparedness Leadership Initiative draws on a deep well of research as well as their experience working with leaders to respond to crisis events of all kinds, from the COVID-19 pandemic and the Boston Marathon bombings, to more everyday crises like a product recall or media controversy that can hit corporate operations, risking terrible PR and outrage from customers.
You're It distills the wisdom the NPLI have gained from observing the way the most effective leaders take charge of situations with real authority, marshal and connect different networks together, and bring their organizations, cities and countries out through the other side of crisis into recovery. You're It is an essential book for anyone potentially facing a crisis or a wrenching change.
Praise For You're It: Crisis, Change, and How to Lead When It Matters Most…
"Whether the situation you're facing is ordinary or extraordinary, You're It! can equip you with the tools to lead people effectively through times of change and turmoil."—Doug Conant, Founder and CEO, ConantLeadership, former CEO of Campbell Soup Company

"A practical, how-to manual for those who must exercise leadership in crisis situations. You're It is a highly readable, essential primer for anyone who is called to lead when people need it most."—Janet Napolitano, Former Department of Homeland Security Secretary, President of the University of California, and author of How Safe Are We?: Homeland Security Since 9/11

"Every leader dreams (and agonizes) about his or her "leadership moment"-that singular crisis or challenge that will test our character and define our legacy. You're It shows what it takes to prepare for that moment. Its insights, frameworks, and genuinely riveting stories will prepare leaders in any field to seize an opportunity or avoid disaster. Read this book, take its lessons to heart, and get ready to lead."—William C. Taylor, co-founder of Fast Company and author of Simply Brilliant

"The real beauty of this highly readable book is that today, we all find ourselves leading through crises at work, in our families, and in our communities. And it is packed with fresh, new ideas about leadership that are brilliant, practical and relevant. The authors' model for how to think, what to do, and how to unite people when extreme crisis hits works, and they've got excellent research and fascinating stories from real life to prove it."—Annie McKee, bestselling author and Senior Fellow, University of Pennsylvania

"Combining meticulously engaging theory with heart stopping anecdotes from the top crisis leaders of our times, You're It provides all of us with what to do, and what not to do, when it matters the most. This is a book that takes us beyond the clichés of leadership literature, and provides tools that will make us smarter, more self-aware, and better prepared to when we are tested."—Juliette Kayyem, Former Assistant Secretary, Department of Homeland Security, Faculty Chair, Harvard's Kennedy School of Government Homeland Security Program

"You're It is a comprehensive resource for individual and organizational preparedness leadership. As a Governor, I faced several disasters, natural and man-made, and came to realize, being prepared is not just having plans and designated resources, but it is building trust and working together for an organic, agile and effective response. This work shows us that pathway, meta-leadership, arming future generations with the tools, knowledge and the ability to reach beyond themselves when destiny says, 'You're it'."—Ernest "Ernie" Fletcher, former member, U.S. House of Representatives, former governor, Kentucky

"In a world where both challenges and opportunities are increasingly complex and simultaneously nuanced, leaders navigate ambiguity at every turn. In You're It, readers will find practical insights and illuminating stories about what it takes to make hard choices when the future seems more chaotic than clear. Readers will also find inspiration and understanding of what it takes to succeed in a crisis whether it is local or international. You're It is the crisis playbook for the 21st century."—Farah Pandith, author of How We Win: How Cutting-Edge Entrepreneurs, Political Visionaries, Enlightened Business Leaders, and Social Media Mavens Can Defeat the Extremist Threat

"Drawing on the experience of dozens of leaders during times of crisis, You're It breaks new ground in our understanding of leadership performance when disaster strikes. Its compelling narrative identifies practical ways leaders can prepare in advance of calamity. This book is a must read for those who want to understand how improving leadership skills can drive better outcomes."—Alice Hill, Former Special Assistant to President Obama and Senior Director for Resilience on the National Security Council, author of Building a Resilient Tomorrow: Preparing for the Coming Climate Disruption

"You're It is an essential prep course for leaders and leaders-in-the-making who are at risk for ending up on the frontlines of a crisis. Whether used as an individual guide to personal and professional development or a comprehensive curriculum for risk management team planning, You're It fits the bill."—Julie Louise Gerberding, MD, MPH, Executive Vice President and Chief Patient Officer; Strategic Communications, Global Public Policy, and Population Health; Former Director, U.S. Centers for Disease Control and Prevention

"Meta- Leadership has fundamentally changed both the way I think about and practice leadership. I have integrated many of the concepts to include, the "walk in the woods", "cone in the cube', "swarm leadership" and "going to the basement" into my leadership philosophy and my daily approach to getting the most out of my teammates and the ~600,000 men and women who serve in the United States Air Force. The core principles are easily understood and applicable to a first-time supervisor as well as a CEO; I have implemented these concepts in my daily interactions with my senior executive team and presented them to thousands during keynote addresses, executive development programs and small group discussions and the feedback has been phenomenal! Meta-Leadership has made me a better executive, supervisor and teammate."—Kaleth O. Wright Chief, Master Sergeant of the Air Force

"This is a must-read for a leader who will face crisis--which is every leader. The stories are instructive and the insights are broadly applicable, including to those on the frontlines of the covid-19 pandemic. I highly recommend You're It; this is a book we can go back to time after time for lessons in leadership and life."—Leana Wen, MD MSc, Visiting Professor of Health Policy and Management at George Washington University; ER doctor; Former Baltimore City Health Commissioner

"At a time when public and private institutions face an unprecedented number of intense crises, this volume offers an insightful and practical guide to fostering the leadership skills needed to navigate successfully through challenge."



—Michael Chertoff, Secretary, Department of Homeland Security (2005-2009)
PublicAffairs, 9781541768048, 320pp.
Publication Date: March 16, 2021
About the Author
Leonard J. Marcus, Ph.D. is the founding co-director of the National Preparedness Leadership Initiative at Harvard and an internationally recognized authority on leadership during times of crisis and change. Eric J. McNulty, M.A. is Associate Director of the National Preparedness Leadership Initiative and an Instructor at the Harvard T.H. Chan School of Public Health. He is a contributing editor and columnist at strategy+business magazine and writes periodically for Harvard Business Review and others. Dr. Barry Dorn, M.D., M.H.C.M. is Senior Advisor of the Program for Health Care Negotiation and Conflict Resolution at the Harvard T.H. Chan of Public Health and faculty member of The National Preparedness Leadership Initiative. He is a retired orthopedic surgeon. Joseph M. Henderson, M.P.A. is Distinguished Senior Fellow at the Harvard T.H. Chan of Public Health and is on the faculty of the National Preparedness Leadership Initiative. He retired from the U.S. Government in 2018 as a member of the Senior Executive Service.