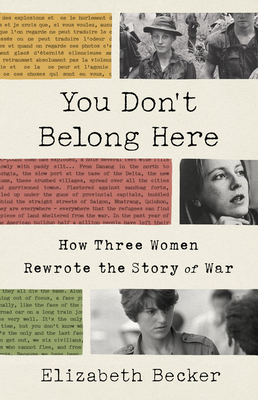 You Don't Belong Here
How Three Women Rewrote the Story of War
Hardcover

* Individual store prices may vary.
Other Editions of This Title:
Digital Audiobook (2/22/2021)
Paperback (2/22/2022)
Description
WINNER OF THE 2022 GOLDSMITH BOOK PRIZE

The long-buried story of three extraordinary female journalists who permanently shattered the barriers to women covering war.   Kate Webb, an Australian iconoclast, Catherine Leroy, a French daredevil photographer, and Frances FitzGerald, a blue-blood American intellectual, arrived in Vietnam with starkly different life experiences but one shared purpose: to report on the most consequential story of the decade. At a time when women were considered unfit to be foreign reporters, Frankie, Catherine, and Kate   challenged the rules imposed on them by the military, ignored the belittlement of their male peers, and ultimately altered the craft of war reportage for generations.
 
In You Don't Belong Here, Elizabeth Becker uses these women's work and lives to illuminate the Vietnam War from the 1965 American buildup, the expansion into Cambodia, and the American defeat and its aftermath. Arriving herself in the last years of the war, Becker writes as a historian and a witness of the times.
 
What emerges is an unforgettable story of three journalists forging their place in a land of men, often at great personal sacrifice. Deeply reported and filled with personal letters, interviews, and profound insight, You Don't Belong Here fills a void in the history of women and of war.
Praise For You Don't Belong Here: How Three Women Rewrote the Story of War…
"Becker not only shines a light on the contributions of those correspondents — along with the risks they took to show and tell the raw truths of the war as they saw it — but provides a valuable depth of cultural and historical insight into the conflict…There is a fourth woman who rewrote the story of war, and that is of course Elizabeth Becker, who with a depth of research and an abundance of grace gives fresh insight into the background and achievements of three extraordinary war correspondents — and the price they paid for the intensity of their work…"You Don't Belong Here" is deserving of a wide readership. My guess is that every young woman filled with journalistic ambition will have a copy in her backpack, perhaps as she ventures into a war zone with her laptop, her satellite phone and a sustaining dose of idealism."—
Washington Post
"With controlled anger, in a riveting narrative…  Becker conveys the particular sacrifices that these three women had to make: the indignities, the psychological cost, the elusiveness of stable relationships and children. Still, it's exhilarating to read Becker's account of how these women overcame the narrow definitions of their early lives and found themselves by surrendering to the extreme demands of reporting a war."—
The Atlantic
"Compelling… Becker's book does an excellent job of bringing back what my colleague in Bosnia, the New York Times reporter John F. Burns, once nostalgically called 'that time, that place, of war.' She writes beautifully of the heartache the women suffer, their struggles to be taken seriously, the guffaws, the catcalls, the daily small humiliations that amounted to the French photographer's fierce indictment: You don't belong here."—
Janine di Giovanni, Foreign Policy
"A prize-worthy page-turner of tension, suspense and drama. The tone of the book intensifies with each chapter…Becker never loses sight of her goal to illuminate these women in the larger context of America's biggest foreign policy disaster of the 20th century."—
Mike Tharp, Asia Times
"[T]he vivid, humane and engaging portraits in
You Don't Belong Here
…bring three female trailblazers to life. Becker recounts both personal and professional accomplishments and setbacks alike, and that is a real success of Becker's valuable narrative."—
National Catholic Reporter
"Becker blends [the journalists'] individual stories with wider history, setting the unfolding tragedy in Vietnam in the background as her protagonists develop doubts about the logic and legitimacy of the war. She provides vivid accounts of their journalistic exploits and tales of how they suffered in their work—their injuries, traumas, excessive drinking, and complicated affairs."—
Foreign Affairs
"
You Don't Belong Here
provides a fresh perspective not just on how the Second Indochina War was reported, but also on how it can be narrated through the lives of those who witnessed it. In writing it, Becker has made a significant contribution to the history of women in journalism and women in war."—
Mekong Review
"An incisive history of the Vietnam War via the groundbreaking accomplishments of three remarkable women journalists…. A deft, richly illuminating perspective on the Vietnam War."
—
Kirkus Reviews
"An absorbing narrative… Included are gripping stories of Webb's and Becker's coverage of Cambodia's bloody killing fields, and Webb's three-week imprisonment by the North Vietnamese… Readers interested in the Vietnam War and in women's history will be engaged."—
Library Journal
"Crisp and incisive… Becker, who also reported from Cambodia in the 1970s, fluidly sketches the history and politics of the Vietnam War and captures her subjects in all their complexity. Readers interested in women's history and foreign affairs won't be able to put this fascinating chronicle down."—
Publishers Weekly
"Whether as a woman's story or a war story, this should find a wide audience."—
Booklist
"
You Don't Belong Here
is a significant contribution to the history of both the Vietnam War and women in journalism." —
Bookpage
"Sensitively written and utterly absorbing."—
The Canberra Times
"Elizabeth Becker resurrects the long-forgotten stories and enormous sacrifices made by a generation of women who paved the way for the rest of us. Elegant, angry and utterly engaging, it is a long overdue story about a small band of courageous and visionary women.You Don't Belong Here is a masterpiece of a book."—
Rachel Louise Snyder, author of No Visible Bruises
" A riveting read with much to say about the nature of war and the different ways men and women correspondents cover it. Frank, fast-paced, often enraging, "You Don't Belong Here" speaks to the distance traveled and the journey still ahead."  
—
Geraldine Brooks, Pulitzer Prize winning author of MARCH, former Wall Street Journal foreign correspondent
"Elizabeth Becker has gracefully weaved admiring but clear-eyed portraits of three remarkable women who reported from its front lines. At a time when most female journalists were relegated to covering food, family, and fashion, these fought for a chance to take on the biggest story of their day — recording both the courage and the human toll of war, earning the amazed respect of soldiers, and making an indelible contribution to our understanding of the war, then and now."—
Mark Bowden, author of Black Hawk Down and Hue 1968
"Riveting, powerful and transformative, Elizabeth Becker's You Don't Belong Here tells the stories of three astonishing women. This is a timely and brilliant work from one of our most extraordinary war correspondents."—
Madeleine Thien, author of Do Not Say We Have Nothing
"Elizabeth Becker's luminous book not only belongs, it demands at last that these daring, resourceful, and pathbreaking women take their rightful place in the history of the Indochina wars and journalists who covered them."—
David Maraniss, author of They Marched into Sunlight: War and Peace, Vietnam and America, October 1967
"Every journalist should read this stunning book.  Actually everyone should. Elizabeth Becker has that rare ability to weave the fascinating stories of three ground-breaking, very different women journalists with a riveting history of the Vietnam War.  She challenges you to see who these women were in a place they allegedly didn't belong, while describing what and how they witnessed it."
 —
Anne Garrels, former NPR foreign correspondent and author of Naked in Baghdad
"In this meticulously researched and drama-filled book, we can feel the sweat and heat of the jungle, hear the explosion of bombs, and witness the lies and political machinations justifying the doomed "Vietnam War." Most importantly, Ms. Becker, a master international journalist herself, profiles the extraordinary courage, talent, and raw determination of three wartime female journalists, who succeeded in a man's world and helped pave the way for women everywhere to receive the recognition and respect they deserve."
 —
Alan Lightman, author of Einstein's Dreams and The Diagnosis
"When these three women were born, 'lady journalists' wore flowery dresses and white gloves, and wrote about fashion and housekeeping. Today, because of the tenacity and bravery of women like Leroy, Fitzgerald and Webb, women report from the frontlines of the bloodiest conflicts … and they aren't wearing white gloves."—
Tony Clifton, veteran Australian journalist
"Becker has done us a great service by shining a light on three hidden women stars of the wars in IndoChina: Francis FitzGerald, Kate Webb and Catherine Leroy. They fought their way through opposition from the "men's club" of war corresponding to focus on reporting the truth, proving that they actually DID belong there. Put YOU DON'T BELONG HERE on your reading list!"—
Joseph L. Galloway, co-author of We Were Soldiers Once
"Insightful portraits of courageous women war correspondents who helped break down stereotypes."—
The Washington Times
"Becker deftly weaves her own story into the tapestry."—
The Times Literary Supplement
PublicAffairs, 9781541768208, 320pp.
Publication Date: February 23, 2021
About the Author
Elizabeth Becker is an award-winning journalist and author who began her career as a war correspondent for the Washington Post in Cambodia. She later became the Senior Foreign Editor of the National Public Radio and a New York Times correspondent covering national security and foreign policy. She has been the recipient of numerous awards including accolades from the Overseas Press Club, DuPont Columbia's Awards and was a member of the Times team that won the 2002 Pulitzer Prize for Public Service in covering 9/11. She is the author of two previous books, When the War was Over: Cambodia and the Khmer Rouge Revolution, the definitive book on the event that has been in print for thirty-five years and Overbooked: The Exploding Business of Travel and Tourism, an exposé of the travel industry.  Elizabeth Becker lives in Washington D.C.
or
Not Currently Available for Direct Purchase