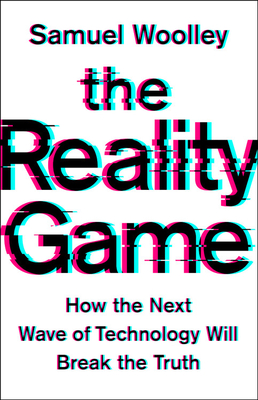 The Reality Game (Hardcover)
How the Next Wave of Technology Will Break the Truth
PublicAffairs, 9781541768253, 272pp.
Publication Date: January 7, 2020
* Individual store prices may vary.
Description
Fake news posts and Twitter trolls were just the beginning. What will happen when misinformation moves from our social media feeds into our everyday lives?
Despite Samuel Woolley's warnings as early as 2013, the problem of online disinformation stormed our political process in 2016 and has only worsened since. Yet as Woolley shows in this urgent book, it may pale in comparison to what's to come: human-like automated voice systems, machine learning, "deepfake" AI-edited videos and images, interactive memes, virtual reality, and more. In stories both deeply researched and compellingly written, Woolley describes this future and imagines its profound impact on our politics.
Information literacy is an essential ingredient in a healthy democracy, and The Reality Game shows how the breakneck rate of technological change is making it nearly impossible. Woolley argues for a new culture of invention, one built around accountability and especially transparency. We cannot afford to continue re-litigating the past. Instead, we must follow signals to prevent manipulation in the future--and use our new tools not to control people but to empower them.
About the Author
Dr. Samuel C. Woolley is a writer and researcher specializing in the study of automation/AI, politics, persuasion, and social media. He is the Research Director of the Digital Intelligence (DigIntel) Lab at the Institute for the Future, a 50-year-old think-tank based in the heart of Silicon Valley. Sam is co-founder and former research director of the Computational Propaganda Project at the Oxford Internet Institute, University of Oxford. He has written articles for a variety of publications including Wired, Atlantic Monthly, Motherboard, TechCrunch, and Slate. For his work, he has been featured in publications such as the New York Times, the Washington Post, and the Wall Street Journal and on The Today Show, BBC's News at Ten, and NBC's Nightly News. His work has been presented to members of NATO, the U.S. Congress and the U.K. Parliament.