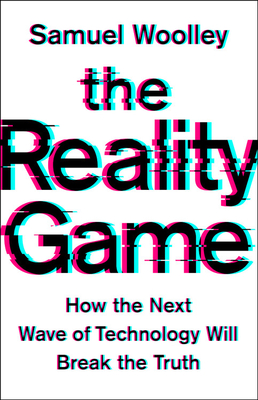 The Reality Game
How the Next Wave of Technology Will Break the Truth
Hardcover

* Individual store prices may vary.
Description
Fake news posts and Twitter trolls were just the beginning. What will happen when misinformation moves from our social media feeds into our everyday lives?
Online disinformation stormed our political process in 2016 and has only worsened since. Yet as Samuel Woolley shows in this urgent book, it may pale in comparison to what's to come: humanlike automated voice systems, machine learning, "deepfake" AI-edited videos and images, interactive memes, virtual reality, and more. These technologies have the power not just to manipulate our politics, but to make us doubt our eyes and ears and even feelings.
Deeply researched and compellingly written, The Reality Game describes the profound impact these technologies will have on our lives. Each new invention built without regard for its consequences edges us further into this digital dystopia.
Yet Woolley does not despair. Instead, he argues pointedly for a new culture of innovation, one built around accountability and especially transparency. With social media dragging us into a never-ending culture war, we must learn to stop fighting and instead prevent future manipulation. This book shows how we can use our new tools not to control people but to empower them.
Praise For The Reality Game: How the Next Wave of Technology Will Break the Truth…
"What makes 'The Reality Game' worth a read is Woolley's focus on the upcoming wave of new technologies; arguable deep fakes; virtual reality, and machine learning."—Engineering and Technology

"A well-informed cautionary tale on alarming issues that show no signs of abating as disinformation continues to proliferate."
—Kirkus Reviews

"While the rest of us have been processing our shock at the fake news crisis, Sam Woolley has been anticipating what's coming next. This a mind-blowing and essential book for a future that's practically already here, whether we know it or not. This book scares the hell out of me, but if we listen to Woolley's wake-up call, then I also have hope."—Jane McGonigal, author of Reality is Broken: Why Games Make Us Better and How They Can Change the World

Long before most of the world had ever heard the terms 'disinformation,' 'trolls,' 'bots,' or 'fake news,' Sam Woolley had begun to systematically study these new, destructive forces eroding democracy in the digital age. The Reality Game synthesizes his deep and original knowledge on this subject into a readable and compelling book. Scholars of computational propaganda, policymakers in Washington, Brussels, and the Silicon Valley, as well as all citizens of the world concerned about truth, facts, and democracy must read this book.—Michael McFaul, Professor of Political Science at Stanford University and former US ambassador to Russia

"This is a crucial book for understanding online misinformation, disinformation, and outright propaganda. Like a good doctor, Sam Woolley has given us an excellent diagnosis of this problem and laid out a treatment plan. Now it's up to politicians and the public to heed his timely advice."—Tim O'Reilly, founder and CEO of O'Reilly Media
PublicAffairs, 9781541768253, 272pp.
Publication Date: January 7, 2020
About the Author
Dr. Samuel Woolley is a writer and researcher specializing in the study of automation/AI, emergent technology, politics, persuasion, and social media. He is an assistant professor in the School of Journalism and program director for computational propaganda research at the Center for Media Engagement, both at the University of Texas at Austin. Prior to joining UT, Woolley founded and directed the Digital Intelligence Lab at the Institute for the Future, a 50-year-old think tank based in the heart of Silicon Valley. He also cofounded and directed the research team at the Computational Propaganda Project at the Oxford Internet Institute, University of Oxford. He has written on political manipulation of technology for a variety of publications including Wired, the Atlantic Monthly, Motherboard/VICE, TechCrunch, the Guardian, Quartz and Slate. His research has been featured in publications such as the New York Times, the Washington Post, and the Wall Street Journal and on The Today Show, 60 Minutes, and Frontline. His work has been presented to members of NATO, the US Congress, the UK Parliament, and to numerous private entities and civil society organizations. His PhD is from the University of Washington. He tweets from @samuelwoolley.