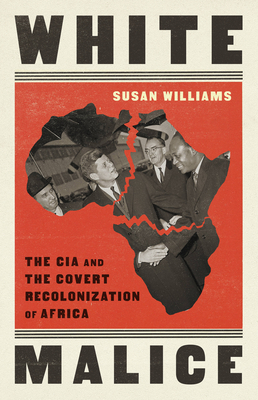 African Jazz
The CIA and the Covert Recolonization of Africa
Hardcover

* Individual store prices may vary.
Description
African Independence movements from former colonial powers were unsuccessful governments. But not because they lacked the skills. They were systematically undermined by one nation: the US. This is the sweeping history of how, over a few vital years, African Independence was strangled at birth.
In 1958 in Accra, Ghana, the Hands Off Africa conference brought together the leading figures of African independence in a public show of political strength and purpose, inspired by the example of Ghana itself which, under the charismatic leadership of Kwame Nkrumah, had just thrown off the British colonial yoke - the first African nation to do so. It was moment heady with promise for independence movements across Africa, and for all those who believed colonialism was a moral aberration.
Among the supporters of African independence were some of the leading figures of the American Civil Rights movement. Malcolm X was in Accra and Martin Luther King used Nkrumah's speech as the basis for his own "Free At Last" speech, so clear were the parallels between their own struggle for political equality in the US with that of the African Nations. W. E. B. Du Bois moved to Ghana, inspired by the future of independent Africa. Yet among the many official messages of support received by the conference one nation was conspicuously quiet, despite its historic and public opposition to colonialism. America had vowed to dismantle the British Empire. Yet it was strangely silent about Hands Off Africa. Vice President Nixon did attend the celebrations in Ghana and asked a group of black people, "How does it feel to be free?"They answered: "We wouldn't know. We're from Alabama".
The conference was also attended by a slew of strange societies, most promising support for African independence. They, however, were not all they seemed. Many were fronts, and behind them was the CIA. The CIA was in favor of the end of the British Empire but much less sure about what it wanted to replace it. A pan-African independence movement, one susceptible to Soviet entreaties, looked like a security threat. So the agency prepared to move in as Africa's colonizers moved out. Their baleful influence would be felt from South Africa (they tipped off the apartheid regime so that Nelson Mandela was arrested in 1962) to Congo (where the firebrand prime minister Patrice Lumumba was murdered, one of any Africa leaders who died prematurely).
PublicAffairs, 9781541768291, 256pp.
Publication Date: March 9, 2021
About the Author
Dr. Susan Williams
is a senior research fellow at the Institute of Commonwealth Studies, University of London. Williams s research is archive based; her research has taken her to many countries in Africa, Europe and North America. Susan served as historical adviser to the independent Hammarskjold Commission, which was founded in direct response to Wiliams previous book, "Who Killed Hammarskjold" and released its report at the Peace Palace in The Hague in September 2013. She has published widely on Africa, decolonization, and the global power shifts of the twentieth century, receiving widespread acclaim for "Colour Bar" (Penguin, 2006), her book on the founding president of Botswana. Other recent books include "The People s King" (Penguin, 2003) and "Ladies of Influence" (Penguin, 2000), as well as edited volumes including "The Iconography of Independence: Freedoms at Midnight " (2010)."
Susan Williams lives in London.