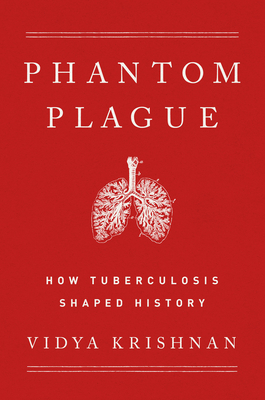 Phantom Plague
How Tuberculosis Shaped History
Hardcover

* Individual store prices may vary.
Other Editions of This Title:
Digital Audiobook (1/31/2022)
Description
The definitive social history of tuberculosis, from its origins as a haunting mystery to its modern reemergence that now threatens populations around the world.

It killed novelist George Orwell, Eleanor Roosevelt, and millions of others – rich and poor. Desmond Tutu, Amitabh Bachchan, and Nelson Mandela survived it, just.  For centuries, tuberculosis has ravaged cities and plagued the human body. 

In  Phantom Plague, Vidya Krishnan, traces the history of tuberculosis from the slums of 19th-century New York to modern Mumbai. In a narrative spanning century, Krishnan shows how superstition and folk-remedies, made way for scientific understanding of TB, such that it was controlled and cured in the West. 

The cure was never available to black and brown nations. And the tuberculosis bacillus showed a remarkable ability to adapt – so that at the very moment it could have been extinguished as a threat to humanity, it found a way back, aided by authoritarian government, toxic kindness of philanthropists, science denialism and medical apartheid.

Krishnan's original reporting paints a granular portrait of the post-antibiotic era as a new, aggressive, drug resistant strain of TB takes over. Phantom Plague is an urgent, riveting and fascinating narrative that deftly exposes the weakest links in our battle against this ancient foe. 

Praise For Phantom Plague: How Tuberculosis Shaped History…
"At a time when the world is paralyzed by a virus that mutates and resists modern medical interventions, Vidya Krishnan's sobering account of the return of tuberculosis is timely. As she notes, the world is vastly different from lab conditions, and distinctions of wealth, race, class, caste, and inequities and imbalances of power and accountability clash, delaying interventions, denying access, and destroying lives. With lucidity and passion, wisdom and compassion, expertise and curiosity, she demystifies the science, revealing how human frailties and arrogance are letting the disease prevail. That the sickness is not physical, but goes beyond that, suggests how difficult the path ahead is going to be."
—
Salil Tripathi, author of Offence: The Hindu Case
"In
Phantom Plague,
journalist Vidya Krishnan has written an engaging and informative account of the history of TB and other infectious diseases and their impact on humanity. Anyone with an interest in how microbes and politics contribute to inequality and sickness should read this book."—
Johnjoe McFadden, professor of molecular genetics, University of Surrey
"What makes Ms. Krishnan's book worth the price of admission is the tableau she paints of the current plague. She writes with authority about the current state of TB globally, especially in her native India, which is the epicenter of the disease today. A 20-year veteran of medical journalism, Ms. Krishnan is a powerful storyteller, and her accounts of frustration, suffering, grief and resilience are moving."—
Wall Street Journal
"At its best, Krishnan's writing is clear and compelling, and the book is a worthy read for anyone interested in public health and infectious diseases."—
New York Times Book Review
"[S]trong, compelling and addictive... It is literary nonfiction at its best."—
Irish Times
"The book is nonetheless a powerful look at the social determinants of health, and the lasting imprint of colonialism and segregation on public health."—
Nature
"A penetrating social history of a virulent disease… A timely, significant analysis of the dire consequences of public health failures."—
Kirkus, starred review
"Shot through with tragic and inspiring stories of patients and doctors who have battled against the disease, this is a bracing look at what might be the next public health catastrophe."—
Publishers Weekly
"
Phantom Plague
is a fascinating tale of humankind's determined struggle against one of its most dreaded illnesses – overcoming science denialism, medical apartheid, and other prejudices."—
Scroll.in
"Every so often, you get books which are warm enough to make the scales of jadedness drop from your eyes. One such book is Phantom Plague. If you want to read only one book on the TB crisis foisted upon the world's citizenry, this is it."—
MoneyControl
"
Phantom plague: how tuberculosis shaped history
is a compelling journey into a history of medicine, current development of tuberculosis epidemiology and treatment, and global health authored by Vidya Krishnan, a prominent medical science reporter."—
The Lancet
PublicAffairs, 9781541768468, 320pp.
Publication Date: February 1, 2022
About the Author
Vidya Krishnan is an award-winning journalist who has been reporting on medical science for the last twenty years. She has written for the Atlantic, the LA Times, and The Caravan. She was a 2020–2021 Neiman Fellow at Harvard University.