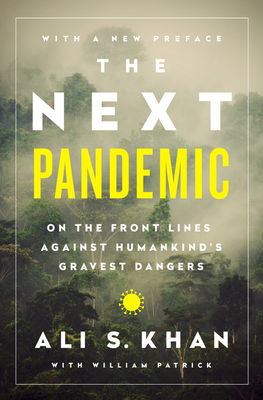 The Next Pandemic
On the Front Lines Against Humankind¿s Gravest Dangers
Paperback

* Individual store prices may vary.
Other Editions of This Title:
Digital Audiobook (1/16/2017)
Hardcover (5/24/2016)
Description
An inside account of the fight to contain the world's deadliest diseases -- and the panic and corruption that make them worse.
Throughout history, humankind's biggest killers have been infectious diseases: the Black Death, the Spanish Flu, and AIDS alone account for over one hundred million deaths. We ignore this reality most of the time, but when a new threat -- Ebola, SARS, Zika, coronavirus -- seems imminent, we send our best and bravest doctors to contain it. People like Dr. Ali S. Khan.
In his long career as a public health first responder -- protected by a thin mask from infected patients, napping under nets to keep out scorpions, making life-and-death decisions on limited, suspect information -- Khan has found that rogue microbes will always be a problem, but outbreaks are often caused by people. We make mistakes, politicize emergencies, and, too often, fail to imagine the consequences of our actions.
The Next Pandemic is a firsthand account of disasters like anthrax, bird flu, and others -- and how we could do more to prevent their return. It is both a gripping story of our brushes with fate and an urgent lesson on how we can keep ourselves safe from the inevitable next pandemic.
Praise For The Next Pandemic: On the Front Lines Against Humankind¿s Gravest Dangers…
"Skillfully chronicles the engrossing investigative work spawned by recent pathenogenic outbreaks....Well-written....Remarkable."
—
Publishers Weekly
"Hantavirus. Ebola. Avian flu. Monkeypox. Anthrax. Bioterror. Bubonic plague. West Nile virus. Rift Valley fever. SARS. Hurricane Katrina. Guinea worm. All over the USA, Africa, Asia, Latin America. Zoonoses from ticks, rodents, mosquitoes, bats, apes, camels. Poverty, inequity, prejudice, politics, war, mayhem, panic, prevention. Ali Khan's extraordinary achievements in public health have involved them all, and now readers can share the inside story of his global adventures involving what Khan calls the 'endless dance between microbes and humans.'"
—
Mark Pendergrast, author, Inside the Outbreaks
"Khan excels at writing for general readers. Not only does he describe the effects of specific diseases and how he investigates an outbreak and creates a plan to stop it, but he also creates vivid pictures of the setting, the people, and often the politics involved in diagnosis and treatment.... The details are sometimes disturbing, but Khan writes with verve, clarity, and a touch of humor."
—
Kirkus Reviews
PublicAffairs, 9781541768642, 288pp.
Publication Date: September 22, 2020
About the Author
Dr. Ali S. Khan is the former director of the Office of Public Health Preparedness and Response (PHPR) at the Centers for Disease Control and Prevention. In more than twenty years at the CDC, his professional career has focused on emerging infectious diseases, bioterrorism, and global health security. In that position, he oversaw the national public health security program with a $1.3 billion budget and 600 employees. The office is responsible for protecting US communities from all public health threats. Now dean of the College of Public Health at the University of Nebraska, he lives in Omaha with his family.