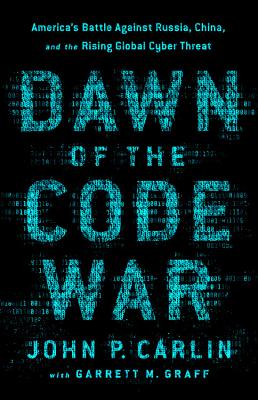 Dawn of the Code War
America's Battle Against Russia, China, and the Rising Global Cyber Threat
Hardcover

* Individual store prices may vary.
Other Editions of This Title:
Digital Audiobook (10/15/2018)
Paperback (9/10/2019)
Compact Disc (10/16/2018)
Compact Disc (10/16/2018)
Description
The inside story of how America's enemies launched a cyber war against us-and how we've learned to fight back
With each passing year, the internet-linked attacks on America's interests have grown in both frequency and severity. Overmatched by our military, countries like North Korea, China, Iran, and Russia have found us vulnerable in cyberspace. The "Code War" is upon us.
In this dramatic book, former Assistant Attorney General John P. Carlin takes readers to the front lines of a global but little-understood fight as the Justice Department and the FBI chases down hackers, online terrorist recruiters, and spies. Today, as our entire economy goes digital, from banking to manufacturing to transportation, the potential targets for our enemies multiply. This firsthand account is both a remarkable untold story and a warning of dangers yet to come.
Praise For Dawn of the Code War: America's Battle Against Russia, China, and the Rising Global Cyber Threat…
"John Carlin has written a crucial book- for practitioners and laymen
alike-about the evolution, impacts, and implications of the abuses
we've all witnessed, and many have personally experienced, in the
cyber domain. Cyber is yet another example of the dual-edged nature of
technology: huge benefit to mankind on one hand, and the potential for
great harm on the other. And, unique to this book, is the historical
description of how we have tried to respond to the harmful activities that
occur all too frequently in the cyber domain. An interesting read, with
vivid detail. John represents a superb amalgam of legal
insight and great writing skill. A must read in my view."
—
James Clapper, New York Times bestselling author and formerDirector of National Intelligence
"This book is thrilling, important, and deeply fascinating.
Cybersecurity is key to modern life: an imperative for us as a nation and each
of us personally. It's about protecting our personal data, our businesses, and
our democracy. John Carlin has been on the front lines, defending us against
attacks from China, North Korea, Russia, Syria, and criminal gangs. The
riveting stories of these secret battles for our digital safety teach us much
about what America can-and must-do to protect itself."
—
Walter Isaacson, New York Times bestselling author of LeonardoDa Vinci
"By turns electrifying, illuminating, inspirational, and difficult to put down, [
Dawn of the Code War]
describes how 'criminals, terrorists, and spies' have used the Internet for their gain, and how the U.S. government along with international allies, has assessed and addressed these threats... Similar in energy to Carl Bernstein's
All the Presidents Men
, it informs of current cyberthreats while offering stirring success stories and cautions about the future of the code war... A deeply intriguing look into cybersecurity threats facing the United States that will fascinate anyone interested in technology and/or political intrigue
."
—
Library Journal
"Given the threats
Carlin enumerates, including election hacking and the theft of intelligence
files, responses "created and refined in real-time" are increasingly
necessary-but not forthcoming. Given the lack of developed policy, if you're
alarmed by the thought of Russian election tampering in 2016, you're likely to
be even more so come the midterms-and by this dire book."
—
Kirkus Reviews
PublicAffairs, 9781541773837, 480pp.
Publication Date: October 16, 2018
About the Author
John P. Carlin is the former Assistant Attorney General for National Security under Barack Obama, where he worked to protect the country against international and domestic terrorism, espionage, cyber, and other national security threats. A career federal prosecutor and graduate of Harvard Law School, John has spent much of the last decade working at the center of the nation's response to the rise of terrorism and cyber threats, including serving as National Coordinator of the Justice Department's Computer Hacking and Intellectual Property (CHIP) program, as an Assistant United States Attorney for the District of Columbia, and as chief of staff to then-FBI Director Robert Mueller.

Today, Carlin is the global chair of the risk and crisis management practice for the law firm Morrison & Foerster. He is also chair of the Aspen Institute's Cybersecurity & Technology Program and a sought-after industry speaker on cyber issues as well as a CNBC contributor on cybersecurity and national security issues.

Garrett M. Graff is an award-winning journalist who has spent nearly a decade covering national security. He also serves as executive director of the Aspen Institute's Cybersecurity & Technology Program. A regular writer for WIRED, Bloomberg BusinessWeek, and a former editor of both Washingtonian and POLITICO Magazine, he has an extensive background in journalism and in technology.

His oral history of Air Force One during 9/11 is under development as a movie by MGM and his April 2017 WIRED cover story about the FBI's hunt for an infamous Russian hacker has also been optioned for television. His most recent book is Raven Rock: The Story of the U.S. Government's Secret Plan to Save Itself -- While the Rest of Us Die.