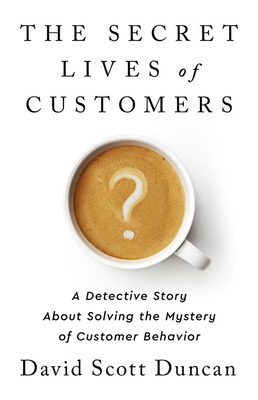 The Secret Lives of Customers
A Detective Story About Solving the Mystery of Customer Behavior
Hardcover

* Individual store prices may vary.
Other Editions of This Title:
Digital Audiobook (5/3/2021)
Compact Disc (5/4/2021)
Description
A "detective story" that delivers key insights for any businessperson asking the questions: who really are our customers, why do we lose them, how do we regain them?

Customers can be a mystery. Despite the availability of more data than ever before, everyone, from the CEO to salespeople in the field, struggles to understand who their customers really are, what they want, why they lose them, and how to regain them.

To crack the case, start thinking like a market detective.

David Scott Duncan shows how in his entertaining story of Tazza, a fictional chain of cafes with declining sales and leaders urgently seeking to understand why. The vivid characters of Tazza's market detective force come to their aha moment when they finally understand why their most loyal customers walked out the door—and how they can get them back.

The core of the Tazza story is a simple, powerful idea that upends how most businesses view their customers. Customers have "jobs to be done." They "hire" companies to solve a problem or fulfill a need and "fire" them when unhappy. Duncan's fresh way of thinking about how to understand your customers' secret lives provides an innovative path for solving whatever market mysteries you face.
Praise For The Secret Lives of Customers: A Detective Story About Solving the Mystery of Customer Behavior…
"Prepare to be hooked! With style, humor, and a lighthearted parable, TheSecret Lives of Customers will help you see your customers with fresh eyes.  Dave Duncan explains the 'jobs to be done' concept better than anyone, and keeps you smiling, nodding, and eagerly turning the pages for more."—Safi Bahcall, author of the international bestseller Loonshots

"A page turner that reads like a mystery but filled with practical insights for sleuthing out what your customers really want. With a cast of characters you'll easily recognize, Duncan's story is a blueprint anyone can use to solve the mysteries of customer behavior."—Mark Bertolini, former chairman and CEO, Aetna

"A grand slam: an excellent detective story, with key lessons that are easy to grasp and rigorous. Learning to understand customers has never been so much fun—and so easy."—Jacques Goulet, president, Sun Life Canada

"David Duncan's refreshingly human detective story enlightens and entertains while reminding us that 'small data'—curious conversation, the right questions, and empathy—may be the most powerful tools we have for uncovering what customers want from us."—Paul LeBlanc, president, Southern New Hampshire University

"The promise of the data and analytics revolution for improving customers' lives can only be realized if it's focused on asking—and answering—the right questions. Duncan provides a blueprint for how to do just this, and does so through an engaging, accessible story that everyone can relate to."—Brian Cassin, CEO, Experian

"A fresh approach to understanding what customers really want, told through an entertaining detective story. This is essential reading for anyone looking to understand their customers, today and in the future."—Karen S. Lynch, president and CEO, CVS Health
PublicAffairs, 9781541774490, 224pp.
Publication Date: May 4, 2021
About the Author
David Scott Duncan is a managing director at Innosight, where he works with leaders to create customer-centric teams, strategies, and organizations. He is the coauthor of two previous books, including the Wall Street Journal bestseller Competing Against Luck: The Story of Innovation and Customer Choice, written with the legendary Harvard Business School professor Clayton Christensen. A leading authority on the theory and application of jobs to be done, Duncan has extensive experience conducting market investigations around the world. Prior to Innosight, he worked for four years as a consultant at McKinsey & Company and earned a PhD in physics from Harvard. He lives with his family in East Greenwich, RI.