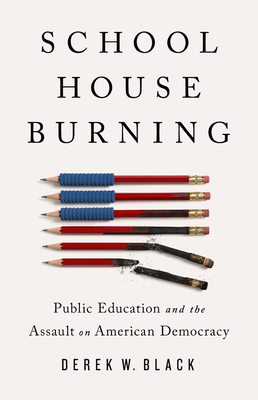 Schoolhouse Burning
Public Education and the Assault on American Democracy
Hardcover

* Individual store prices may vary.
Description
The full-scale assault on public education threatens not just public education but American democracy itself.
Public education as we know it is in trouble. Derek W. Black, a legal scholar and tenacious advocate, shows how major democratic and constitutional developments are intimately linked to the expansion of public education throughout American history. Schoolhouse Burningis grounded in pathbreaking, original research into how the nation, in its infancy, built itself around public education and, following the Civil War, enshrined education as a constitutional right that forever changed the trajectory of our democracy. Public education, alongside the right to vote, was the cornerstone of the recovery of the war-torn nation.
Today's current schooling trends -- the declining commitment to properly fund public education and the well-financed political agenda to expand vouchers and charter schools -- present a major assault on the democratic norms that public education represents and risk undermining one of the unique accomplishments of American society.
Praise For Schoolhouse Burning: Public Education and the Assault on American Democracy…
"A well-informed and cautiously optimistic defense of public education's central role in the American experiment."
—Publishers Weekly

"A polemic against the ongoing dismantling of public education... Education reformers and public school advocates will find a powerful ally here."
—Kirkus

"Black's book is packed with information and analysis, but remains exceptionally accessible, like getting a detailed explanation from a legal scholar who just happens to speak plain English. Beyond the well-researched history, Black also provides a convincing argument in favor of public education in this country, a defense of a foundational institution at a time it is once again under attack."—Forbes

"Derek W. Black analyzes the problem with public education in the United States today, and lays out a plan to fix it."—Bustle

"I loved Schoolhouse Burning for its stirring defense of the central importance of public education to American democracy, and for Derek Black's groundbreaking research. He definitively shows that the founders of the nation enthusiastically promoted public schools, that public schools enjoyed overwhelming bipartisan support, and were established in every state as central to democracy. The current efforts to privatize them with vouchers began with segregationists in the 1950s and continue today with charter schools, reinvigorated vouchers, and deep cuts to public school funding. I highly recommend Schoolhouse Burning as an important counter to a destructive trend."—Diane Ravitch, author of Slaying Goliath and Reign of Error

"Derek Black has written a magnificent book on the history of public education in the United States. Professor Black shows that the future of American society-its equality, its democracy-depends on improving its public schools. This beautifully written book offers a path forward to making a right to a quality education for all children a reality."
—Erwin Chemerinsky, dean and Jesse H. Choper Distinguished Professor of Law, University of California, Berkeley

"Derek Black is the rare education law scholar willing to put his vast skills and knowledge in the service of defending our nation's public schools. Schoolhouse Burning is a searing analysis of the current assault on public education by those intent on its destruction and, with it, the further erosion of our democratic institutions. It is also an urgent call to action to join with parents, advocates, teachers, and lawyers on the front lines of ensuring the right of every child to a high-quality education remains prominent, paramount and fully protected."
—David Sciarra, executive director of the Education Law Center

"Black argues that education does indeed play a foundational, constitutional role in American democracy and that it is the state's obligation--often the state's primary obligation--to provide it....[H]e takes us back to several crucial moments in American history when questions about the meaning of democratic governance became inescapably acute, and he reminds us of the central role that public education played in each of them."
—Derek Gottlieb, author of A Democratic Theory of Educational Accountability
PublicAffairs, 9781541788442, 320pp.
Publication Date: September 22, 2020
About the Author
Derek W. Black is a professor at the University of South Carolina Law School where he teaches constitutional law, civil rights, and education law. He is a well-known and outspoken advocate of the importance of public education and his work has been published in both professional legal journals as well as the mainstream media.