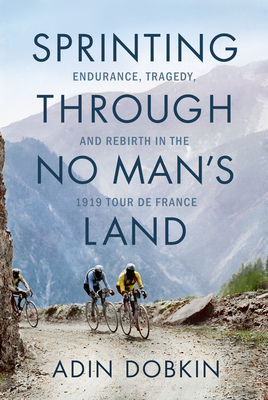 Sprinting Through No Man's Land
Endurance, Tragedy, and Rebirth in the 1919 Tour de France
Hardcover

* Individual store prices may vary.
Other Editions of This Title:
Paperback (7/1/2021)
Compact Disc (7/1/2021)
MP3 CD (7/1/2021)
Description
The inspiring, heart-pumping true story of soldiers turned cyclists and the historic 1919 Tour de France that helped to restore a war-torn country and its people.
On June 29, 1919, one day after the Treaty of Versailles brought about the end of World War I, nearly seventy cyclists embarked on the thirteenth Tour de France. From Paris, the war-weary men rode down the western coast on a race that would trace the country's border, through seaside towns and mountains to the ghostly western front. Traversing a cratered postwar landscape, the cyclists faced near-impossible odds and the psychological scars of war. Most of the athletes had arrived straight from the front, where so many fellow countrymen had suffered or died. The cyclists' perseverance and tolerance for pain would be tested in a grueling, monthlong competition.
An inspiring true story of human endurance, Sprinting Through No Man's Land explores how the cyclists united a country that had been torn apart by unprecedented desolation and tragedy. It shows how devastated countrymen and women can come together to celebrate the adventure of a lifetime and discover renewed fortitude, purpose, and national identity in the streets of their towns.
Praise For Sprinting Through No Man's Land: Endurance, Tragedy, and Rebirth in the 1919 Tour de France…
"Astonishing. With beautiful prose, compelling narrative, and meticulous research, Adin Dobkin does far more than just record the history of a race—he conjures an entire world reeling in the aftermath of World War I." —Phil Klay, National Book Award winner and author of Missionaries

"Beautifully written, compellingly told. Adin Dobkin weaves together a masterful narrative of war, returning, and the resilience of the human spirit." —Elliot Ackerman, National Book Award finalist and coauthor of 2034: A Novel of the Next World War

"A moving and deeply researched book documenting the Tour de France's rebirth after the Great War. Dobkin's prose is lyric and at turns intricate and sweeping. He brilliantly captures Europe's collective longing to rebuild through a competition whose epic terms and improbable cast of characters speak to the hope and uncertainty that defined a generation devastated by violence. More than a chronicle of sport, this is an incredible story of how the mind and body reckon with the scars of war." —Jen Percy, author of Demon Camp: The Strange and Terrible Saga of a Soldier's Return from War

"Vivid and inspiring. A century ago, in a brutal race like no other, cyclists faced war-torn roads and their own demons, and Dobkin spins through their tale in a sweet gear, showing the power of sport and the resilience of the heart." —Jason Fagone, author of the bestselling The Woman Who Smashed Codes: A True Story of Love, Spies, and the Unlikely Heroine Who Outwitted America's Enemies
Little a, 9781542018821, 316pp.
Publication Date: July 1, 2021
About the Author
Adin Dobkin is a writer and journalist whose work has appeared in the New York Times Magazine, The Atlantic, the Paris Review, and the Los Angeles Review of Books, among others. Born in Santa Barbara, California, Adin received his MFA from Columbia University. For more information about the author and his works, please visit www.adindobkin.com.