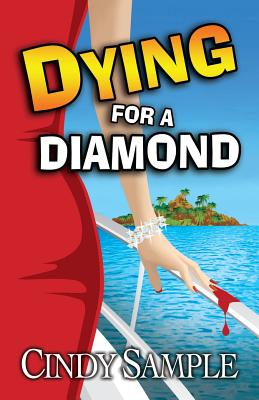 Dying for a Diamond
Paperback

* Individual store prices may vary.
Description
2018 LEFTY AWARD FINALIST BEST HUMOROUS MYSTERY
When newlyweds Laurel McKay and Tom Hunter embark on their honeymoon cruise, they look forward to sunny days exploring the Caribbean islands and intimate evenings together. Their dream quickly goes "poof," when Laurel's family decides to tag along and their romantic duet turns into a party of eight.The first night on the ship, Laurel witnesses someone going overboard. But no one is reported missing, and the chief of security gives Laurel's sighting the same credibility as an alien landing.After a series of diamond thefts, Laurel discovers that suspicious shipmates are as plentiful as calories on this cruise. When a murder occurs, and a family member becomes the top suspect, Laurel is determined to unmask the killer before her dream honeymoon becomes a nautical nightmare. "Dying for a Diamond is pure joy The sixth entry into the Laurel McKay Mysteries is filled with laughs, memorable characters, interesting plot twists, and murderous intent, all served with a touch of romance. You'll be dying for more." -Heather Haven, IPPY Award-Winning Author "After five fun novels, Laurel, the spirited heroine of Cindy Sample's "Dying for" series, finally ties the knot with Tom Hunter, her heartthrob detective. When the honeymooners embark on a cruise, missing people and stolen diamonds quickly snare Laurel and Tom in a frantic search for answers to clear a framed relative. Her zany family and friends offer extra laughs as readers cruise through this polished whodunit that sparkles like a diamond." -Linda Lovely, Author of the Marley Clark Mysteries.
Createspace Independent Publishing Platform, 9781542329514, 280pp.
Publication Date: January 18, 2017
About the Author
Cindy Sample is a former CEO who decided plotting murder was more entertaining than plodding through paperwork. She retired to follow her lifelong dream of becoming a mystery author. Her experiences with online dating sites fueled the concept for Dying for a Date, the first in her national bestselling Laurel McKay mysteries. The sequel, Dying for a Dance, winner of the 2011 NCPA Fiction Award, is based on her adventures in the glamorous world of ballroom dancing. Cindy thought her protagonist, Laurel McKay, needed a vacation in Hawaii, which resulted in Dying for a Daiquiri, a finalist for the 2014 Silver Falchion Award for Best Traditional Mystery. Laurel returned to Placerville for her wildest ride yet in Dying for a Dude. The West will never be the same. Dying for a Dude was also a 2014 Next Generation Indie Award Finalist in both mystery and humor. Then on to Dying for a Donut, the tastiest mystery of them all. It was time for Laurel (and Cindy) to take another vacation so get ready for the cruise of the century in Dying for a Diamond. Cindy is a four-time finalist for the LEFTY Award for best humorous mystery and a past president of the Sacramento chapter of Sisters in Crime. She has served on the boards of the Sacramento Opera and YWCA. She is a member of Mystery Writers of America and Romance Writers of America. Cindy has two wonderful adult children who live too far away. She loves chatting with readers so feel free to contact her on any forum. Sign up for her newsletter to find out about upcoming events and contests. http: //cindysamplebooks.com/contact/ Connect with Cindy on Facebook and Twitter http: //facebook.com/cindysampleauthor http: //twitter.com/cindysample1 Email Cindy at cindy@cindysamplebooks.co