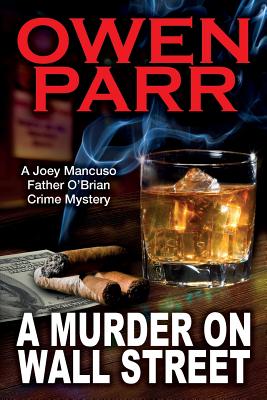 A Murder On Wall Street (Paperback)
A Joey Mancuso, Father O'Brian Crime Mystery
Createspace Independent Publishing Platform, 9781542693240, 264pp.
Publication Date: January 18, 2017
Other Editions of This Title:
MP3 CD (5/9/2017)
Compact Disc (5/9/2017)
Compact Disc (5/9/2017)
* Individual store prices may vary.
Description
A PRIEST, AN EX-COP, AND THREE BADASS BABES WALK INTO A BAR...Lucky for readers, that's a great opportunity for the kind of rare mystery series with something for everyone-a tough guy, three awesome women, and a classic Golden Age gentleman-detective clergyman. The twist? The cop and the cleric are half-brothers who operate a PI firm out of their bar. Owen Parr pulls off a crowd-pleasing coup in the first entry in his Joey Mancuso/Father Dominic O'Brian series-a perfect blending of the hard-boiled and intellectual schools of detecting. Joey's the ex-cop, who got kicked out of the police department by means of a small frame, and the women are a fiery FBI agent, (Joey's elusive Cuban girl friend), a glamorous "researcher," and perhaps most memorable of all, Joey's mentor and ex-partner, Lucifer--officially Lucy, but what a nickname Captain O'Brian's Pub and Cigar Bar, with its old-world New York warmth and reliably friendly Irish bartender is a character in itself, the kind of place that's like home to its devotees. So when one of the brothers' best customers dies in an apparent suicide -a Wall Street guy celebrating a new client the night before-- they're just not feeling it. They know he wasn't a guy who wanted to die; and they quickly find out he was someone a lot of people wanted dead.It's a made-to-order financial puzzle for a couple of seasoned New York PI's, with the kind of twists and scams and puzzles that warm a mystery fan's heart like a shot of Jameson.Fans of New York detective shows from Blue Bloods to Elementary will find it right up their alley, and devotees of Golden Age mysteries will love it, especially those set in New York, like Ellery Queen and Nero Wolfe; and those starring brainy clergymen, like Father Brown, The Rabbi, and Father Dowling.
About the Author
Reviewed by Patricia Reding for Readers' Favorite Settling in to read a murder mystery is always a satisfying experience, and with A Murder on Wall Street by Owen Parr, it is also an enjoyable one. In it, readers discover some lovable key characters in the form of Joey Mancuso, a former NYPD homicide detective who left the force in the midst of some "cooked up" charges with Internal Affairs, and his older half-brother, Father Dom, who loves solving mysteries and who is beloved by those around him as a priest with a keen understanding that if he lives his life as a testimony to others, he needn't preach to them. Together the brothers own Captain O'Brian's Irish Pub and Cigar Bar in Manhattan's Financial District. There they meet a wide variety of patrons and from there, they work together to identify the guilty parties behind a series of crimes, beginning with a murderous shove of someone from a high rise, and quickly moving on to the hit and run murder of one of their key witnesses. Add in some financial thugs who've been running a Ponzi scheme, a Marilyn-Monroe lookalike with a string of assumed names, and the varied puzzle pieces, with some intriguing angles, eventually come together. Owen Parr has created a couple of appealing characters in Joey and Father Dom. They both display caring for one another and for Joey's love interest, Marcy, for the patrons of their bar, and for their wider community. I appreciated Joey's sense of humor and found Father Dom a quick favorite. Add in the rush of activity of Manhattan's Financial District and some information that makes understandable some basic background principles of the financial world (such as how a Ponzi scheme works), and the story achieves depth. While the reason the brothers took on the mystery in the beginning (they didn't have a client, they just didn't think the conclusions the NYPD reached were in line with the facts as they knew them), and the method the brothers use to disclose the wrongdoers (a meeting with all of the interested parties, held at their bar), were both a bit unorthodox, the approach was certainly unique. This story moves right along, providing readers with an enjoyable getaway with characters they're sure to want to revisit in other books in Owen Parr's crime mystery series.
or
Not Currently Available for Direct Purchase